Dare to Know: On Cultivating People Who Think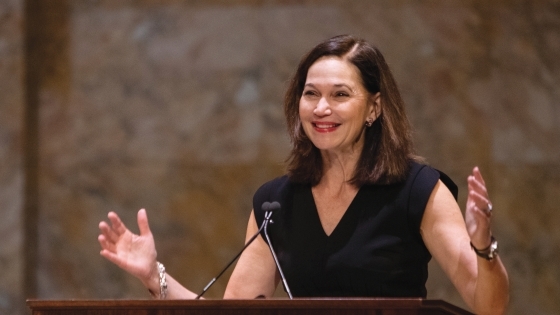 Being in the classroom this semester has reminded me how fortunate I was to enroll in Jock Weintraub's legendary "Western Civilization" course at the University of Chicago. It's also clarified for me what great teaching is. 
Hordes of us wanted to take this class, even though it met for four and a half hours per week instead of the usual three. Getting in took commitment—standing in line overnight—and luck. 
On the first day, Mr. Weintraub walked in carrying only a tattered book and a roster. He wrote "Weintraub" in chalk on the board. Glancing at the roster, he picked a name. "Ms. Jones," he said, looking around at us, "what can you tell me about the importance of Homer for the ideals of the Athenian polis?" 
This was the first day of class, none of us had seen the syllabus, and anyway Homer wasn't on it. Before Ms. Jones had time to reply, Mr. Weintraub sighed, mumbled something about Kurt Vonnegut, and shook his head. "General education," he said, "has sunk to its lowest level ever." 
This was the first of many questions to which we rarely offered satisfactory answers. What is the most significant thing characteristic of St. Bonaventure's writing? What, to a 19th century British person, was the greatest attribute of the railroad? Mr. Weintraub rejected vague answers. "Where," he would ask, "does the text say that? Or are you making it up?"
Mr. Weintraub could be intimidating. He was big, German, and better educated by the age of 15 than I will ever be. Being in his class wasn't easy. But I learned more from him in a year than I thought I'd learn in four. When I started teaching, I wanted to be like him. 
This was, as you might imagine, a total disaster. I didn't have the heft, the accent, the erudition, or the cultivated ignorance of popular culture to pull it off. When, during a discussion of St. Paul, Mr. Weintraub cried out, "Call me Ishmael! What's that from, Ms. Quillen?" it seemed spontaneous. When I tried it, it sounded ridiculous. Where his hard-earned knowledge made him formidable, my rehearsed attempts at sounding smart seemed pointless. I had to rethink what I'd actually learned. 
Had Mr. Weintraub taught me to be like him? No. He would have found my feeble attempts at imitation embarrassing. And the more I thought about it, the more I realized how little he and I agreed. He used to say there's no such thing as women's history. I taught women's history. He thought universities should stay out of politics. I was arrested while demonstrating against apartheid and university investment in companies operating in South Africa. I doubt we ever voted for the same presidential candidate, and I'm pretty sure we belonged to different political parties. No, Mr. Weintraub hadn't taught me to be like him. 
What he had taught me, through months of close textual analysis and carefully framed questions, was how to establish my own rigorous understanding of history and its relation to the present. He taught me to respect the past not by blindly accepting what other people said about it but by taking the time to engage it with empathy and in all its complexity. He taught me that arrogance is the enemy of intellectual curiosity, that simple answers rarely do justice to the human condition, and that seeking real knowledge requires real courage because you will discover painful truths about yourself and things you love. He showed me by his example what it means to be a person who thinks. 
The child of a Jewish father and Christian mother, Mr. Weintraub spent much of World War II in hiding in Holland. For a while afterward, he couldn't speak German (his beloved first language) or eat meat, and he was never again at ease waiting in line. He taught from the heart because collective ignorance terrified him. 
Davidson professors are each shaped by experiences very different from Mr. Weintraub's. Yet every day I see shadows of him in the passion, conviction and urgency that we bring to the classroom. Do we want our students to be like us? No. We want them to be people who think. 
Carol E. Quillen
President
---
This article was originally published in the Fall/Winter 2021 print issue of the Davidson Journal Magazine; for more, please see the Davidson Journal section of our website.