Vicks VapoRub: A Household Name With Campus Connections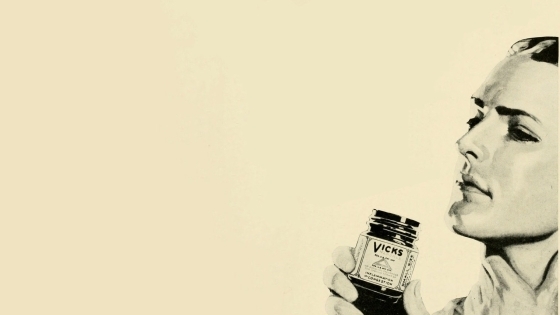 If you toss a jar of Vicks VapoRub in your drugstore shopping basket this cold and flu season, you can thank a Davidson innovator and entrepreneur.
Vicks VapoRub was invented by Lunsford Richardson, Davidson College class of 1875. He first called it Richardson's Magic Croup and Pneumonia Cure Salve, then Vick's Magic Salve, and finally Vicks VapoRub, after his doctor brother-in-law.
The Davidson connection to Vicks is more than just historical. Around the corner from the College Archives is the library carrel of Professor of Mathematics Emeritus Lunsford Richardson "Richie" King '59, the founder's great-grandson.
"I spent the summer after my sophomore year selling Vicks directly to drugstores, on a route with a traveling salesman in Tennessee," King recalled. "The salesman told me, 'We never sell the extra-large jars, but they get people to buy the large size.' But we had one client on that route who bought case after case of the extra-large jars. It was a mystery, but we finally found out why. He was using it as horse liniment!"
Vicks has so many alternate and folk uses beyond the amelioration of chest and nasal congestion, King said. Joe and Terry Graedon, of "The People's Pharmacy" radio show, once attended a Richardson family reunion to discuss them, and Jimmy Tomlin's Our State magazine piece, "The Story of Vicks VapoRub," lists a few: toenail fungus, dandruff, chapped lips, mosquito bites and warts.
Fascinated by the story of the homegrown ointment phenom? Here are a few more factoids, gleaned from King and the Davidson Archives:
Several spaces around campus carry the Richardson name. The college's Preyer Infirmary (now offices) was built in 1938 for $25,000 and named for Mr. and Mrs. William Yost Preyer. William was president of the Vick Chemical Company, and the son-in-law of the original Lunsford Richardson.
Vicks VapoRub began its product life in 1894 in the Greensboro drugstore that had once employed the future author O. Henry as a clerk. The novel ingredient was menthol, or mint camphor, then being imported as a "wonder drug" from Japan. No one had yet thought of putting it in cigarettes.
The salve produces a "hot poultice" effect of increased circulation, until then achieved by mustard plasters and other messier means. Menthol is also a topical analgesic, and its vapors help nasal congestion.
One motivation for the product's development was the founder's son, Smith Richardson, a "croupy" child. Smith entered Davidson in 1902, when his uncle Henry Louis Smith was the college president. By way of the Naval Academy and sales adventures in the Big Apple, Smith returned to Greensboro in 1907 to head sales at his father's company. He rechristened Vick's Salve (there were many salves on the market then) to Vicks "VapoRub" and the rest is…
History doesn't just happen, it takes marketing. One early slogan for Vicks—"Rub it on, sniff it in, it's good for you, it's made by Presbyterians." A standard demo was to light a match under a spoonful of Vicks to release its fumes. And Vicks pioneered the use of "Boxholder" direct mail coupons. (You're welcome.). In one blitz, eight freight cars of samples went to 31 million people.
Richardson-Vicks Inc. eventually moved to New York City, and product lines included NyQuil, Clearasil, Laboris, Oil of Olay and Formby's. Vicks is now a Procter & Gamble product.
Article originally published online in 2017.