'In Honor of Our Teammates': Sheridan Brothers Pledge Support to New Facilities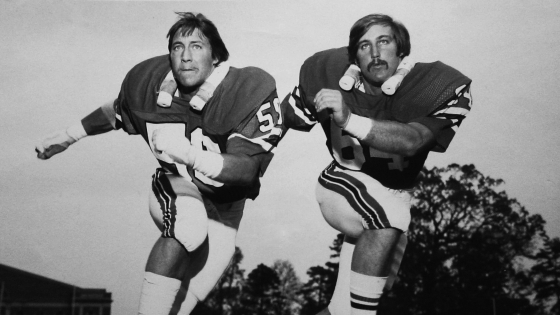 Defensive Coordinator Phil Janaro made the nine-hour drive from Davidson to a high school in New Jersey, sat in a room not much bigger than a closet, and reviewed tape–actual videotape–of a hot prospect, Mike Sheridan.
At the tail end of the 1970s, college recruiters depended on word of mouth and highlight reels printed in local newspapers–not unlike today, they spent a lot of time on the road, visiting schools all over the country.
The Davidson journey began for brothers Mike Sheridan '79 and Pat Sheridan '81 with that visit.
From their 85-pound youth league to Wildcat athletes they were teammates, and the only brothers in Davidson history to serve as back-to-back team captains. Today, Mike and Pat, along with Pat's wife, Nicoletta, and Mike's wife, Sandy, have made a significant investment in the college's new athletics facilities, specifically naming the new football locker room in honor of their teammates. 
"We were very lucky at our high school, which had a track record of state championships," Pat said. "When Coach Janaro came to look at Mike and saw the success of our program, it trickled down to what I was doing." 
The brothers were each recruited by a number of impressive schools, mostly in the northeast. But Mike was attracted to going somewhere new, and the decision was easy for Pat, only two years later. 
"I remember my mom, my sister and I went down to Davidson," Mike said. "We had a great time and met a bunch of great guys. The coaches asked if I wanted to be a part of turning something around, so we both kind of came in on the ground floor of a rebuild." 
As good as that all sounds, it wasn't a walk in the park. At that time, football players were the only ones on campus in the August heat, waking up for 6:30 a.m. workouts, running three-a-days with full hitting, followed by walk-throughs near Chambers Building. Then, they went to dinner. 
"If there had been a train coming through Davidson at that time, I would've been on it," Pat laughed, "but the bond the players formed during that time is really special. It's a bond that has lasted 40 years."
Forward Momentum
The brothers are excited for what the new facilities, including a new fieldhouse and stadium, will bring to today's thriving program. 
"When Pat and I played there, we had a nice stadium by 1970 standards," Mike said. "Great crowds and a good place to watch the game. When Baker Sports Complex was built, it really had that "wow" factor and became one of the campus' crown jewels. This facility is going to be another crown jewel. Parents are going to say, 'Hey, my boy is playing football here–check this place out.'" 
Coming from a blue collar town where not a lot of kids went to college, the brothers are grateful for all Davidson brought to their lives. Every day, they say they "thank their lucky stars" for the opportunity to continue their education and the foundation it provided them, and they are proud to cheer on the scholar-athletes following in their paths.
"It's a godsend to watch the team," Pat said. "We can't get down there for every game, but we watch online. We've gotten close with the coaching staff and truly want them to succeed. Coach Abell and his assistants are fantastic. We would love to be playing for this group! Chris Clunie [Athletic Director '06] is wonderful–we just love him. We really could not be happier." 
Players from Pat and Mike's classes have remained very close, planning periodic reunions. At the donors' request, the named locker room will say "In Honor of Our Teammates" on the sign, just beneath their names.
One of their former coaches, Coach Roberts, wrote them a heartfelt letter after joining the players at a reunion.
"We still have that letter," Mike said. "He talked about coaching at Notre Dame, South Carolina and Baylor, coaching guys who went on to play in the pros … but his time at Davidson was the most special time in his coaching career. To think after all he accomplished, his best time was with our crew. There's something really special about this place."
Off the Field, Too
While most of the football players at that time joined Phi Delta Theta social fraternity, Mike and Pat chose Sigma Alpha Epsilon, opening doors to new friendships across campus, friends they are still in touch with today.
The fantastic professors and administrators helped strengthen their bonds with Davidson, too. 
"Sam Spencer was a great president and supporter of the football program," Pat said. "We both majored in history and were very close with Professor Malcolm Partin. And Will Terry was the dean of students—I saw him quite a bit on Monday mornings. I was a little wilder than Mike."
Davidson was not the place it is today, so campus life was everything. As Mike and Pat say, "Charlotte had not yet found Davidson and Lake Norman." 
The ties between the Sheridan brothers and Davidson College are close, but soon they will be even closer. Pat and Nicoletta plan to move to Lake Norman in a couple of years, where they say they'll spend their "back nine."
"Sheridan is synonymous with Wildcat football," Coach Abell said. "Pat and Mike are in lockstep with our vision, and they are committed to our coaching staff and our exceptional scholar-athletes. This is an exciting time for the program, and it's because of alums and supporters like the Sheridans that we are able to take these big dreams for the future and turn them into a reality. I'm also grateful to call them my friends."