Kvevri Wine, Mole Rats and Cryptocurrency: Avinger Impact Fund Winners Bring Big Ideas to Life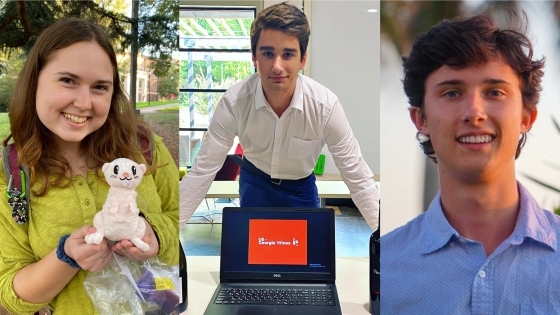 Three Davidson College students and entrepreneurs are moving their businesses forward, thanks to $10,000 grants from the Avinger Impact Fund. The awards will support wine exports from the country of Georgia to the United States; "buddies" to comfort cancer patients during treatment; and educational programs related to the stock market and cryptocurrencies. 
Awarded through the Jay Hurt Hub for Innovation & Entrepreneurship, the fund was established in honor of Robert L. Avinger Jr. '60, who also served on the economics faculty from 1967-1980.
Not That Georgia
Sandro Chumashvili '24 kicked off his business plan pitch presentation with a PowerPoint slide dotted with images of peaches. Quickly, he let the Avinger Impact Fund judges know he wasn't talking about "that Georgia." He was talking about his home country, known by many for kvevri wines, which are fermented in gigantic underground clay vessels, a method of winemaking Georgians have used for more than 8,000 years. 
"My first year on campus, my roommate, who is from Guatemala, was talking about importing coffee to the U.S.," Chumashvili said. "It gave me the idea to do the same, but with wine. I am not 21, so I cannot own or import wine. But I can work on the exporting side of things and turn the product over to distributors upon arrival." 
His roommate stepped away from the coffee idea, but Chumashvili moved forward with help from the Hurt Hub@Davidson. From connecting the budding entrepreneur to mentors who have helped refine the business plan to linking him up with lawyers, marketing support and distributors, the idea quickly became feasible. The college's Davidson Connect platform also allowed him to reach out to members of the alumni community with a natural inclination to get involved. 
With this award, he will purchase his first wines from Georgia, arrange to have them flown to the U.S. and host an event to market the wines and finalize partnerships with distributors.
"It is great to talk to my partners about what we will be doing, not just ideas around what we might do," he said. "I am able to make a difference in preserving the winemaking industry in Georgia while introducing Americans to these amazing wines."
The volume is intentionally low. Chumashvili will work with winemakers who preserve the original approach to the craft, using clay vessels. He will make small profits, but money is not his main motivation.
"As the world evolves, third world countries do not have much power," he said. "I think I can help with that." 
In addition to his involvement with the Hurt Hub@Davidson, Chumashvili, an economics major,  has served as an SGA class president, a career development ambassador and on mental health projects. He receives the Davis United World Colleges Scholarship.
"I plan to work in investment banking or the private equity sector after Davidson, and I will continue this business as well," he said. "I am participating in the Davidson on Wall Street Program for the second time this year, and it is an incredible opportunity to pursue those goals as well. Choosing Davidson has been such a blessing, personally and professionally." 
Creature Comforts
Carson Crochet '22 was preparing to wrap up her junior year and leave for a congregational fellowship in Chicago, funded through the Davidson College Chaplains' Office. Just a few weeks before finals, her mom was diagnosed with a rare form of brain cancer.
"My mom still wanted me to go to Chicago, so we tried to do as much together as possible before I left and she began treatment," she said. "I bought her a little crocheted bunny from a shop on Main Street by campus, made by a woman named Carol. Funny, because my mom's name is Carol Crochet. We named it Little Bunny, and it became her treatment buddy." 
Carol and Carson also took a trip to the zoo during that time, where they were fascinated by an exhibit on naked mole rats. Naked mole rats live in a community like bees, and each mole rat has a role. The mom and daughter pair dubbed Carol the queen mole rat.
Also used in biomedical research, naked mole rats are highly resistant to cancer. 
"I wished I could have given my mom a plush naked mole rat instead of Little Bunny," Carson recalled. "A hairless, strong animal that could be there when I was far away. It represents so much more to me—the battle, the roles everyone plays when a loved one is going through treatment."
The idea for CA'Buddy, short for Cancer Buddy, was born, and, after being told once or twice there would be no market for it, the business plans to launch next month in partnership with two different manufacturers and non-profit organizations. In addition to the plush naked mole rat, Carson is writing a children's book about the species, so customers will have the option to buy both items as a care package.
"I want this company to support underdogs—those with rare cancers," she said. "I also want to help employ young entrepreneurs like me. A 22-year-old graduate from Central Piedmont Community College is illustrating the book. I'm grateful to be able to do this." 
Future plans for the German and Arab Studies double major, in addition to the launch of CA'Buddy, include teaching and earning a Master of Divinity, with special interest in working with intercultural groups through immigration services or a city hospital. She also hopes to continue creating–she has a notebook of about 80 inventions she started working on during freshman year of high school.
Crochet holds the H. McKennie Goodpasture Scholarship.
Learning the Trade
Thomas Athey '24 established his entrepreneur cred before college. He and his best friend launched a business in high school, focused on educating customers on options trading and cryptocurrency investing. 
Up until now, the company, Portfolio Kings, required a monthly subscription, which got subscribers access to online courses, written guides, workshops, weekly market analyses, chat rooms and more. 
"I had a mentor in high school who had worked in private equity, and I got really interested and started researching and reading top investment books," Athey said. "I got into options trading, but couldn't have my own account since I was under 18. I had to trade on my mom's account." 
Athey and his best friend, Ivan, who inspired Athey through the high-end shoe reselling business he launched through Instagram, led a financial summer camp for 7th and 8th graders, furthering their interest in sharing knowledge more broadly. 
"The first month of the pandemic, we just sat around playing XBOX, and Ivan couldn't sell shoes because his transactions were usually in person, so we started looking into options trading as a business model," he said. "Another friend of ours was interested in cryptocurrencies; he had actually fried circuits in his home trying to mine Bitcoin." 
Soon after Portfolio Kings launched near the end of their senior year of high school, more than a thousand people were coming to the chat rooms to learn and talk. The friends realized they had something valuable going on, so they started charging a monthly fee. With people at home during the pandemic, they saw quick growth. 
Portfolio Kings' pandemic-centered business model needed to be tweaked. The Avinger Impact Fund and the mentor program through the Hurt Hub@Davidson have allowed the team to figure out how best to adjust their model for a more successful future. The result: Portfolio Kings will now focus on crypto and digital asset consulting.
"We realize there are a lot of people who are curious about crypto, NFTs and the like, but they don't know where to begin," Athey said. "We will be that guiding hand."
More information can be found on their website at theportfoliokings.com. 
"I would love to be able to come out of college and have the freedom to do something that excites me and keeps pushing me to do more," said Athey, who receives support from The  Davidson Trust. "My plan is to work as hard as I can and open as many doors as possible." 
About the Avinger Impact Fund
After graduating from Davidson in 1960, Robert "Bob" Avinger served for two years as a lieutenant in the United States Army and earned his Ph.D. in economics from Duke University. Returning to the college in 1967, he taught economics and served as the dean of the Center for Special Studies. He received the first ODK Award given by students for outstanding teaching. His relationships with his students were deep and influential; he remained closely connected to former students throughout his life. That influence continues today through the Avinger Impact Fund—providing annual grants awarded through the Jay Hurt Hub for Innovation and Entrepreneurship to current students to support the development of business start-up ideas. Indicative of Bob's influence, the fund was established by his former students.
Published
Category
International Student Programs