Davidson Named a Fulbright Top Producer—Again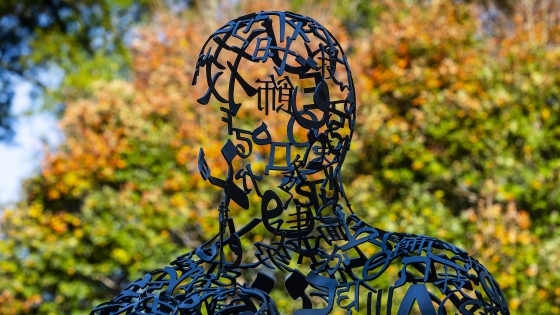 Davidson College has once again been named one of the top schools for turning out Fulbright students, ranking third in the nation and highest in the southeast among bachelor's degree-granting institutions.
Original: June 17, 2021
Updated: Feb. 28, 2022
Last spring, the U.S. State Department tapped 10 Davidson seniors and young alumni as finalists in the 2021-22 Fulbright U.S. Student Program competition. That's one of the nation's best records for four-year bachelor's degree institutions. Davidson ties with Amherst in Massachusetts for the third-place ranking in its category.
It's Davidson's highest ranking in the seven years that it has received the Fulbright Student top producer acknowledgement. Many Fulbright grantees say Davidson's consistently strong showing in the program was a factor in selecting the college and led to significant opportunities. The grant allows finalists to study, conduct research or teach abroad.
The State Department's Bureau of Educational and Cultural Affairs (ECA) released the annual top-producer list on Monday.
"We congratulate the colleges and universities we are honoring as 2021-2022 Fulbright Top Producing Institutions," said Ethan Rosenzweig, the ECA's Deputy Assistant Secretary of State for Academic Programs. "We thank the leadership of these institutions for supporting their faculty advisors and administrators, who are instrumental in guiding their students through the Fulbright application process. We know that U.S. institutions benefit from having their students represent their campus overseas, which often fosters reciprocal exchanges that in turn help further internationalize U.S. campuses."
Fulbrights, Grounded for a Year, Eagerly Hope to Span the Globe
Originally published June 17, 2021
Last summer, Maria Rojas was crushed that she wouldn't spend the fall semester studying abroad in France.
This fall, she has a second shot, only this time instead of attending college, she'll teach English to French high school students.
Jake Carver spent the past year studying remotely from his suburban Los Angeles home. He's ready to travel and happy that he'll spend the next year teaching English in Taiwan—where he'll be able to visit his grandparents and cousins.
The two recent graduates from Davidson College's class of 2021 are among 10 young alumni who received Fulbright U.S. Student Program grant offers to teach, study or do research abroad in eight different countries. Two other Davidson candidates were named as alternates.
After more than a year of being grounded by the COVID-19 pandemic, they're ready to travel.
"When it didn't work out for fall, I was really, really sad," said Rojas, a Posse Scholar from Miami who received an English Teaching Assistantship (ETA) grant for France. "But so many people were in the same boat. Now being able to teach, which I love to do—as a Fulbright [grantee]—is so exciting."
The Fulbright U.S. Student is the country's largest exchange program. It awards some 2,000 grants each year for research, teaching and graduate study in more than 140 countries around the world.
As countries shut down during the pandemic last year, those who'd received Fulbright grants had to change or postpone their plans. This year, U.S. embassies and Fulbright Commissions are assessing risks and making program decisions based on conditions in each country.
Lucy Fasano '21, who double-majored in psychology and philosophy, falls into the uncertainty category. She was offered a Fulbright research grant to investigate implicit bias ("victim blaming") of women who've survived sexual violence. She had hoped to do that research at Macquarie University in Sydney, Australia. But Australia's borders are still closed and expected to remain that way into early 2022.
In the meantime, the western Massachusetts native will start at Duke University School of Law in fall  and wait to see what unfolds for the spring semester.
"I'm excited to go to law school but I'm really disappointed that COVID has put the plans for Australia up in the air," Fasano said. "I'm really passionate about the research and I've always wanted to go to Australia."
This year was the prestigious program's most competitive, with more than 11,700 applicants representing a 12% increase over last year. Davidson students and alumni have a long history as top Fulbright picks. In this cycle, 24 of the 36 candidates who applied through Davidson received semi-finalist recommendations from the U.S.-based national committees.
Carver says he's on track to go to Taiwan but will have to quarantine for two weeks after he arrives. He'll then have a training period before getting placed into an elementary or middle school.
The former men's track and cross-country athlete is excited to teach. Through high school and college he enjoyed volunteering as a math tutor and chess coach for kids. He also hopes to teach his students about running and wants to work with or start an afterschool track program if one doesn't exist.
After the Fulbright year, he plans to get a master's degree in computer science from Georgia Tech. He envisions creating educational technology (EdTech) to help students and improve curriculum through a variety of learning methods. As an English and computer science double major at Davidson, "I've always been interested in using Com-Sci with a humanitarian purpose. I believe that before you try to do something on a computer, you should get real life experience."
Carver has visited Taiwan before for short stretches. He wants to learn the language and culture and spend more time with his grandparents and his mom's side of the family.
"This has always been something that I wanted to do," he said.
Rojas, a psychology major with minors in French and Francophone Studies, plans to pursue a doctorate in clinical or developmental psychology. She hopes to practice as a clinician, conduct research and teach at a college level. Her work would be geared toward children and adolescents.
In high school and college she's worked with children who have autism, learning disabilities and psychological struggles. One of her most prized possessions is a bundle of homemade thank you cards from students she worked with. "Thank you Miss Maria," one fourth grader wrote. "You've inspired me to be teacher."
She'll spend this summer working at a New Jersey camp for children who come from disadvantaged backgrounds. Teaching abroad is a great next step, she said.
"Every chance I get to spend with kids, I do. From babysitting professors' children at Davidson to summer camp programs or connecting to those with autism, I love spending time with them," she said. "They're so amazing and I have so much fun with them, but it's especially rewarding when I feel I'm helping to make a change."
Davidson's 2021-2022 Fulbright Finalists and Alternates
Garnet Brown '21 was offered an English Teaching Assistant (ETA) grant in Spain.
Catherine Cartier '20 was offered a research grant in Turkey.
Jake Carver '21 was offered an ETA grant in Taiwan.
Elayna Daniels '21 was offered a study grant in the United Kingdom.
Lucy Fasano '21 was offered a research grant in Australia.
Anne-Katrine Glittenberg '21 was offered an ETA grant in Taiwan.
Caroline Matawaran '21 was offered an ETA grant in Peru.
Maria Rojas '21 was offered an ETA grant in France.
Alex Sinks '21 was offered a research grant in Germany.
Katherine Smith '21 was offered an ETA grant in Spain.
Cole Ferraro '21 was named an alternate for an ETA grant in Spain.
Anna McGuire '21 was named an alternate for a research grant in Norway.