Watson Fellows Ready to Tackle Questions Fundamental to the Health and Well-Being of Citizens Around the World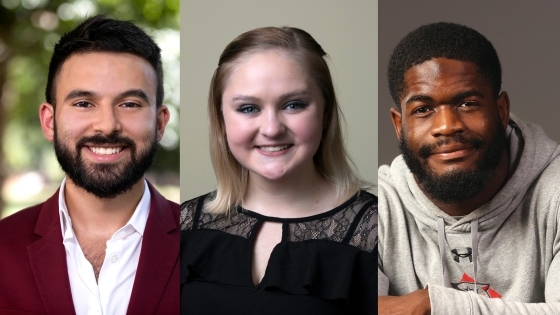 Three Davidson College students are among the 54th Class of Thomas J. Watson Fellows. Their research will examine how countries around the world treat the challenges of aging and elder care, perceptions of disability and the mental health of athletes.
Students are nominated from more than 40 partner institutions around the country for this prestigious fellowship, awarded to graduating seniors of "unusual promise" to fund a year of independent, international research on a topic of deep interest. Of all institutions, Davidson College has the most fellows in this year's class of 42 fellows.
"I'm struck by the similarities between Davidson's purpose and the aims of the Watson Fellowship in helping students develop into humane and effective leaders," said Gaylena Merritt, Davidson's associate director for fellowships and experiential learning. "It speaks to the support that students have here, as well as the challenges they get here as well. When students identify a problem, the community tells them that they're capable, creative and caring enough to find a solution. It's an environment that really fosters that idea of unusual promise."
Davidson College students have been awarded Watson Fellowships since 1969. This year's Watson Fellows are Luis Cordero '22, Ellie Lipp '22 and ChiChi Odo '22.
Luis Cordero '22
Major: Neuroscience
Minor: Gender & Sexuality Studies, Pre-Med Track
Topic: Foregrounding Dignity and Kindness in Care Facilities
Countries: Peru, Brazil, Germany, Australia, Nepal
For Luis Cordero, the research of his Watson Fellowship is personal. It's rooted in his experiences as a caretaker for his mother and grandmother through Alzheimer's disease—experiences that taught him how much time, expertise and compassion goes into caring for people who need it.
"Many times, it took two hours or more to feed my mother, but I reminded myself that this time was worth it for her to feel loved, cared for, and safe, even if she did not know where she was," Cordero said. "I had to learn to understand her non-verbal ways of communication. My mother would frequently pull on the collar of my shirt, which meant that she required assistance."
Cordero also learned that caring for aging loved ones requires constant adaptation, patience and understanding. 
"Thirty years from now, our aging population will double," Cordero said. "I'm interested in understanding how people are upholding dignity until the very last moment … What standard should we all be striving toward to provide care for our aging population?"
His Watson Fellowship will allow him to shadow providers and researchers, and volunteer in facilities across varying conditions: in under-resourced and wealthy countries, in countries that rely on private care, and ones with public health systems. 
"Culture really defines care," he said. 
While Cordero is in Germany, for example, he'll look at LGBTQ elder care to learn how sexuality factors into care. In Australia, he'll learn how the use of social robots improves quality of life for the elderly. And in Peru, a country struggling with economic instability, he'll study how economic factors contribute to elder abandonment and the resources available from the community. If circumstances allow, he plans to add stops in Japan and Sweden to his research schedule.
He also hopes to learn what these cultures have in common, as well as the different solutions they've created to care for their aging populations.  
Cordero first glimpsed the potential for elder care on a trip to Hogewey, in the Netherlands. Hogewey is a facility for elderly dementia patients that offers care in a community-oriented home-life environment with music, park-like spaces, a grocery store, and a team of staff and volunteers who all specialize in dementia care.
"I was able to firsthand see this amazing facility, and how they were able to integrate community members and reimagine care in a way where it didn't feel like a burden, but it was because they loved to be there. That, for me, is what I've been striving for in terms of reimagining a care facility—to bring back humanity into these spaces," Cordero said. "People in different countries are doing some incredible things that warm my heart, and I only hope that one day in America, we'll do more of these things, too."
Ellie Lipp '22
Major: Psychology
Minor: Anthropology, Pre-Law Track
Topic: Perception of Disability Based on Cultural Environment
Countries: Sweden, New Zealand, Ireland, Italy
When is a condition a disability? How—and why—can disabilities be perceived culturally? Ellie Lipp will travel to four countries to learn how accessibility, advocacy and healthcare systems affect how disabilities are perceived.
The Swedish government, for example, has a "design for all" approach that makes public spaces accessible to wheelchair users. Housing, offices and public transportation are wheelchair-friendly in line with the country's mission: "Full participation in society is the top goal in Sweden's disability policy." In the United States, 30 years after the Americans with Disabilities Act changed the way designers and architects approached products and projects, there's still a long way to go. So, a person in Sweden may not experience being a wheelchair user to be a disability, whereas someone in the U.S. might. 
"How do cultural aspects impact the broad perception of disability?" Lipp asks. "I'm really interested in how access to healthcare and accessibility of cities and towns contribute to the cultural perception of disability. 
Lipp identifies as disabled, but it wasn't until she came to Davidson that she saw herself as part of the disabled community and became a disability advocate. She joined—and soon became president of—Davidson Disability Alliance (DDA). And then a literature class sparked another change.
"I took a class with Dr. [Ann] Fox in the English Department on disability in literature and art, and it really sparked my interest," Lipp said. "I realized I'm really interested in disability advocacy."
Lipp, who is a Belk Scholar, said the Watson Fellowship will allow her to discover how the presence of disabled voices in decision making affects Sweden's policies, train service dogs in New Zealand, study accessible tourism in Italy, and learn about accessibility policies in Ireland. She takes a similar approach to her upcoming international research as she does her life goals: plan, but allow room for new discoveries that may lead to even better plans.
"I have a broad outline for my life plan that seems to change every week. I seem to be finding new passions and things that excite me, and I think that's just going to increase in frequency," she said. "My plan right now is to go to law school and get into legal disability advocacy work. But maybe I'll end up back in New Zealand, training service dogs again." 
ChiChi Odo '22
Major: Psychology Major, Pre-Med Track
Topic: Mental Health of Elite Athletes
Countries: Kenya, The United Kingdom, Australia, China
Be where your feet are. It's a philosophy that ChiChi Odo strives to maintain. For Odo, for now, that means being fully present at Davidson's campus for his last few weeks of college before he graduates in May. He's savoring the time at the school that he says has given him so much.
But soon, Odo's feet will be in Kenya. Then the United Kingdom. Then Australia. Then China. In each country, Odo will study the mental health of elite athletes through the Watson Fellowship. How do athletes respond to the pressures they face—from within, from coaches, from society, from fans—and how do those pressures affect their mental health?
Odo understands the pressures of athletics. He was a four-year starter for the Davidson College football team, but injuries caused him to miss 40% of games. The process—train, compete, hurt, heal, repeat—took its toll. During his junior year, Odo saw a sports psychologist for several months, and he realized the power of athletes tending to their mental, as well as physical, health.
"How powerful it is to unpack things. Being in the hustle of your sport, you don't always get the chance to really think about things, whether they're cognitive distortions, family trauma, or just talking through life in general," Odo said. "I really saw the value in it."
Now, Odo wants to understand how elite athletes around the world cope with the pressures they face. This research isn't only applicable to professional athletes, however; what he learns will help him become a better doctor one day.
"We all have varying levels of physical activity… so there's a sports story for everybody," Odo said. "What I'm learning won't just apply to athletes, like LeBron James or Kevin Love or Tom Brady. It'll apply to the high school basketball player or the person who had a catastrophic injury and can't walk anymore. The stressors and pressures of life may have different flavors, but they're stressors and pressures all the same, and what I learn will transfer to the people I will one day serve as a doctor."
Through his travels and research through the Watson Fellowship, Odo looks forward to experiencing new places and meeting new people. He wants to learn how people in different countries encounter barriers to mental healthcare, and how those barriers are lowered. In Kenya, he'll shadow Olympic and Paralympic sports psychologists; in Australia, he'll research how Aussie football teams approach mental health; in China, he'll examine the effects of injury on athletes' mental health; and in the U.K., he plans to study how seasonal affective disorder affects athletes.
"When I come home, I know I won't have all the answers or learn the ten commandments to fix mental health," Odo said. "But I'll have more of an understanding of mental health in people of different cultures."
Additional Coverage
Student Q&A: Scholar-Athlete and Change Agent ChiChi Odo '22