Goldfarb's Got Game: Davidson Senior Builds Resumé as Wildcats Announcer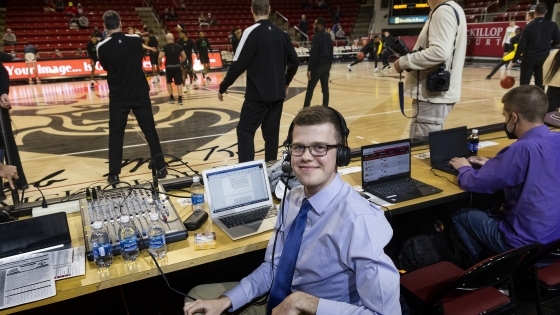 Update: In May 2022 Sam Goldfarb graduated with magna cum laude honors. He plans to work in the college's athletic office as the primary ESPN+ broadcaster next year.
---
Driving back to his hotel in Greenville, South Carolina, after the Wildcats' NCAA tournament game, Sam Goldfarb couldn't help but think about how far he had come.
He'd been lucky enough to watch the Wildcats battle Michigan State from a courtside seat, and he'd shared the highs and lows of the game out loud with a radio audience as a color analyst for the broadcast of the game.
"I thought back to when I was 18 years old, sitting in the student section, watching us play Cleveland State. That was the first home game we had, aside from the exhibition," Goldfarb said. "And I was like, 'Yeah, I don't know if I'll ever get to do these games.'"
Goldfarb's position as the courtside interpreter for the on-court action would be remarkable enough. Hundreds if not thousands of people would fight for that seat. But it's particularly extraordinary that a senior political science major enjoyed the privilege.
It started with a lifelong love of sports. His mother and father, both Duke grads, passed on their affinity for basketball to Goldfarb. But his passion extended to any sport with a ball. Unfortunately, like so many, his enthusiasm for athletics exceeded his ability. So, as sophomore at The Loomis-Chaffee School in Connecticut—where Goldfarb was a classmate with senior Wildcat forward Nelson Boachie-Yiadom—he began doing play-by-play for his high school football team.
"It was just doing the live stream for my high school," he said. "It wasn't anything high-tech. They would just give me a roster and I could call the game. And then I did lacrosse and basketball. And I think I got pretty good at it."
In October of his senior year, Goldfarb visited Davidson and called up Joey Beeler, the assistant athletic director for athletic communications, who manages all broadcasts of Wildcat sports teams. Beeler grew up imagining himself as the radio voice of the Cincinnati Reds, so he recognized a bit of himself in the plucky high schooler.
"Sam told me his passion is soccer," Beeler said. "Well, it's difficult to find somebody that has knowledge of soccer to call the games. He sent me a reel and I was very impressed."
When Goldfarb enrolled, Beeler started him off small with a handful of men's soccer games.
It didn't take long for Goldfarb to make an impression.
"I learned right away that Sam's done more prep than you would believe," Beeler said. "He's calling opposing coaches, he's sitting down with coaches. He was prepared as if he was getting ready to call a Final Four game."
The prep paid off. When the Wildcats soccer team opened 2018 A10 play against George Washington University, Goldfarb recalled a more experienced announcer mentioning that he had called the other team's coach.
"I emailed their sports information director and set up a call with the head coach and it actually was good that I did," Goldfarb said. "Because he told me that their best player, who I'd structured most of my planning around, might not play because he was injured."
Since then, Beeler has expanded Goldfarb's portfolio, putting him behind the microphone for baseball, field hockey and many more. In total, Goldfarb has called almost exactly 100 total sporting events during his four years on campus.
On Feb. 19, 2021, Goldfarb finally got the call he had envisioned at Belk Arena three years earlier. The men's basketball team was coming off of a long pause due to COVID with a mid-day weekday game against Division III Southern Virginia University. And Beeler needed someone to call the game.
It was an admittedly odd way to start: Goldfarb called his first basketball game alone in an empty arena.
"It was just me. There's nobody in this building. So literally anyone who wants to watch the game is hearing me," Goldfarb said. "I was very prepared. I knew the other team like the back of my hand because I'd been prepping for three days, but, you know, it was one of those situations where I've been waiting like two and a half years to even get a chance to call a basketball game."
Goldfarb estimates that he puts in about five hours of prep for each event—a burden he wears a little more lightly now since he's in his last semester of college and only taking three courses.
His dedication is obvious to his listeners.
Bro Krift, a 1999 graduate and a Wildcat superfan, can tell when broadcasters aren't familiar with the 'Cats. Krift remembers how the voices of some of the Wildcats' biggest games—usually on TV networks that didn't routinely broadcast Davidson basketball—would mispronounce names or simply not know the team as well as fans like Krift.
Goldfarb's expertise was music to Krift's ears.
"I was like, 'Who is this person? And why do they know Davidson's plays? This person's talking about the actual intricacies of the cutting and the moves?,'" he said. "And they're talking with  authority about what a player is good at, or what the expectation is of them."
Earlier this winter, after Goldfarb called the 'Cats' Feb. 9 win over St. Joseph's, Krift, the executive editor of the Indianapolis Star, gave Goldfarb a shout-out on Twitter.
Later, Krift reflected on how much he enjoyed Goldfarb's ability—and his obvious work ethic.
"Sam's got talent, yeah but he doesn't waste it," Krift said. "He uses it and he studies too, which is so quintessential Davidson, right? Like you can tell he wants something and then he puts in the work."
Goldfarb will graduate in a matter of weeks and he's still figuring out what he'll be doing after college, but he's certain that he's going to give himself a couple of years to build a career out of his passion.
"I've said to a few people that in 15 years, I want to be calling a national championship game," he said. "I'm hoping that in 15 years, I'm good enough. That's what I'm working towards at this point.
"I'm doing it because I genuinely enjoy what I do. And I want to make it somewhere someday with it."