At Long Last: College Welcomes Back Class of 2020 for Commencement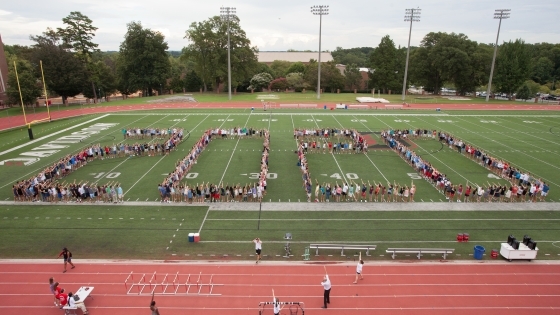 Two years ago, Eldina Kucevic '20 tearfully drove the 10 hours from Davidson College to her home in northern New Jersey. She played sad music and thought about friends she might never see again.
This weekend she's joyfully back in Davidson for the first time since the COVID-19 pandemic shut campuses down around the world. She'll celebrate as the class of 2020 reunites—and reclaims—the rite of commencement. 
Many colleges postponed graduation ceremonies or turned them into virtual events during the pandemic's early days. Davidson leaders made an extraordinary promise: College trustees pledged $200,000 of their own money for graduates who needed help with travel expenses for the future ceremony.
That day has come and 364 class members—about 75 percent—plan to attend Sunday's commencement. Many families and friends who offered consolation two years ago also will join the celebration.
While some in the class live close by, others will travel from across the country and around the globe. Some can afford the trip, others in graduate school, on fellowships, and just starting careers in a time of high inflation can't. The fund will pay for plane fares and gas for 121 graduates. It's also covering costs for class members to stay in residence halls.
It's been a long journey for Kucevic, who traveled from Taiwan, where she's taught English through a grant from the Fulbright U.S. Student Program. The travel fund paid for her airfare.
"So many people said, 'we're never going to have that ceremony,'" Kucevic said. "But I believe in Davidson, and I knew they would never go back on their promise. Now we're really going to have this. And I'm so incredibly grateful."
Going the Distance
Mara Papakostas '20 was also teaching in Taiwan through the Fulbright program and plans to be at the commencement ceremony.
"I'm so grateful that Davidson could cover my flight from Taiwan," Papakostas said. "It wouldn't have been possible for me to attend without their generosity.
"It was such a disappointment to not have a graduation. Time has passed, but everyone persevered to make this happen," she said. "To be able to get together as a class and a community again is really exciting. It's not only commencement, it's also a reunion. I can't wait to see everyone." 
Ryland Pitts '20, is flying in from Bishkek, Kyrgyzstan, where he teaches English at a college of arts and design. He's also becoming proficient in Russian and Kyrgyz before starting his career in sanctions risk assessment.
Having his airfare covered by the travel fund, "is just unbelievable," Pitts said. "We never really got the chance to say goodbye. It will be fun to see who's there, and I think we'll be able to reconnect in a sweet way."
With gas prices skyrocketing, the travel fund will help Charlie Prichard with the drive from Washington, D.C., to Davidson. After finishing college, he worked a public policy internship before taking a full time position at a government relations firm. 
"It's a huge help," Prichard said. "I've told so many friends about Davidson helping out with travel expenses, and they're shocked, they're like 'that just doesn't happen.'"
"It's hard to explain to other people about the closeness of the Davidson community, and the commitment Davidson people have to helping each other. It's not just about being kind, it's about giving back. I'm the perfect example," Prichard said. "Davidson was my first choice for college and the community helped make tuition more affordable for me. From admissions to the alumni who donate, I have so many people to thank. And I look forward to helping future Davidson students."
Why Go Back?
On May 17, 2020, Zoe Hall donned her white graduation dress and black cap and gown and clicked on a Zoom link. Her mom and sister Leigh joined her in their Annapolis living room, which was decorated with huge Class of 2020 balloons. Classmates tuned in from around the world.
Some looked shocked, others cheered when President Carol E. Quillen announced that college trustees would help with travel expenses for the future in-person celebration.
"A lot of you worry that you won't be able to afford the trip; that worry is over," Quillen said in the virtual address. "We're doing all that we can to ensure everyone can return to campus for our 2020 commencement ceremony. I hope to see you all there."
Hall, now working for The Arena Stage theater company in Washington, D.C., said she's never stopped wanting the ceremony, "even if we had to wait five years."
"I was getting a little nervous in fall of 2021, a lot of other colleges were having their 2020 in-person ceremonies, but I held out hope. I knew President Quillen would keep her word," Hall said. "It shows the Davidson culture that most people are coming back.
"A bunch of my friends who graduated from other schools in 2020 said 'it's been two years, why would you want to go back—you already graduated?' But this is important, we all love Davidson, and we want to go back and graduate for real."
On Saturday, Hall, her sister, mom and grandmother will make the drive from Annapolis to Davidson. On Sunday, she'll wear a new yellow dress under her graduation gown: "My mom convinced me I should be more colorful this time."
She remembers attending her sister Leigh's 2014 graduation from Bowdoin College, and the anticipation their family felt while waiting to hear the president call her name.
"Other than seeing my friends, that's what I'm looking forward to the most," Hall said. "That's a really powerful and important moment in a lot of people's lives."
It's a moment Kucevic doesn't want to miss.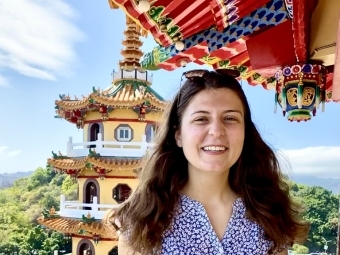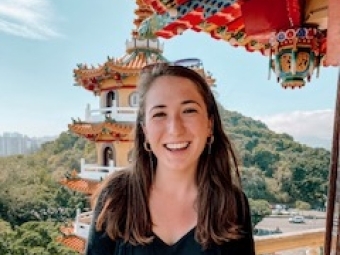 "We were all just devastated when they told us we had to leave campus," she said. "The most painful part was not getting to experience commencement. I remember as a freshman seeing them set up for it and thinking how pretty the lawn looked and what an exciting time it was for seniors. To lose that was so sad.
"Now I'm so excited, and so happy."
A first-generation college student whose parents came from the former Yugoslavia, now Montenegro, she'll be the first in her family to have a traditional commencement ceremony. (Her older sister Esada completed an integrated degree program to become a physician's assistant.) Younger sister Elisa is a member of Davidson's class of 2023. Her proud family will make the 10-hour drive from New Jersey to attend the ceremony.
The trip from Taiwan, with a connecting flight in San Francisco, ended up taking about 30 hours.
"It was so stressful, my first flight was cancelled, then I had to arrange for another COVID test because of that," Kucevic said. "It was a five-hour ride to the airport in Taipei, my heartrate was sky high that whole time.
"It was exhausting, but when I walk across the stage it will all be worth it."