Scholarship Honoring Dick and Susan Cooke a Home Run for 'Cats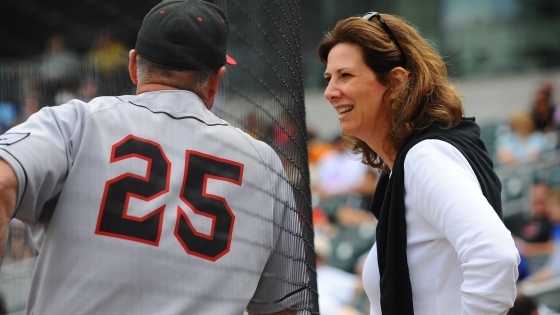 It took about a day for Dick and Susan Cooke to know they had found their permanent home in Davidson, North Carolina. Dick was taking on the role of head baseball coach, and Susan worked in Charlotte before joining the college's fundraising team.
The couple first pulled into their driveway across the street from campus 32 years ago, and in that time, the Cooke family, including now-adult daughters Alison, Lindsay and Erin, has welcomed hundreds of members by extension–through the baseball program, the campus and the town.
One extended family member, Jack Purcell '02, and his wife, Neely, are showing their appreciation for the deep influence of Dick and Susan on their lives and the lives of many through the establishment of the Susan and Dick Cooke Baseball Scholarship. The scholarship will support students and aid in the recruitment of top talent for the 'Cats.
"Dick and Susan are a team," said Purcell, a four-year impact player as an infielder. "They approach life, parenting, coaching, working, friendships as a cohesive unit, and when I think about parenting our daughters, I remember the family-first approach they demonstrated to all of us as players, always having their girls at the field and making them a part of every day. It has been a huge influence in my life and, frankly, this recognition is long overdue."
The Purcells believe in investing in people, and their philanthropy reflects that. This scholarship will make Davidson a possibility for scholar-athletes who might otherwise have to look elsewhere—to colleges and universities that can give them more financial support.
"What this means to us is hard to articulate," Dick said. "The family influence resonates so deeply. This isn't something you're intentionally doing as a coach—you're trying to make the right pitching moves and hit and run at the right times. To know people have paid close attention to the family piece is humbling, and it is incredibly right that this is named for Susan, too."
Beyond Wins and Losses
It takes a lot more than a scorebook for a head coach to stick around for as long as Dick Cooke has. Even after leaving the dugout after 28 seasons, he didn't go far. Today, he is an associate athletic director for the college. Susan has been a member of the fundraising team for 24 years. It's unusual to attend a game at Wilson Field without one or both of them in the stands … or walking around the whole time, which is more Dick's style.
"Our girls grew up at the baseball field, and the players were their de facto brothers," Susan said. "When people would ask if we wished we had boys, I always said I had 35 sons every year. More importantly, they've been our friends, and that's been the most important part of our Davidson experience."
Like any team, the Wildcats celebrate wins, but Cooke worked hard not to focus on the losses. This attitude of "we'll get 'em tomorrow" is something players notice, and the culture goes a long way during the seasons when wins are hard to come by.
"Even in years when we didn't win as many games as we had hoped, we always had the right players," he said.
Cooke was an assistant coach at the University of Richmond and held his first head coaching position at Belmont Abbey College, where he restarted their program. The team played against Davidson a few times, and the Cookes got to know the town, with its tree-lined streets and charming brick buildings. Shortly after the 1990 season ended, the Davidson coach resigned and Athletic Director Terry Holland '64 approached Dick about the job.
Cooke's many Davidson accolades include 601 wins, and the team's first conference championship, postseason bid and Super Regionals appearance in 2017. A three-time Coach of the Year award recipient, he is the only Davidson skipper to win 20 or more games in four consecutive seasons. Twelve of Cooke's players were selected in the Major League Baseball Draft during his tenure, with another four signing free agent contracts. Cooke also coached for Team USA during the 2000 and 2008 Olympic Games and with five other USA Baseball teams.
Cooke's legacy continues. The baseball program is having a great season under the direction of Rucker Taylor. The 'Cats, A-10 regular season champions, currently have a 42-11 overall record, and they enter the A-10 Tournament this week as the #1 seed.
Pitching In
The Purcell family's significant leadership investment in the scholarship is step one. Already, former players and others close to the Cookes have made additional gifts, and the goal is to grow the fund so it can help even more scholar-athletes on a more substantial level over time.
When the Cookes arrived three decades ago, there were zero baseball scholarship dollars, and that didn't change much until 2017.
"Scholarships allow our coaches to recruit more broadly without changing the academic profile or the kind of character we need," Cooke explained. "It allows Davidson to stay in the conversation longer with high-profile recruits who have the academic acumen to be admitted here."
As scholarship dollars increase, and as the number of wins and losses continue in Davidson's favor, the staff can shift recruiting efforts and sustain the program's success. Every gift contributes to these efforts.
"The donors to this scholarship will be a reflection of the spheres of influence Dick and Susan have had over all these years," Purcell said. "When all is said and done, it won't just be baseball players who choose to become a part of this. Their impact is so much bigger, and I'm glad they will get to see the love of the Davidson family wrap around them while they are still such a big part of the campus every day."
Former players and friends have stepped up to the plate and, to date, more than $600,000 has been contributed to the scholarship.
Leadership donors joining the Purcell family include Steve Aldrich '02 and Maria Tardugno Aldrich '03; Eric Bowers '00 and Marian Lucius Bowers '00; Trae Fletcher '02 and Kate Johnson Fletcher '05; Justin Hartanov '05 and Creighton Stewart Hartanov; James Marino '02 and Tracie Ray Marino; Jamie McDonald '00 and Jessica Pollack McDonald; Dan Obermeier '06 and Lauren Chandler Obermeier; Fritz Porter '99 and Mary Margaret Cochrane Porter '98; Jim Richards '80 and Mary Lib J. Richards; Jip Richards '14; Marshall Tyler '99 and Stephanie Polon; Tim Frend '02 and Jessi Williams Frend '05; and Drew Williams '00 and Katie Bovard Williams.
This won't be the first time the Cookes have felt the Davidson love in a big way. In September of 2012, Coach Cooke's vehicle was struck by a drunk driver on his way home from a recruiting visit. When the police arrived at the family's front door, the first two words were all the Cooke women needed to hear: "He's alive."
Though the weeks following were anything but easy, with surgeries, rehabilitation and more, Cooke returned to the field as soon as he was able. Two months after that life-altering night, Susan wrote a message of thanks that ran in the local online newspaper. One part read, "I am thankful for the overwhelming outpouring of support and love from our friends. This is the town to live in if you have a crisis, for sure."
These are the moments when families are reminded of what matters and the preciousness of those around them. The Cooke family's community was given an opportunity to repay a portion of what they have been given by Dick, Susan, Alison, Lindsay and Erin for many years. Now, the Susan and Dick Cooke Baseball Scholarship will carry this legacy of giving forward, celebrating wins—and family—along the way.
To learn more about the Susan and Dick Cooke Baseball Scholarship, or to contribute to the fund, contact Director of Athletic Development Brandon McCladdie at  brmccladdie@davidson.edu or 704-894-2657.