Encore and More: Alumni Family Matching Donations for Diversity, Equity and Inclusion—Again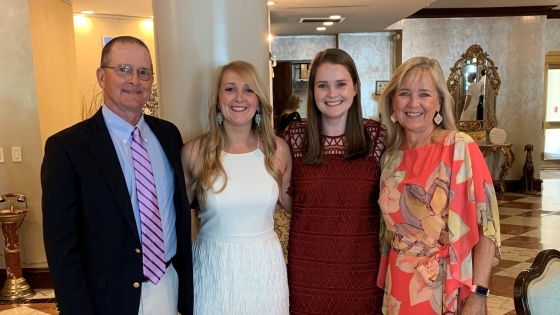 The McFayden family has once again issued a challenge—in this final month of the fiscal year—to support diversity, equity and inclusion at Davidson College.
They'll match every gift made to Diversity & Inclusion Initiatives dollar for dollar, up to $150,000. Join these Wildcat alums, and allow your gift to do even more for all Davidson students. Make your gift by June 30! You can read about this family's love for Davidson in the story below.
Greg McFayden '83 and Shannon Walters McFayden '82 recently explained what motivates their gift:
We were inspired by the response to our challenge grant last year, especially by the number of new donors who, like us, want to see Davidson continue to strengthen its commitment to diversity, equity and inclusion.  
We also wanted to do something meaningful to show our appreciation for Dr. Carol Quillen, as she worked tirelessly with dedication, integrity and grace to protect Davidson's rich traditions of learning and honor while also leading us to become a more enlightened, inclusive and equitable community.
We are grateful that both of our daughters graduated from Davidson under her leadership.
While we will match all donations, we are especially encouraging younger classes to participate by providing a 2:1 match for gifts from the classes of 2000 through 2022.
---
Originally Published June 16, 2021
Alums Launch $100,000 Challenge to Match Diversity and Inclusion Funds
Davidson has changed a lot since Greg McFayden '83 and Shannon Walters McFayden '82 celebrated their graduations on campus 40 years ago. For starters, it is bigger, more diverse and more competitive.
"Simply put, it's better," the couple said. "Yet, it's the same. The college has continued to evolve and grow, but it has accomplished this without sacrificing its core values and mission. In fact, it has continued to move closer to its core values with every passing year."
In recognition of, and in firm support of, the college's continued efforts toward and evolution into a more diverse and inclusive institution of higher learning, the McFaydens have issued a $100,000 challenge that will match, dollar for dollar, the next $100,000 that is given to the college in support of diversity, equity and inclusion. This means any gift designated to diversity and inclusion will have twice the impact on campus, immediately.
"We believe Davidson's past and future success is a direct result of its ability to prepare students for the challenges awaiting them beyond the college campus," Greg and Shannon said. "This preparation requires students, faculty, staff, administrators, the president and our trustees to understand, appreciate and embrace a world that is diverse—to welcome and cherish all voices, regardless of race, gender, gender identity, sexual orientation, ethnicity, immigrant status or religion."
In January 2021, the Davidson College Board of Trustees affirmed the college's Statement of Purpose and approved revisions to the trustee bylaws that govern eligibility for the president and trustees. The revised bylaws open the office of president to candidates of any faith who will assume responsibility for affirming, upholding and achieving the Statement of Purpose. The changes also expand the number of seats on the Board of Trustees that do not include a personal religious requirement. 
"The college's Christian foundation means we promote inclusivity, not exclusivity. To be inclusive, an institution must offer entry points to leadership, not barriers," the couple said. "After the bylaws were changed, we knew it was the right time to make a more significant investment in Davidson."
Greg was a religion major who gave four years, including one as chair, in service to the Honor Council. He also was a member of Sigma Alpha Epsilon Fraternity. Shannon earned a degree in psychology and was president of Rusk Eating House. As an alum, she has remained closely connected to Davidson, having held positions on the Alumni Association Board, the Board of Trustees and as chair of the Board of Visitors.
"Davidson has given us everything," they said. "It's where we grew up; it's where we got our education; it opened our hearts and minds; it taught us to explore and respect others' beliefs and to engage in meaningful discourse about our differing life experiences; it taught us to challenge our own narrow assumptions that came from limited world views; it taught us the value of working hard and seeking excellence; it encouraged us to value honor, integrity and community; it made us life-long learners and gave us life-long friends."
In addition to their own experiences, the couple witnessed the immeasurable growth of their daughters, Tyler '14 and Lauren '17, and the way Davidson broadened their world view.  
"The Davidson they cherish was much more diverse than the one we knew and, frankly, it better prepared them to succeed in a diverse and globally connected world," said Shannon and Greg. "They feel as strongly as we do that the college has to become more equitable by removing barriers to leadership." 
To join the McFaydens in ensuring Davidson continues to move forward in its journey to become a more diverse, equitable and inclusive community for the world's best scholars and leaders, make your gift at www.davidson.edu/makeagift and select "Diversity and Inclusion" from the drop-down menu.
Davidson's fiscal year ends June 30.