Inspired by Students, First Gen Alum Creates Opportunity Through Scholarship Support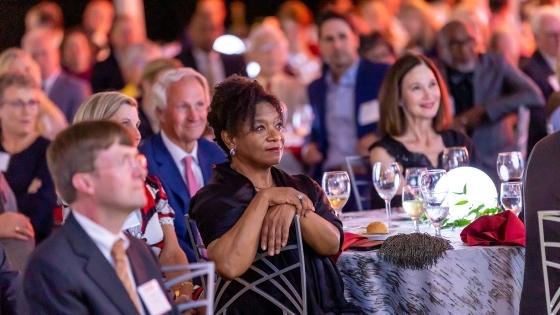 Olivia Ware didn't have the resources to travel the country touring colleges, so she leaned on a guidance counselor's suggestion and the glossy admission materials in her mailbox to make her college choice.
She arrived on Davidson's campus as a first-generation college student in 1974 and dove in, enrolling in the two-year humanities program, joining an eating house, becoming a hall counselor and serving as vice president of the college union.
Davidson wasn't a diverse place in the 1970s, but she made it her home.
"I wanted to have that classical education I felt people who went to college got, not having family or friends who really had gone that path before," she said. "The student experience at Davidson was very inclusive for me. I grew up in a small town in the mountains of North Georgia, which was predominantly white. I went to a segregated school until fifth grade and then to an integrated school after that, so being in the pretty small minority was not new to me. As you get older, though, you want to be surrounded by more people like yourself, so of course that was harder to find on campus at the time."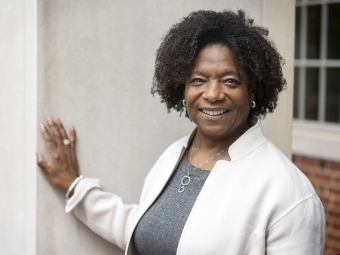 Following Davidson, Ware started her career, earned her MBA and moved around a bit, and her ties to Davidson loosened with each passing year. It wasn't until President Quillen arrived that Ware started paying close attention to what was happening on campus. That interest has led to deep involvement, including positions on the Alumni Association Board and the Board of Visitors, where she currently serves as chair. 
Volunteering was her "gateway drug," she says, and the closer connection led her to support the college financially, too. 
Ware is especially motivated by the Emergence Scholarship, which was created in 2013 to support students from underserved communities. To date, she has committed more than $1 million to the scholarship, making her the largest investor in the program and also the alum of color who has given the most to Davidson in the history of the college. 
The scholarship was established by Black alums in celebration of the achievements of Davidson alums of color, and it is awarded through The Davidson Trust. The idea was conceived by Rusty Lindsey '76 and Earl Wooten '84.
"This scholarship provides me with a means to direct my giving to kids who need it," Ware said. "I am passionate about diversity, equity and inclusion, so this is a great way to put my money where my mouth is."
In addition to the scholarship, Ware has recently supported President Quillen's presidential portrait project and Gallery 18, a space in the "Athletics Done Right - The Next Step" stadium and fieldhouse project that will celebrate the non-athletic accomplishments of Davidson's scholar-athletes. Gallery 18 is named for President Quillen as the college's 18th president. 
"I think as alums, we hold onto an image of Davidson that is set in the time we were there, so it quickly becomes dated," she said. "By getting involved and volunteering, you really see all the ways it is growing, advancing, evolving … that's a very exciting thing. College campuses are the future of our world, and I find students today to be smart, passionate and driven, and they have a global focus. This generation is incredibly inspiring." 
Also inspiring to Ware is President Quillen, whose leadership made her feel enthusiastic about re-engaging with Davidson many years after graduating. When she was selected for the Presidential Search Committee last year, Ware felt the weight of the task.
"As a volunteer leader and trustee, I have to know where Davidson is and where it's going, but I had to learn even more about that as part of the search committee," she said. "We had a responsibility to do what is best for the college, and it really helped me appreciate even more how incredible Carol has been." 
Ware's gifts this year were all made in honor of Carol and her leadership—some $49 million has been given in her honor to the college this year in all, as announced in this recent story.
"It's hard to articulate how much this woman has brought to this institution," Ware said. "It's phenomenal how much she has given and how much the college has grown under her leadership. During the search for the new president, I received hand-written letters from people, showing their support for Carol and for our work to find the next great leader for Davidson. All of that cannot go unrecognized. We need to raise a sum of money in her honor that says wow, she was a really important part of Davidson's history." 
Ware hopes alums will consider their own opportunities to make a difference at Davidson, whether that's through making a gift to support what they care about or by getting involved as a volunteer. 
"The thing I love about giving to colleges is that no matter what your passion is, there is a way to give to that," she said. "Not everyone is going to give a million dollars to Davidson, but if you volunteer your time, I promise you will get back way more than you could ever imagine. Students are hungry for your involvement, so jump in."