Welcome Back, Wildcats! Time for New Memories, Old Traditions and Uncommon Bonds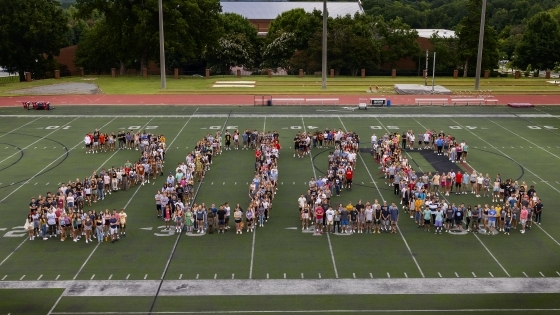 You may have spent your summer at home or abroad; interned for a bank or non-profit; conducted research; served lattes or served as a lifeguard. Whatever you did and learned, we're excited to have your energy, experiences and entrepreneurial spirits launching us into the new school year.
If you're coming to Davidson College as a first-year student or returning as a second, third or fourth, know how glad we are to meet you, or to have you back on campus. 
Class of 2026: You studied hard, starred on sports teams and in plays, helped the sick and disadvantaged, and made your communities better places. You'll be awash in opportunities to do all that and much more here.
You'll find a fellow fresh starter in Doug Hicks '90, who came to Davidson as a first-year student a few decades ago and now begins his first semester as the college's 19th president. You'll discover a close, caring community of students, faculty, staff, alumni, and town residents who'll encourage and support you through your college journey and offer invaluable lifelong connections.
Welcome to Davidson. We're so happy you're here.
Meet the Class of 2026
Davidson welcomes students from 43 states and territories and 29 countries to its Class of 2026. More than just the places and schools they call home, these new students bring a diverse set of experiences and backgrounds to the Davidson community.
The Latest From Welcome Week
Confidence in the Words and Actions of Others
On Sunday evening, new students gathered in Duke Family Performance Hall to learn about the Honor Code and participate in the commitment ceremony.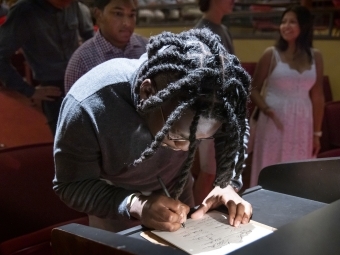 While the Honor Code signing ceremony is a consequential and resolute occasion, there were still moments of levity leading up to President Hicks and the Honor Council speaking.
One such moment happened as students walked from their residence halls to the ceremony, where they encountered a quirky tradition known as the Honor Cod. Started by Davidson's improv comedy group, Oops, members of the student organization attempted to convince new students to sign the fish.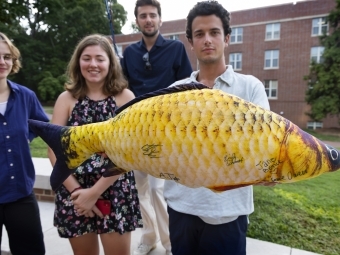 This week, Davidson welcomes its new students to the community. Check back to this page for updates from Welcome Week, and be sure to share your highlights on social media. 
Updated Monday, August 29 at 11:00 a.m.
---
Starting Fresh Together
They figured out where to go for classes, meals, workouts and sporting events. They hung out with hallmates and orientation teams. They stood to sing the Davidson College alma mater for the first time together as a class.
And to keep with tradition, orientation leaders and cheer team members loudly serenaded and cheered the Class of 2026 on as they walked with their families though a human "tunnel" at the Baker Sports complex on Thursday.
"I'm starting my work here, too," President Doug Hicks '90, in his first year of leading the college, told students and families at an assembly. "You're my class—I'm part of the Class of 2026. I'm going to learn with you and from you."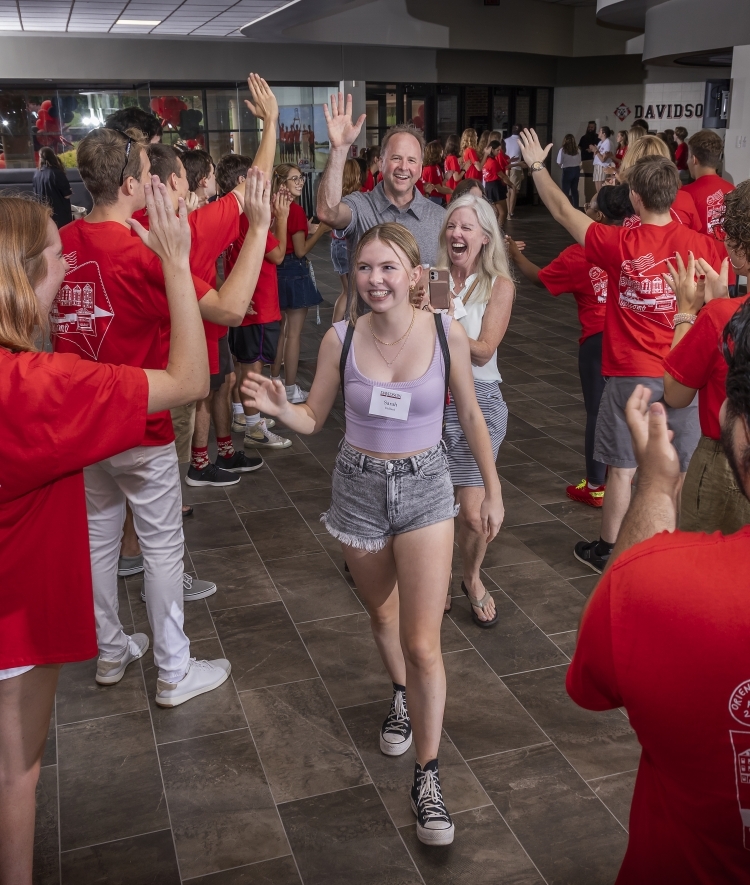 The Hard Goodbye
After the multiple trips to Target, the long walks exploring campus and downtown, and the poster hanging and drawer assembling, families bade their new students goodbye on Friday.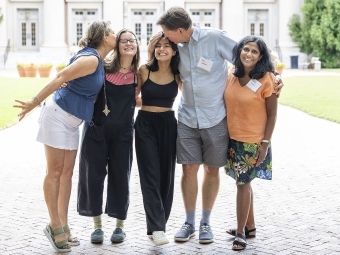 In keeping with tradition, the college hosted families for the annual picnic farewell luncheon on the Chambers lawn. There were lots of hugs and lots of tears, but overall, a strong sense of optimism that everything was going to be just fine.
Orientation Fair
Thursday morning, new students and their families met with representatives of different college departments and programs available to answer questions and describe their services.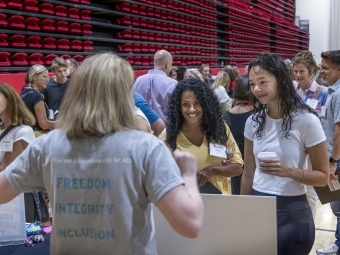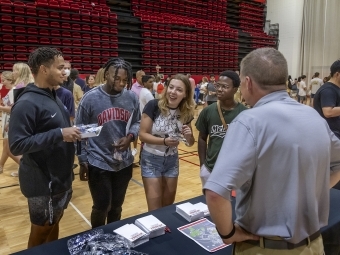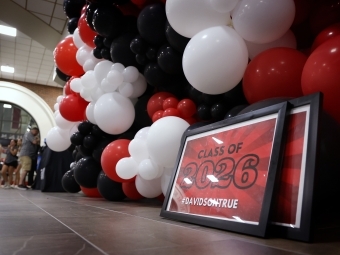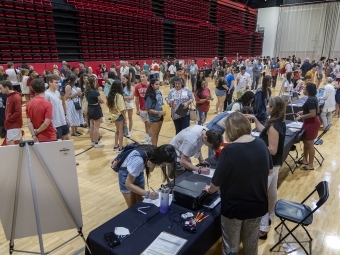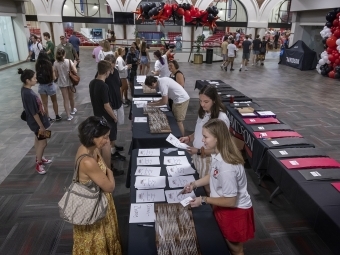 Opening Session
Thursday afternoon, new students and their families kicked off orientation with a special welcome from President Doug Hicks and other campus leaders.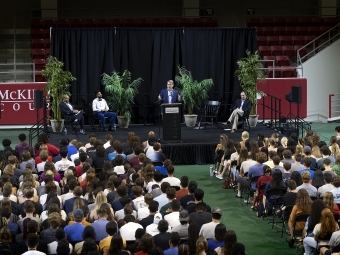 Happy to Help: The Move-In
So how do you move more than 500 newcomers into their new dorms in the span of a few hours?
With lots of helpers.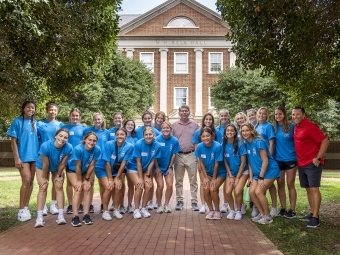 Orientation team leaders on Wednesday had plenty of assists from other students, faculty and staff, including President Doug Hicks, who greeted students and parents. He also carried luggage, pillows and other dorm necessities and helped get at least one bike off a car roof.
And following tradition, many of Davidson's athletes, including football, soccer and field hockey team members, lugged boxes, lamps and storage bins from family cars to students' rooms.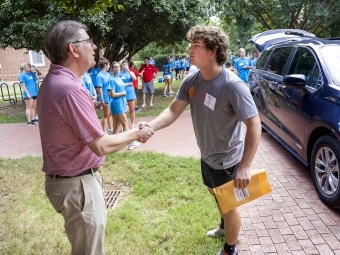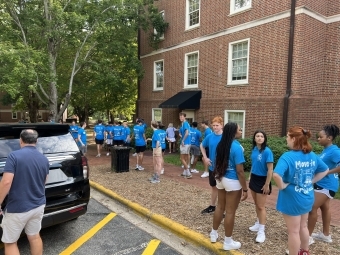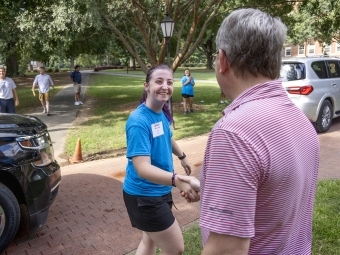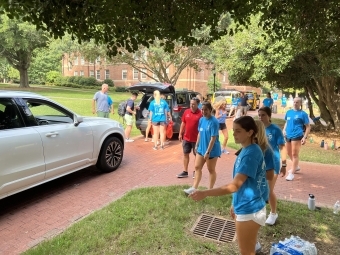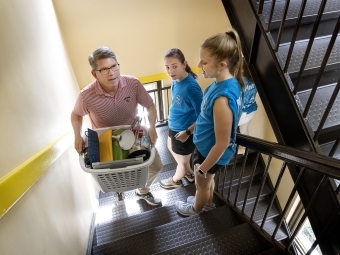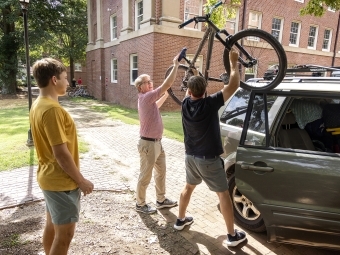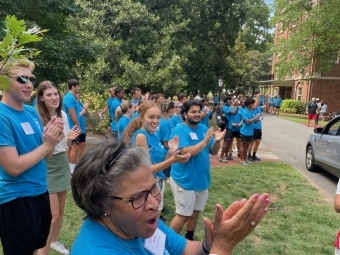 This crew is unbelievable! Snaps for Davidson!
One smiling dad remarking on a painless moving in process.
The Orientation Team Leaders (OTLs) and Mentors (OTMs) @DavidsonCollege moved in hundreds of students today. They are MVPs for helping launch the college experience for first-years. Thanks for dinner, and THANK YOU for your leadership and service! pic.twitter.com/gWOnt6Y1CU

— Doug Hicks (@DougAHicks) August 24, 2022
"Watts 112!" Jon Berlin, Davidson's assistant head football coach, yelled to his waiting team about a newcomer's dorm room, as if calling out a play.
 "Watts 112!" they screamed in return. "Yay!"
"We like to get excited," Berlin said. "Anytime you have a task, you've got to attack it with enthusiasm."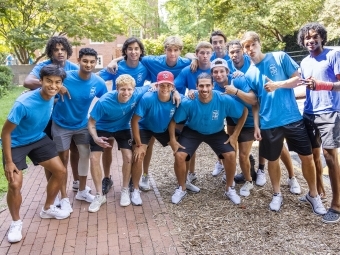 One smiling dad stopped to remark on a painless moving in process. "This crew is unbelievable," he said. "Snaps for Davidson."
And that's the experience orientation team member Nyja Quash '24, who greeted and directed vehicles heading towards dorms, wants everyone to have.
"I love seeing the smiles on their faces, and their families' faces when they see we're here to help," Quash said. "They don't have to do this alone. And during orientation, we have a few days to help them learn what we know, show them around and become familiar with things before everyone else gets here and classes start.
"We shape their first impressions of their college lives, and that really matters."