Disability Rights Icon Judy Heumann to Deliver 2022 Reynolds Lecture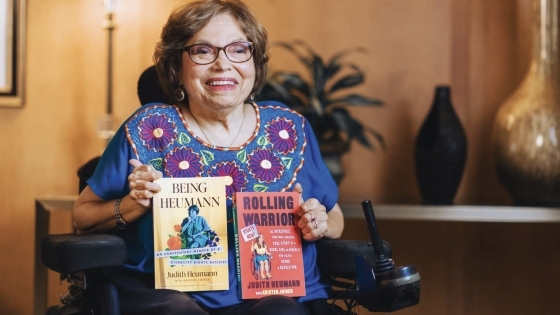 Judy Heumann speaks with authority about disability rights. She took her place at the forefront of the grassroots disability rights movement at its inception in the 1960s, after decades of experiencing discrimination first-hand.
Heumann contracted polio in 1949. At age five, she was denied the right to attend school because she uses a wheelchair for her mobility, and the school considered her a fire hazard.
Heumann's advocacy and policy work have shaped some of the most important legislation of our time, including the Americans with Disabilities Act and the UN Convention on the Rights of Persons with Disabilities, which aims to end discrimination against those with disabilities worldwide.
She will deliver the 2022 Reynolds Lecture at 7:30 p.m., Wednesday, Sept. 7, in the Duke Family Performance Hall. The event is free and open to the public; tickets are required and available at the Union Ticket Desk. Heumann has requested that audience members wear masks.
Heumann graciously granted an interview in advance of the event, while on her way to record the latest episode of her podcast, "The Heumann Perspective." Answers are edited for clarity and brevity.
---
Have you and others in the disability rights community changed your approach to advocacy to meet this moment in history, where we're dealing with the pandemic, climate change and heightened political division?
I don't think we've changed our approach as much as ramped up the approach.
I do a podcast  called "The Heumann Perspective." I'm doing a piece on voting rights with the American Association of People with Disabilities, which runs a program called REV UP.  It's a nonpartisan program that works with organizations and disabled people around the country to help them learn about their voting rights and what to do if there's a problem. The Leadership Conference on Civil and Human Rights will be one of the other guests, and the third guest is a disabled woman from Michigan who runs an organization that is working on voter rights. Voting is definitely becoming a much bigger issue.
On the  issue of the environment, there is more work being done. People are recognizing that environmental issues impact the entire country. People are going to become disabled more because of environmental problems with respiratory issues and other things like that. So, yes, the movement is expanding. It's moving into areas that it hadn't been doing much work in before.
How has disability advocacy expanded because of COVID?
I think that COVID is something that many organizations really started working on in 2020 because policies that were being advanced by some states would've made it more difficult for disabled people to access healthcare–they would've been put on lists where they would not have been prioritized. Groups like the Disability Rights Education and Defense Fund (protection and advocacy offices) are very involved.
How can colleges and universities advance disability rights?
By creating an environment on campus where faculty and students feel respected, and where there is a very positive effort on the part of the college toward focusing on issues around disability studies, as well as having a strong disability services office, and ensuring that students know of it.
Students should feel that they're getting the services they need. That's one very big issue. Does the institution consider what the population of students, faculty and staff are saying about how they feel disability is being addressed on the campus?
Another issue that's very important is disability studies. Are there disability studies courses? Is disability being integrated into other curricula on campus in other areas of study? Those are very important issues.
You've been part of so many seminal moments in the history of disability rights. What would you say is your greatest accomplishment thus far?
That I've been involved with an ever-growing group of disability rights advocates who are working on expanding the movement and our effect. And that our numbers are growing. 
What is the next frontier?
Continuing to work both on effective implementation of existing laws, like the Americans with Disabilities Act (ADA), Section 504 of the Rehabilitation Act [Students with Disabilities], and Individuals with Disabilities Education Act; on voting rights; and on getting more attention paid to policy and funding in areas like home and community-based services. Also, we need to focus on helping the public, particularly disabled people and their families, become more knowledgeable about the laws and rights that exist. Too many people are not really knowledgeable ... they may broadly understand, but they may not explicitly understand what their rights are. That's a critical issue.
What gets you through some of the difficulty of advocacy work?
The work we do makes my life better, and it makes the lives of others better the harder we all work.