New Racial Equity Endowment Honors Alum's Life, Service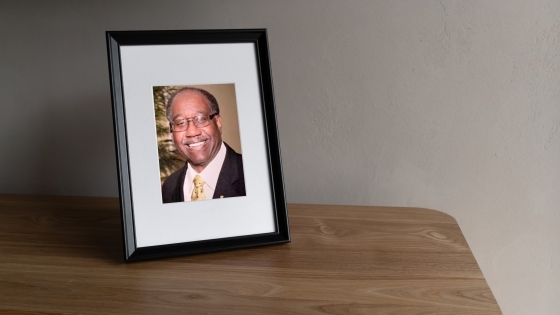 Larry Hardaway, a Black student, and Wayne Jonas, a white student, didn't look like typical best friends. And when they took a cross-country road trip from North Carolina to meet some of Jonas' family in California, the stares from strangers reminded them of that fact. It was the 1970s, less than a decade since Davidson College began admitting Black American students, and it was the beginning of a friendship that would last a lifetime.
Wayne and Susan Cunningham Jonas, both class of 1977, have created the Larry Hardaway '76 Endowment for Racial Equity and Social Justice, honoring their beloved friend and his lifelong commitment to making communities and the world better. Sadly, Hardaway passed away last year.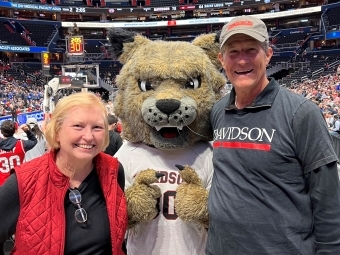 "I lived across the hall from Larry my sophomore year, when he was a junior," Wayne Jonas said. "I had a telephone with a very long extension cord, and Larry would come over when he wanted to make a phone call. We'd stretch the cord across the hall and he'd close his door. An hour or two later, I'd tug on it when I needed the phone back. It was the start of what became a very special friendship." 
The summer after Hardaway graduated, the two friends set out to California, picking up odd jobs along the way to finance the trip. They worked at migrant camps, picked grapes and delivered sodas. They saw the country, met different kinds of people and learned a lot from how others reacted to their friendship. 
Following Davidson, Hardaway dedicated his life to improving the lives of others. He'd known since middle school that he wanted to become a lawyer and, following law school at the University of Florida, he worked in the offices of the state attorney and public defender before opening a private practice.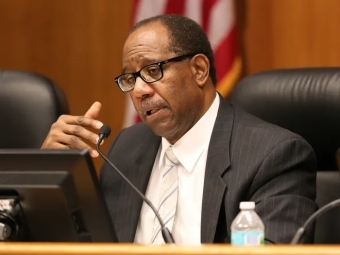 Interestingly, he became both a defender and prosecutor in Florida. He wanted to see both sides. Outside of his day-to-day work, he was passionate about voting and voting rights, and he set up programs to inspire and support young people. He wanted them to know they could contribute to the world.
Wayne Jonas '77
Hardaway came by his genuine love for others from parents who didn't always have it easy, but always found it easy to love. As The Lakeland Ledger reported at the time of his passing: "By age 6, he was helping his parents, who were citrus harvesters, pick fruit. On Sundays, the family faithfully attended church, where he once recalled, 'stories of Jesus and the miracles, the love he had in his heart and the acceptance of all people.' The narratives helped him deal with the legacy of systemic racism that defined the Jim Crow south of his youth."  
Jonas spent time at Hardaway's childhood home, a modest house with a dirt floor and lots of "friends"—what they'd call the many critters that managed to get inside. He says Hardaway became successful because, despite being a lover, he was also a fighter. 
Hardaway succeeded in high school, and his academic and athletic abilities caught the attention of Davidson College, where he was only the third Black student to join the football team. He majored in political science and, as an alum, was awarded the James P. Hendrix Award, presented annually to a Davidson football letterman who, by the use of lessons learned on the playing field, has achieved outstanding success in his chosen profession.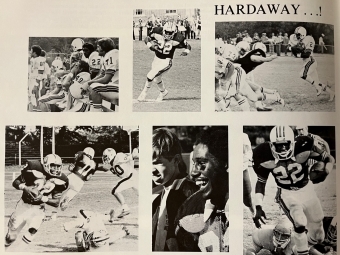 Wayne and Susan Jonas last spent time with Hardaway and his family at their home in Florida not long before he passed, and Susan says she'll never forget some of the stories he told as they looked through Davidson yearbooks.  
"He had some very difficult experiences at Davidson, from having to get his hair cut in a different place from his classmates to not being able to order a milkshake where most of the students did," she said. "One year, or maybe more, he was the only Black member of the football team, and he didn't have the resources a lot of his teammates had, so there were some lonely times. Players' parents would take their sons out to dinner after a game, and maybe they didn't think to invite him, but he couldn't have afforded it anyway. So, he'd ride back on the bus with the coaches. But he wasn't bitter. He was always hopeful.
Hardaway turned that hope into impact. An important part of his practice was pro bono representation of indigent clients. Through his career, he kept sight of the goal he established for himself back in middle school, which was to advance civil rights. He served as an NAACP lawyer and worked to restore the voting rights of felons who had completed their sentences.  
Outside of work, he was a committed father to three children, grandfather to two and husband to Sharon. The Hardaway and Jonas families built a special bond that only grew stronger over the years.
Larry loved to laugh and joke around. Wayne is so serious a lot of the time, but when the two of them would get on the phone, they would laugh and laugh and laugh. Moments later, they would be having a profound philosophical discussion about the meaning of life. That's how well they fit together.
Susan Jonas '77
When the Jonases heard about the Davidson Football Program's P.A.C.E. initiative—which stands for Progress, Advocate, Cooperate and Educate—it felt like the perfect avenue through which to honor their friend. The initiative, led by scholar-athletes of the football program, was launched in 2020 with the mission to promote unity and equality in the face of social injustice. This new fund will allow the students, including one of the effort's leaders, Quentin James '23, to turn their collective passion into action. 
"The hardest part about starting any movement, business, or initiative is figuring out how you will be able to fund it enough to get it going," James said. "Contributions like the most recent one in honor of Mr. Larry Hardaway will allow us to think bigger in terms of what events and initiatives we can hold on campus and in the community to spread our message. We are aware that we may not be able to necessarily influence lawmakers directly, but changing the hearts and minds of the public to promote unity and acceptance is just as important." 
Hardaway's widow, Sharon, knows her husband would be moved by the generosity of his dear friends and the impact this funding and work can have in the world. 
"Davidson set the foundation upon which the rest of Larry's life and his career would be built," she said. "I know my husband is laughing and smiling … he would have felt so happy and humbled that his friends Wayne and Susan would commemorate him in this way." 
Hardaway's legacy is one of grit, compassion, optimism and a desire to make the world more just and a little brighter. This most recent gift from Wayne and Susan Jonas will help continue that legacy through Davidson students and their dedication to leadership and service. 
"Larry starts with L," Wayne Jonas said. "L is for love, which equals laughter, which equals life and how to do it. That's what I think of when I think of him."
Anyone interested in supporting Diversity & Inclusion initiatives at Davidson College or honoring Larry Hardaway's life through other support of the college can contact Marya Howell '91 in the Development Office at mahowell@davidson.edu or 704-894-2761.