Trust, Commitment, Care: A Coach, a Player and an Unbreakable Bond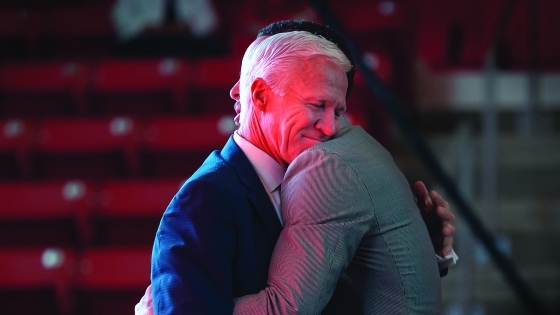 Bob McKillop first saw Stephen Curry play on a baseball field, not a basketball court.
Curry and McKillop's son Brendan played on an AAU baseball team of 10-year-olds that won the North Carolina state championship and advanced to the nationals. The McKillops, Currys and other families spent weekends traveling to different towns, staying in the same hotels and cheering their kids on from the stands. 
A few years later, McKillop sat in the Currys' Charlotte living room and asked them to entrust him—and Davidson—with Stephen's college years. Stephen committed on the spot, and his mom, Sonya, told McKillop, "Don't worry, I'll fatten him up before he gets there."
"No need to do that," McKillop said. "We'll take him just the way he is."
Thus begins the story of how a veteran coach and a skinny, scrappy point guard overlooked by bigger schools formed one of college basketball's closest and most famous alliances. It's one based on respect, loyalty and love. And it's spelled out in McKillop's TCC mantra (trust, commitment, care), that's tattooed on Curry's wrist.
"Stephen brings a joy to basketball and life, and he includes everybody in that joy," McKillop says. "He'll be at a press conference after a game and immediately deflect attention from himself—he thanks and praises his teammates, just like he did as a college freshman. He doesn't hold on to the spotlight, he passes it around and lights everybody up.
"No one ever goes to Stephen without leaving happier."
Curry often expresses gratitude to McKillop—and Davidson—for taking a chance on him and helping to shape him into the player—and person—he's become. 
"Never in a million years would I have imagined that this day was possible and all of the successes and experiences that have come were possible," Curry said at his Davidson commencement, jersey retirement, and Hall of Fame induction ceremony in August. "What I did know was that I was entrusting my college journey to a true leader, somebody who has so much compassion, care and love for every single person you come in contact with."
It was an emotional moment: Curry's voice choked slightly, and tears sprang to McKillop's eyes.
"You built the total human being, as an athlete and as a citizen," Curry said. "I know I can speak for everyone that's ever played for you—none of this is possible without you. Thank you so much for your leadership, and your example."
Coach, Father
McKillop figures he's coached about 500 players during some 50 years in the profession. That includes sons Brendan '11 and Matt '06. Matt McKillop is now head coach of Davidson's men's basketball team.
"I had the privilege of coaching my own sons and I fortunately learned that everyone is somebody's son. I felt like they were all sons to me," Bob McKillop says. "I aspired to have that connection with all our guys and Steph became that and has remained that for me."
Sometimes parenting—and coaching—requires tough love.
Curry got a dose of the hard stuff when he overslept and tried to sneak into his first Davidson practice a couple minutes late. McKillop kicked him out. He allowed Curry to come back the next day, and it never happened again.
McKillop laughs recounting how Curry scored 15 points in his first college game. And turned the ball over 13 times, McKillop says, "a double-double in his first college game and a memorable one."
It's been quite an evolution for a player now considered one of the NBA's greatest ever.
McKillop deflects the praise he often gets for his role in Curry's achievements; saying his early shooting lessons and basketball IQ came from his father, former Charlotte Hornet Dell Curry. Stephen the man came about because of his parents, McKillop says.
"Sonya and Dell have raised incredible children," McKillop says. "As a 10-year-old, Stephen was graceful, joyful and talented. He was also very polite, and very respectful of people—all the things he still is today."
It's a bit surreal to think about how much has transpired since the basketball coach first saw a kid playing baseball. 
"Sometimes I'll see Dell at a Warriors game," McKillop says. "We'll make eye contact after some sensational shot Steph's made and we'll shake our heads and smile and give each other a 'can you believe this?' look.
 "It truly is magnificent how far this journey has taken him; and he has brought us all along with him."
---
This article was originally published in the Fall/Winter 2022 print issue of the Davidson Journal Magazine; for more, please see the Davidson Journal section of our website.