Alum Physician-Mentor a Shining Light for Davidson Students Considering Medicine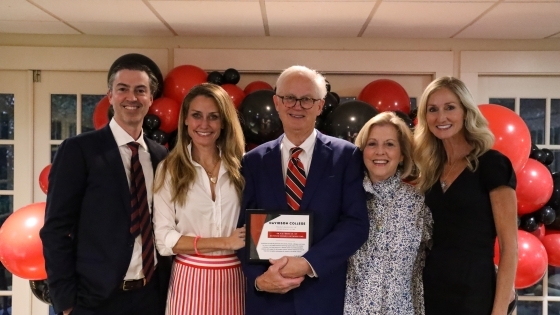 There are mentors, and then there are great mentors. K.D. Weeks '69, M.D., is the second kind.
Now a retired cardiologist, sleep specialist and medical researcher, Weeks had his own exceptional mentor in his father, a 1935 Davidson alum also with a career in medicine, whose lessons set him on a path to changing lives.
"My father practiced medicine and taught at Duke," Weeks said. "He would always talk to me about giving back and teaching. He said, 'If you're a doctor, that means you're also a teacher.'"
Weeks took the advice to heart. His direct work with Davidson students took hold in the 1990s, when now-retired Biology Professor Jerry Putnam approached him about becoming a mentor to students interested in medicine. But not just any mentor; Putnam wanted students to have deeply meaningful experiences. Weeks put his network to work for Davidson, inviting all doctors in the Charlotte area to join.
"People use the mentoring term too loosely," Weeks said. "We were interested in physicians who would help connect students with real-time experiences and who would have phone calls with them and share ideas about research. I'd ask, 'Can students walk around with you and learn by your side?' The goal was not to have students walk around and stare at us. We wanted them to be engaged and thoughtful and remember all the lessons and conversations, even when it was awkward or difficult. There are important lessons in those moments." 
Since that time, hundreds of Davidson students have been introduced to medicine in a new way. They live it and they learn it alongside experts. The program has changed and grown over the years, adding long-distance mentoring and summer experiences. While the access students enjoyed to doctors and patients years ago looks a bit different today, the expectation that mentors are available to their mentees and invested in their futures hasn't changed.
"I always say 'yes' when I get a call from a mentee," said Weeks, who takes on seven current students at a time. "Now that I'm retired, we usually meet up at Panera Bread, grab coffee and talk for as long as they want. Over the years, I've even given my house key to a student or two so they could borrow a canoe and enjoy Lake Norman. [My wife] Becky would ask me if I was giving out our key, but she'd also invite the student in for lunch so they wouldn't get hungry out on the lake. So, you know, it's always been a total family commitment." 
A Fund to Celebrate, Strengthen & Inspire
Earlier this fall, Weeks got one of the best surprises of his life. His family concocted a story to get him to campus, where he learned he was being honored for leading a life of leadership and service.
Family members and close friends have launched the Dr. K.D. Weeks '69 Davidson Research Network (DRN) Fund in recognition of Weeks' legacy of mentoring Davidson students and his many contributions to medicine. The fund also aims to strengthen ties between Davidson and the medical community.
Weeks' daughter, Rebecca Weeks Watson, spearheaded the effort alongside siblings Durham Weeks, M.D., and Katherine Weeks Mulford '97.
"This fund is just so aligned with who my dad is," Watson said. "Mentoring students is his greatest sense of joy. When I described the fund's mission to people who know my dad well, many responded by saying they were thrilled to contribute on behalf of a man who gave so much and never asked for anything in return."
Spencer Redding '72 created the DRN program with the goal of providing off-campus summer research experiences for select students planning to pursue careers in the health sciences. Students are paired with physician-mentors at various locations across the country in a wide variety of disciplines, and the stipend provided by the Dr. K.D. Weeks '69 DRN Fund supports their travel and housing. The students get the hands-on, immersive experiences Weeks has been so passionate about providing. 
As soon as the new fund was launched, Watson got to work, contacting family, friends and colleagues to request their involvement. The fund today sits at more than $250,000 in commitments, with a goal of exceeding $300,000 in the near future. It's no surprise the entrepreneur and professor—who now teaches classes at Davidson's Jay Hurt Hub for Innovation and Entrepreneurship—knew exactly how to get the ball rolling. 
"I've had the best time meeting people who share with me the stories about how he impacted their careers, lives or health," she said. "One of my dad's partners at his cardiology practice said he'd never met anyone less concerned about their individual prominence and more focused on the betterment of others. That's really what this fund is about." 
Getting Beyond the Surface
One of Weeks' first mentees was Jane Stubbs Harrell '96. As a student considering medicine, she was hired for an internship Weeks hosted. 
"Hospitals were really different at that time, so we had fewer regulations," she said. "We spent part of our time doing cardiology research, and then he would set up specialists to spend half days and full days with us. I loved the internship, and it was a total game changer for my life." 
Harrell found Weeks at just the right time. She had recently lost her mother unexpectedly and felt uncertain about her future. The internship solidified her interest in medicine, and served as the start of an ongoing mentoring relationship.
"I can be so real with him," she said. "I had my first two children in residency and thought about quitting. He would cheer me on as if I were his own daughter. At the time, it felt like I was the only person he made time for, but I know he was doing the exact same thing for so many other people." 
Weeks remains an important influence in Harrell's life. 
"Things don't always go perfectly in medicine, and I would talk to him about those times," she said. "I remember him telling me about an experience where he made a mistake, and he went to the patient's family's home to talk to them about what happened. That's the way I practice medicine, too, and I know it's because he gave me permission to practice it that way. I put everything on the table. I say to patients, 'I'm going to treat you like family, and I'm going to do the very best I can, but things happen.'"
Weeks also encouraged Harrell the same way his father encouraged him: to pay it forward and teach others. She has returned to alma mater on several occasions, speaking with young women who are interested in following her path into medicine.
The Harrell-Weeks mentoring bond hasn't stopped with Jane. Her second daughter, Piper, held an internship in high school with one of Weeks' former partners. She wasn't sure about the pre-med track and never thought she'd end up at Davidson. Today, she is a first-year Davidson student on the lacrosse team, planning to go into medicine. 
"K.D. is such a light and a shining star," Harrell said. "You just feel better after being around him. He is such a gift on so many levels. He's family." 
If you are interested in supporting the Dr. K.D. Weeks '69 Davidson Research Network Fund and creating mentorship and research opportunities for Davidson students pursuing the health sciences, please contact Jeff Kniple in the Development Office at jekniple@davidson.edu.