Black Student Coalition Celebrates 50th Anniversary on Campus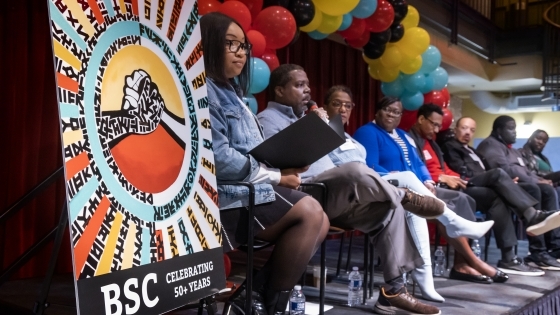 Alums converged on campus Feb. 10-12, 2023, to celebrate the anniversary of the founding of the Black Student Coalition.
For more than 50 years, the student-led organization has enriched campus life at Davidson College, creating avenues for Black students to build community and share culture.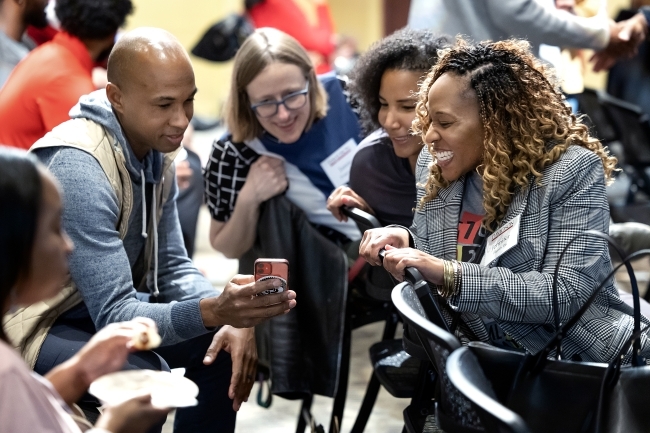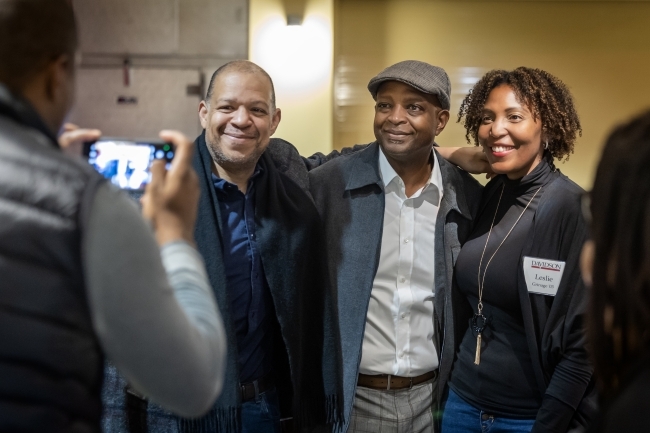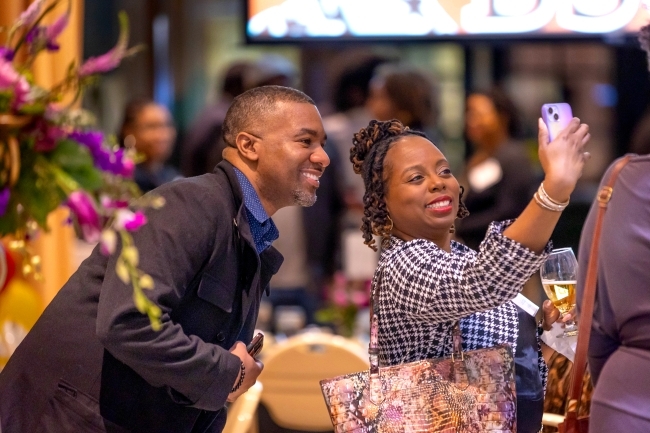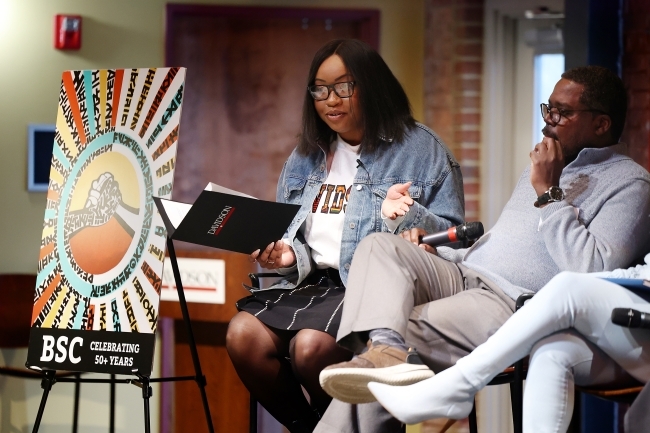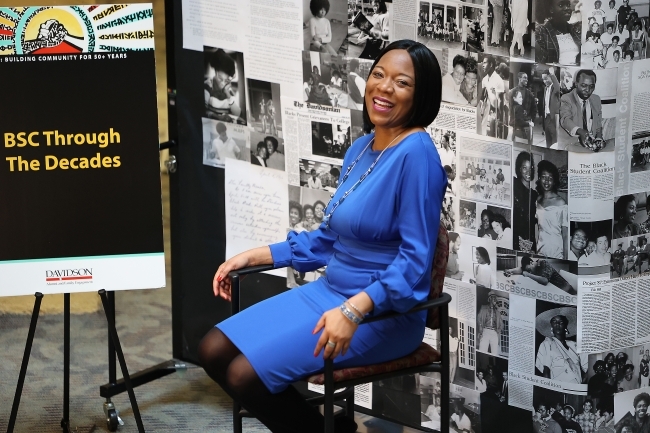 The BSC is the reason that a lot of Black students actually stayed at Davidson. It was the place that we could be unapologetically ourselves. From my first week on campus when I took over the music and played Pastor Troy to let them know the '04 boys were here to deciding to bring a Black fraternity to campus to having water gun fights and a joint party with KA ... The BSC simply was HOME.
Mbye Njie '04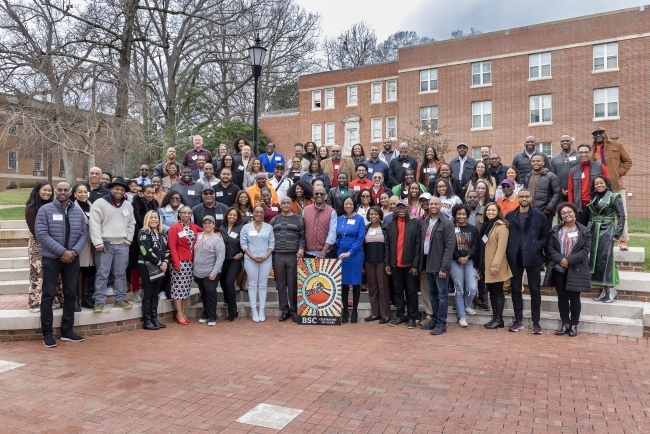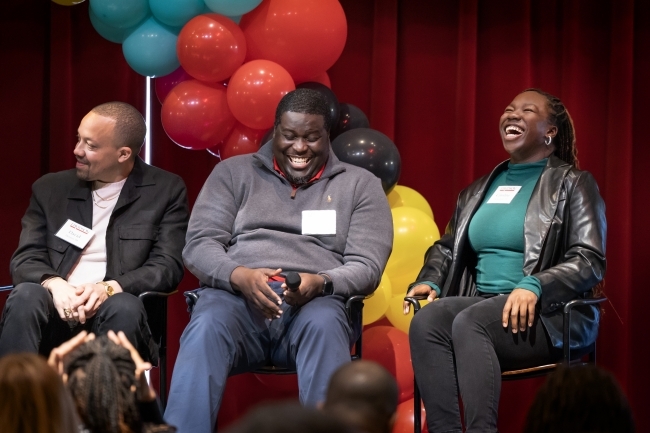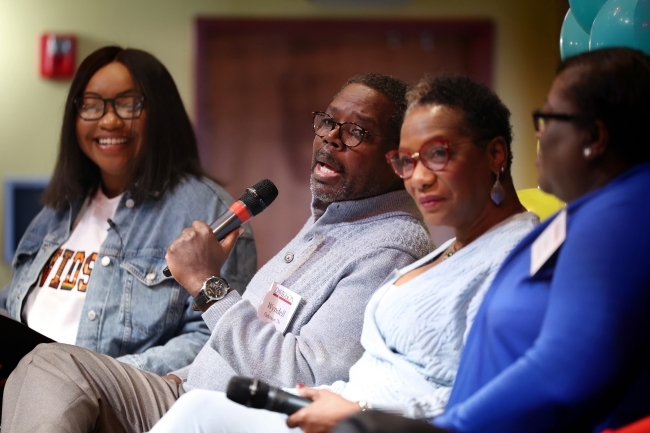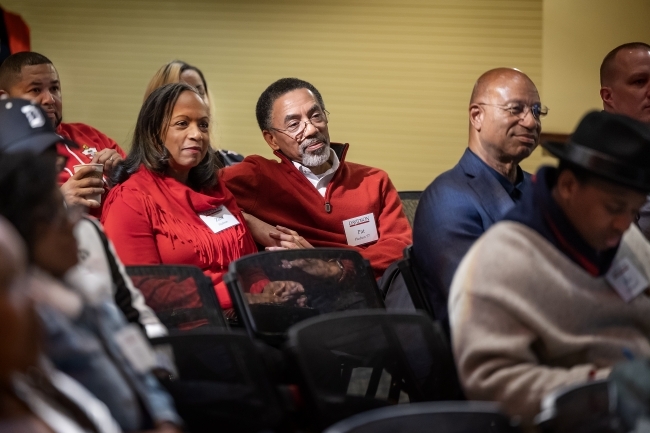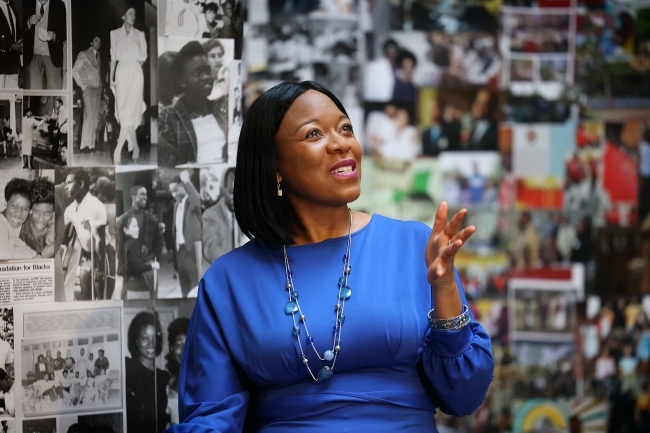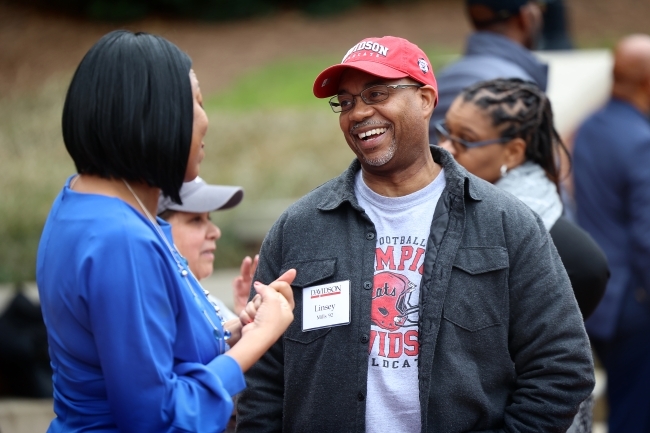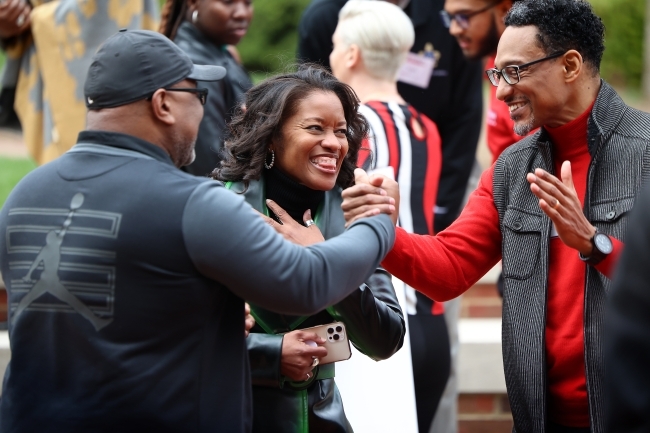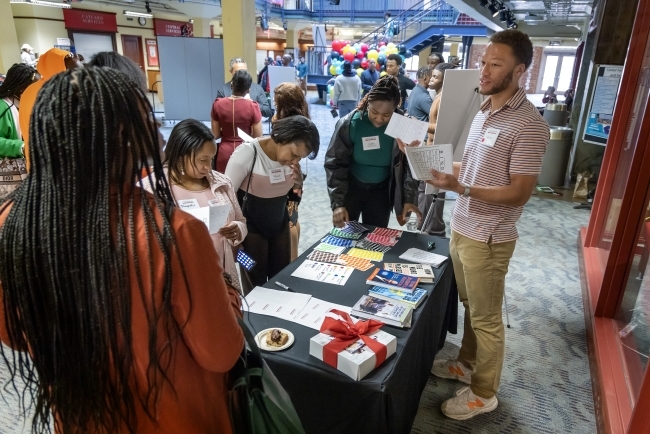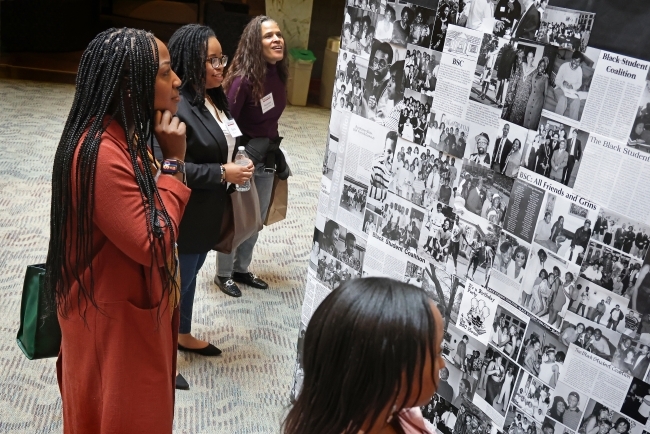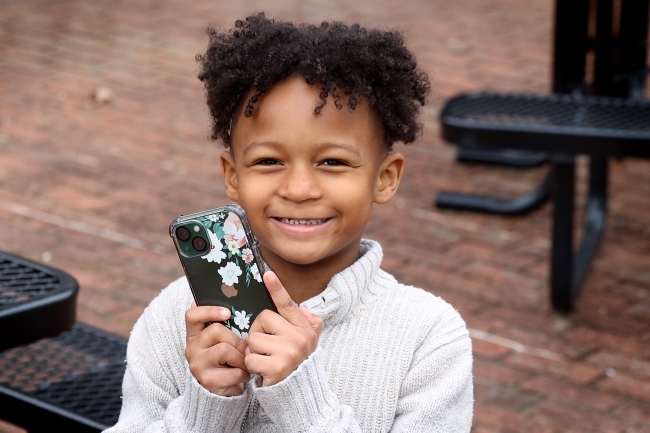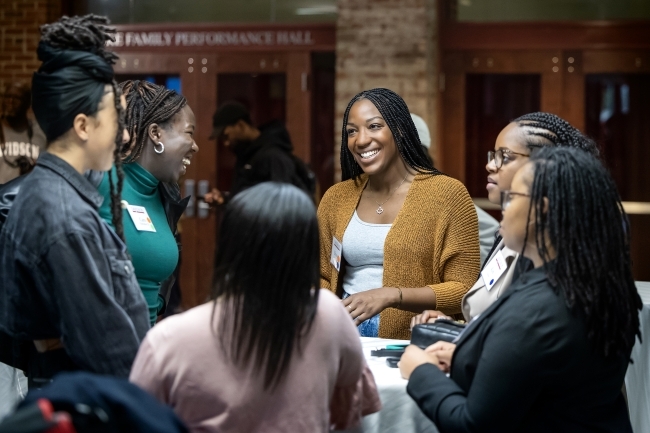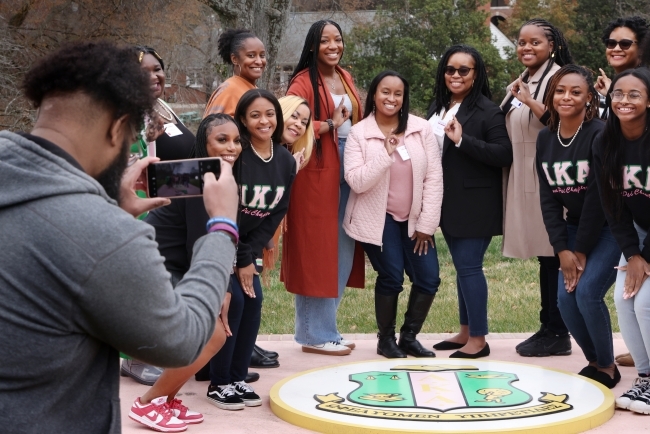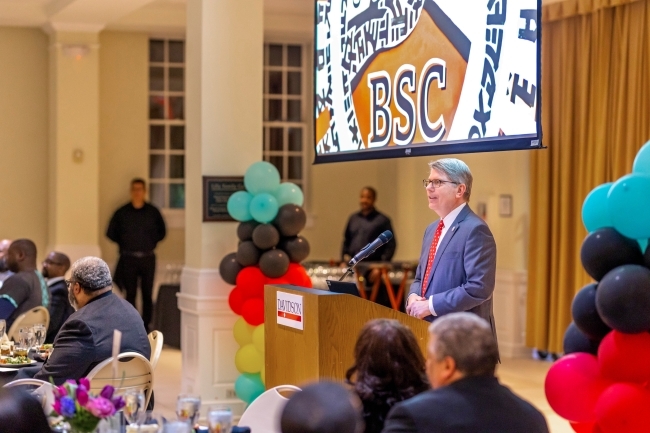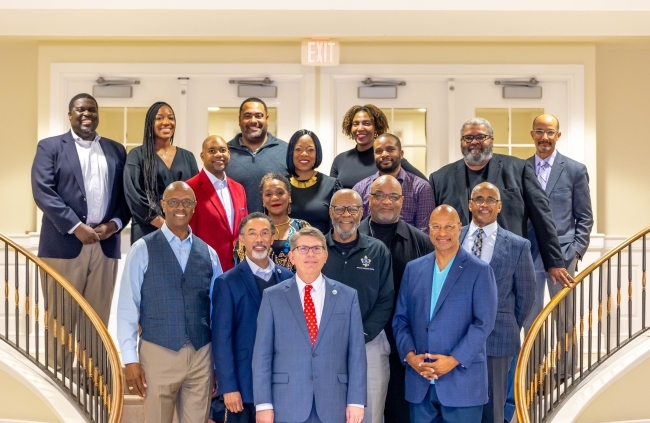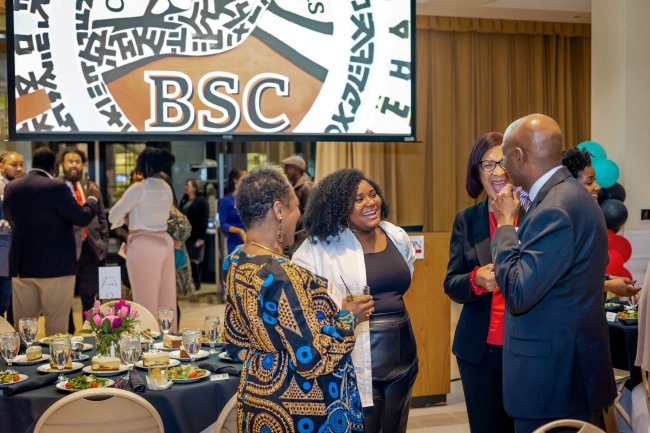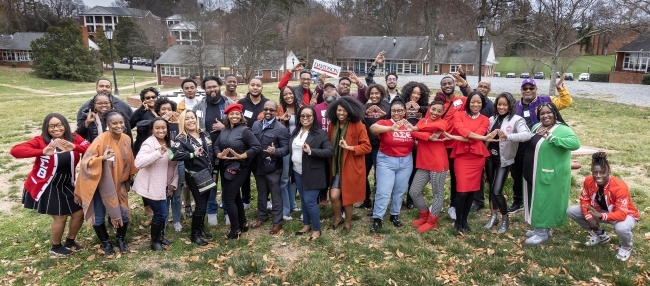 BSC Campus Celebration
This story was published in 2021 in honor of the 50th anniversary, but the on-campus celebration was postponed because of the pandemic. Enthusiasm remained high for the in-person gathering, which included a panel on the history of the BSC, art and sporting events, opportunities for current students to connect with alums, and an evening dinner celebration and after party.
J. Machelle Sweeting finished college a semester ahead of schedule and considered not returning for her spring Commencement. Friends from the college's Black Student Coalition (BSC) were among the many urging her to attend.
They reminded her that her degree was as important to her as it was to those watching her cross the stage. The milestone would inspire the sea of fellow students, community members and relatives watching, especially those who did not have an opportunity to attend Davidson College, to earn a degree or to pursue an education.
Their opinion held sway. A commencement photo of Sweeting '93 smiling with her proud father (who passed away a few years ago) sits on the desk in her chambers. The New York State Supreme Court Justice cherishes her college memories and her involvement with the BSC.
The BSC, founded by Black students to push for campus equity and inclusion, is celebrating its 50th anniversary this year. For many like Sweeting, the BSC offers a safe space and introduction to life-long friends.
"Davidson was a diamond-cutting experience for me," Sweeting said. "When I visited campus, it was an instant love affair—the trees, the academic standards, the culture. I still have my acceptance letter with my financial aid package. But it was a challenge. There was one beauty salon in town, and it didn't carry products for African American hair, for example. I became the courier of culture, in a way, bringing things back to campus from Harlem, where I grew up."
Sweeting became the BSC president her junior year. She appreciated how the organization, like the scales of justice, worked toward balance—a balance of academic excellence and activism.
"Your ability to engage, persuade and articulate—that's your greatest weapon," she said. "This heightened awareness among Black students resulted in amazing programming through the BSC. We brought [singing group] Sweet Honey in the Rock and [poet] Nikki Giovanni to campus. It was great to be a part of something bigger than myself."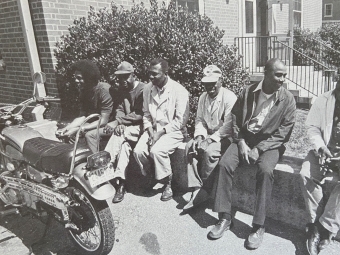 Starting Small
The BSC had grown by the time Sweeting and her classmates became Wildcats. When Lester Strong '72 arrived on campus as a top student and heavily recruited Division I basketball player, he was one of four students of color. With the support of campus leaders like Dean of Students Will Terry and Head Men's Basketball Coach Terry Holland, he led College Union student programming (today's Union Board) and helped found the BSC.
"I wanted rigor, and I wanted great basketball, so Davidson was an easy choice for me," Strong said. "Following graduation, the Watson Fellowship allowed me to see the world in a way I never would have been able to do."
In his senior year, Strong worked at WBTV in Charlotte, launching his 25-year career in television.
There were challenges. Strong remembers visiting historically Black Johnson C. Smith University, where he didn't stand out. Would that route have been easier? Sure. But instead of second guessing his choice to come to Davidson, he decided to push for change.
"We talk about diversity and equity and inclusion, but at that time, there was a larger focus on assimilation," Strong said. "The BSC brought to campus some acknowledgement, cultivation and nurturing of Black students' lived experiences. The college gave us a house near the laundry facility. Will Terry shepherded the whole effort with us, and it was a big step forward for students."
The influence of the organization carried through Strong's life. Now retired from television, he works with organizations on antiracism training, diversity, equity and inclusion.
Leaders on Campus
Fast forward to the 21st century: Matrika Johnson '02 joined the BSC following a pre-orientation program for minority students.
"I came to Davidson from Ohio, and I quickly learned that racism in the South is much different from racism in the North," she said. "As a freshman, I saw a confederate flag up close and personal for the first time ever, hanging in a student's window. It's a back-handed compliment to the college, but it really did prepare me for the real world. I saw things, and I lived through things, but here I am."
Johnson is the only black female reproductive endocrinologist in North Carolina and, in November of 2020, started her own practice.
"Some of my investors are Davidson alumni who wanted to be involved just because I'm a Davidson alum, too," she said. "With the challenges came a lot of good, including my best friends to this day and a foundation for learning that set me on a trajectory for success in medical school and in my career."
Like Sweeting, Johnson is proud of the culture the BSC brought to campus. From poets and flautists to a concert by Ludacris, everyone on campus could experience artists that represented BSC members' interests.
"I'm proud of the culture we brought to Davidson and the way we worked to become valued voices on campus," Johnson said. "I have to say I'm also proud of our parties. We only had a few a year, so we made sure they were really good. People always said we had the best parties, and that wasn't a lie."
Aaron Goodson '11 relates to Johnson's experiences, even if all his plans didn't work out the way he planned.
During his sophomore year, he was the admissions and orientation chair for BSC, working closely with the admission team, and also oversaw Black History Month programming one year—not exactly a success. Despite his efforts to get the word out, students did not turn out for the events.
"Everything I planned went poorly," he said, "but the failure pushed me to become even more involved. I ran for president at the end of my sophomore year and lost, but I won the following year. I felt this desire to pull people into what we were doing, whether they chose to come to all our events or only to a party or two."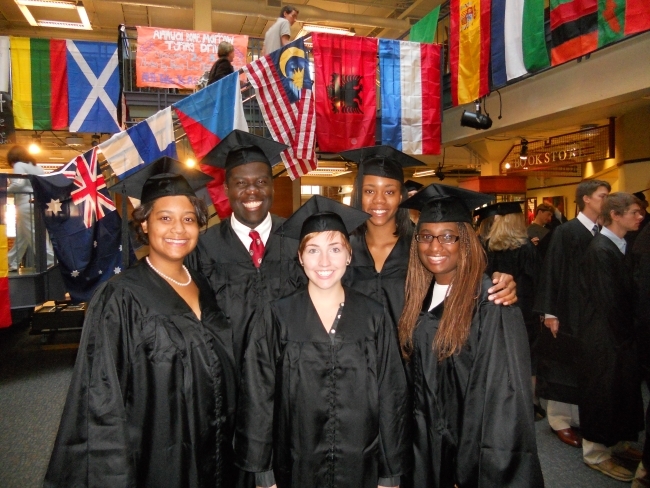 Goodson now supports student-athletes at Mississippi State University by providing counseling and sport psychology services. He believes students should seek a school that fits their needs, even if they can't play their sport. That was Aaron's relationship with Davidson. He walked onto the men's tennis team, but after two years, decided to focus his efforts elsewhere.
"The BSC was at the center of my decision to come to Davidson," said Goodson. "The fact that there was a dedicated space for the organization showed a level of significance on campus. It was a beacon of light and direction for all, not just Black students. We had a seat at the table, with student government, with administrators—we were able to affect change in meaningful ways."
Like Sweeting, Goodson wholeheartedly embraced the organization's mission.
"It's kind of amazing that an organization could be so many things to so many people but still provide exactly what each person needs," he said. "It's a priceless experience to be among people who pour into you and allow you to see things you couldn't see before."
Tomorrow's BSC
Jared Lindo '21 looks forward to BSC's continuing growth and leadership. With political polarization and racial divisions separating so many Americans, the relationships he's formed through the BSC have become even more important.
"A few years ago, when two students tweeted neo-Nazi remarks, the BSC led a campuswide response," he said. "We aim to protect all marginalized communities, which is counter-cultural to Davidson's history. That goal becomes the North Star for those who belong to these identities."
Lindo came to Davidson planning to study physics but quickly realized political science aligned more closely with his interests. He plans to pursue constitutional law with a focus on public administration.
"I think a lot of times things don't move forward or get fixed because people decide it's too much work," he said. "That's not a good reason."
Putting in the work comes naturally to Lindo and BSC members. After a quiet fall with students adjusting to campus life during a pandemic, the group is anxious to get back to work this semester.
"There is a lot of room for creativity and imagination right now," Lindo said. "We're excited to plan events to further connect Black students and faculty and to enhance alumni involvement. This semester is kind of a revival after a quiet time away. First-year students haven't seen our spirit, and older students miss us. Our goal is to be present and continue to advocate."