Commitment Strengthens College's Support of Free Expression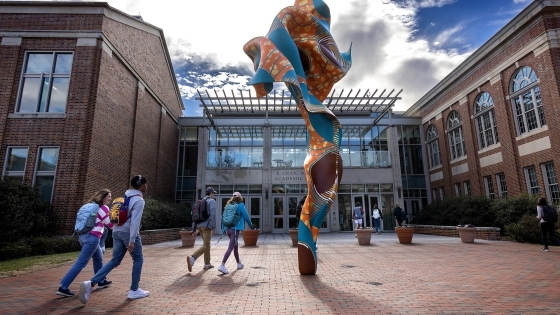 It identifies challenges old and new, from a history of outright exclusion to an environment that encourages self-censoring. The commitment aims to help nurture trust and empathy that will sustain an environment for robust debate.
Davidson College President Doug Hicks emphasized that the statement builds on the principles expressed in Davidson's constitution and statement of purpose.
"At Davidson, mutual respect and the quest for truth are fundamental commitments," Hicks said. "In this moment when freedom of expression is under threat across the country, we must address our own shortcomings, past and present, to listen to and learn from each other. That builds common ground. We are deeply grateful to the working group that shaped this statement and to the faculty for their affirmation."
The new commitment was drafted by a working group of: two faculty members, two students, a trustee, and former North Carolina Gov. Jim Martin, an alum and former chemistry professor at the college.
Martin said Davidson's distinctive character, built around community and integrity, required that the college fashion its own declaration on free expression, rather than merely sign on to one written elsewhere.
"Our nation needs more of what Davidson can provide—a place where debate runs civilly and freely, in a residence hall or a lecture hall," Martin said. "The college has produced doers and thinkers who made our society and our world better because their ideas and arguments were challenged every day on campus. This commitment was crafted by a group who came from different backgrounds, experiences and ideologies, and those differences brought a lasting result."
The preamble to Davidson's constitution expresses the school's mission, including teaching students "to communicate freely with others in the realm of ideas." The constitution itself guarantees free speech rights of students and student organizations. It also offers broad protections of faculty members' academic freedom.
Those principles, though, cannot be upheld if some groups, intentionally or unintentionally, are excluded from full participation, the commitment affirmed last week states.
"Dissenting voices cannot and should not be censored," the commitment says.
The statement acknowledges that Davidson has committed itself both to free inquiry and to the inclusion of diverse persons and communities but has not always lived up to those obligations. The college excluded Black persons and women for much of its history and, like many campuses, more recently has  focused on some students saying they self-censor comments that may be unpopular with a majority of people around them.
The results were and are that individuals and groups have been marginalized. Their voices were muted because of race, ethnicity, sexuality, gender, disability, class, ideology, citizenship, and religious or political affiliation.
"Faculty members, more than anyone, want unfettered discussion and debate. That's the only way that learning can take place," said Shelley Rigger, Vice President for Academic Affairs, Dean of Faculty and Brown Professor of Asian Studies. "The faculty's affirmation reflects the empathy and energy that they offer our students in helping them explore and shape their worldview."
Beadsie Woo, a trustee and 1986 Davidson alum, said students of different backgrounds and alums who attended the college in different eras all have, and had, different experiences.
"We need to acknowledge those differences as we work together for a common climate of support to speak up," said Woo, a member of the working group and the first woman, and first woman of color, elected student body president. "Some members of our community come to this conversation having endured significant impediments to being heard."
The commitment expresses "a solemn responsibility to promote the lively and fearless freedom of debate and deliberation and will also protect that freedom when others attempt to restrict it," the commitment says. "It is not the proper role of the college to attempt to shield individuals from ideas and opinions they find uncomforting, disagreeable, or offensive. The role of the college is to sustain an environment in which all students can freely learn." 
The statement declares that ideas that might encourage critical thinking should be expressed and disputed without the censoring of speech or discouraging of protest.
The statement also confronts head-on the idea that the principles of diversity and free expression are at odds. Instead, the commitment declares, they are essential to each other.
"The best way to ensure progression is to recognize that true inclusion and true free speech are interdependent," the commitment says. "They must continue to be so."