NSF Grant Opens Doors to Extended Reality Research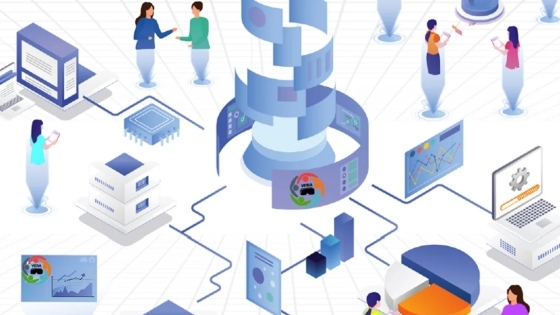 A Davidson College professor is part of a nearly $5 million U.S. National Science Foundation-funded project to develop the first, large-scale system for extended reality human subjects research.
Tabitha Peck, associate professor of mathematics and computer science, will help develop resources for carrying out research in extended reality, or XR—virtual reality, augmented reality and mixed reality environments. Peck leads the Davidson Research in Virtual Environments (DRIVE) lab and studies movement in virtual environments and the psychological effects of avatars in virtual environments. 
XR technologies already are being used to create immersive environments across a wide range of sectors, from education to retail to healthcare to entertainment. Meta has reportedly sold millions of consumer headsets and there is speculation that Apple will announce an XR headset soon. 
The Virtual Experience Research Accelerator, or VERA, will address a critical problem in human subjects research in XR—a vast majority of the studies rely on relatively small convenience samples of college-age participants that are not demographically diverse, and take a relatively long time to carry out.
"Diversifying the pool of XR participants has the potential to minimize unintentional bias that has been added into XR systems," Peck said. "For example, the hardware does not accommodate most women's heads making it harder for them to use. Including more diverse populations in the participant pool has the potential to expand who can comfortably use XR systems and will improve development of helpful applications for all users."
Led by researchers at the University of Central Florida, Peck joins colleagues from Stanford University, Lehigh University and Cornell Tech in developing VERA.
The NSF announced the funding today as part of a $16.1 million investment the agency is making in artificial intelligence infrastructure through its Computer and Information Science and Engineering (CISE) Community Research Infrastructure—or CCRI—program.
About VERA
VERA will combine the ideas of distributed lab-based studies, online studies, research panels, crowdsourcing and virtual environments into a unified system for carrying out XR-based human subjects research. To create a large, diverse pool of research participants, the team will recruit participants from around the country to serve in a standing participant pool.
The system will be comprised of a study management program, the participant pool, and a virtual metaworld where participants can join studies, and researchers can attend meetings and events as well as interact with 3D visualizations of final study data.
Individuals recruited for the VERA participant pool will include those who already own VR equipment as well as those who will have it provided to them. The system will allow for participants to take part in studies remotely, without having to come to a lab.
The VERA Team
In addition to Peck, the VERA team includes principal investigators Greg Welch (Lead PI), the AdventHealth Endowed Chair in Healthcare Simulation at UCF; Shiri Azenkot, an associate professor with Cornell Tech and a co-founder and director of XR Access; Jeremy Bailenson, a Thomas More Storke Professor at Stanford University; Gerd Bruder, a research associate professor with UCF's Institute of Simulation and Training, SMST; and Valerie Jones Taylor, an associate professor with Lehigh University.
Co-investigators are Jonathan Beever, an assistant professor in UCF's College of Arts and Humanities; Nicholas Alvaro Coles, a research scientist with Stanford University and the director of the Psychological Science Accelerator; Carolina Cruz-Neira, an Agere Chair Professor in UCF's Department of Computer Science; and John Murray, an assistant professor in UCF's Nicholson School of Communication and Media.
Several industry and nonprofit organizations are involved, as is the XR Association.