Honoring Bob McKillop's Legacy and Investing in Future Wildcats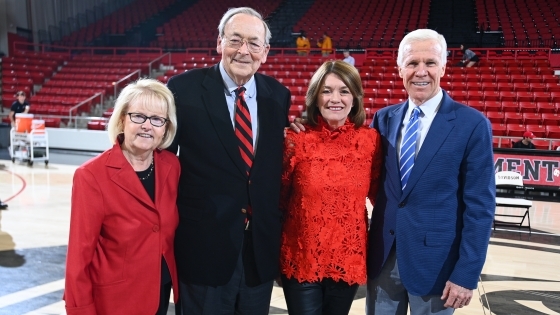 Former men's basketball head coach Bob McKillop transitioned to his new role as leader-in-residence for Davidson College at a time of great upheaval in collegiate athletics. The transfer portal and opportunities through NIL (name, image, likeness) mean colleges, universities and scholar-athletes are looking at recruitment, retention and their futures differently.
One way Davidson can maintain the flexibility to welcome an ever-changing athletics landscape and continue to compete at the highest levels is through the continued and increased investment of alums, families and fans. 
Joel Williamson '67 and his wife, Cheryle, recently committed $1 million to the men's basketball program, a gift made in honor of Bob McKillop's leadership and legacy and one they hope helps Davidson face new challenges and embrace new opportunities.
"Our goal was to honor Bob's leadership and ensure his legacy would be carried through with Matt McKillop as the new head of the men's basketball program," Williamson said. "We want to position him for continued success as we also maintain Davidson's high academic standards. We want to keep a high level for Davidson in the basketball world, the same as it's been for decades, dating back to the 1960s." 
The impact of national changes in athletics is different for highly selective liberal arts schools that are competing with massive universities, Williamson said.
"It's a challenge that has to be managed," he said, "and I have every confidence in Davidson's administration under Doug Hicks, Davidson's Athletic Department under Chris Clunie and Davidson's basketball coaches under Matt McKillop to manage it well."
Bob McKillop, who led Davidson College to 23 conference championships (15 regular season, 8 tournament) and 10 NCAA Tournament appearances, retired last year after 33 seasons as head coach. He is the most successful coach in school and league history and concluded his illustrious career ranked 54th on the NCAA Division I wins list with 634 victories. 
"I've always admired Bob's organizational skills and his technical knowledge of basketball," Williamson said. "A large part of the results we've had for the program are attributable to his superior excellence as a coach and role model. Coaching truly makes a difference, especially when you consider that Bob was recruiting for a school that is highly selective, academically. That puts a great deal of pressure on coaches who are competing against schools that may not have the same academic admission requirements as Davidson."
Abiding Commitment
Through his career, McKillop saw the direct, lasting impact of generous, loyal alums and donors like the Williamsons—donors who have become very close friends. The friends often exchange texts after home and away games—recounting celebrations and disappointments—and have talked about the challenges that lie ahead and how Davidson's leadership, coaches and scholar-athletes are positioned to address them head-on against high-level national competition.
"The challenge of making a successful transition to the Atlantic 10 Conference could never have happened without Cheryle and Joel Williamson," McKillop said. "They have become so much more than friends. They are great teammates, all time MVPs. Their lives are a reflection of our basketball program's code of honor—Trust, Commitment and Care: TCC. They have put their trust in Davidson College, Davidson Basketball and the Davidson coaches and players. They have committed beyond measure with their extraordinary generosity. And, they have shown how they care by their ever-present gracious kindness to all that is Davidson. How lucky are we that Cheryle and Joel have been such a vital and significant part of all our lives."
The Williamsons' impact at Davidson extends into many corners of campus. The couple made the very first gift to the Harry L. Vance Athletic Center, creating the Cheryle Williamson Center for Dance. Their generous support funded a beautiful space that has allowed students on campus to explore and develop their passion for dance—Cheryle is a former dancer, ballet teacher and member of the board of directors of The Joffrey Ballet Company. The Williamsons' names also reside on the Williamson Concourse in Baker Sports Complex and beneath the scoreboard in John M. Belk Arena, where they were among the major funders of McKillop Court. 
Additionally, the Williamsons co-led the creation of the Mike Maloy Basketball Scholarship in memory of the three-time All-American who passed away in April 2009. Joel was the president of the Sigma Chi Fraternity when Maloy '70 became the first African American pledge in the history of the national fraternity. Subsequently, in 1970, when Maloy's teammate Jerry Kroll '70 was president of Davidson's Sigma Chi chapter, the chapter turned in its charter when the national Sigma Chi Fraternity refused to admit Maloy because he was African American.
Most recently, the Williamsons committed $1 million toward new and improved athletics facilities, part of the college's "Davidson Athletics: The Next Step" initiative. 
At the time of the facilities gift, the Williamsons reflected on what inspires them to continue giving generously to support the Wildcats of today and tomorrow: "The balance of excellence in academics, athletics and the arts didn't always come easy at Davidson. We've come a long way, and we can't stand still where we are today. We have to keep progressing and staying ahead. We want to attract scholars to all athletic and dance programs, and we have to have the best facilities to accomplish that goal."
Forward movement remains the goal of their support, and Head Coach Matt McKillop is optimistic for what lies ahead for the men's basketball program and Davidson Athletics.
"My time at Davidson as a scholar-athlete, an assistant coach and now head coach has allowed me to develop a special relationship with the Williamsons, who have such a strong understanding of both Davidson College and the current college athletics landscape," he said. "We have a shared vision for Davidson basketball and the future of our program—to continue to embrace the lofty academic and athletic standards of Davidson College while maintaining a level of integrity with young men who will represent the mission of this institution. I am grateful for my friendship with Cheryle and Joel, and our program is so fortunate to have their support."