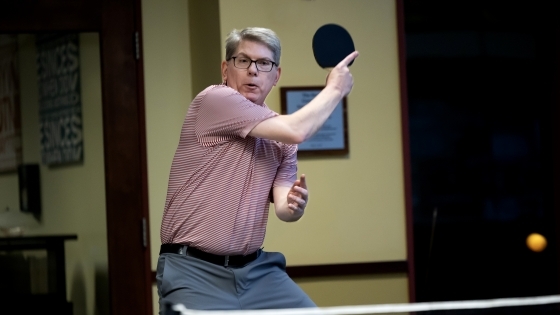 He's accomplished and affable with an easy-going demeanor that often fools the unsuspecting.
Be warned: Doug Hicks is competitive. Very competitive.
In his first year at the helm, Davidson College's president has persistently proven his prowess at the ping-pong table. Hicks, a former baseball and current tennis player who grew up with three competitive brothers, is a ping-pong phenom.
If you'd hoped for a leader who might lob a few easy games your way, he's not your guy. Just ask the many student competitors whose hopes he's swatted down during Union game nights. A few dozen matches into his tenure, he remains undefeated.
Nancy Fortin '23 plays tennis with Hicks and a group of faculty and staff members. She's played since she was six years old and when paired with the right partner (Associate Math Professor and tennis whiz Carl Yerger comes to mind), can sometimes beat Hicks and his partner in a game of doubles.
In ping-pong, that hasn't happened yet.
"I first played him at a ping-pong tournament night in Union at the beginning of the year," Fortin says. "It was very casual, it started out as a few games where he played different students."
As Hicks kept winning, more and more people lined up, waiting to play him.
"After a couple of hours, he finally said he couldn't play anymore—he had to be up early for work the next morning," Fortin says. "Everyone wanted to play him, but no one won. He is insanely good."
Hugh Lee '89 competed against Hicks in campus ping-pong matches during their time as Davidson students. (They called it table tennis.) And not to throw shade on today's competitors, but Hicks didn't always win. Just most of the time.
"Back then, there was a fairly small but serious group of us that played at a high level," Lee says. "Doug was one of them. He was always an even keeled player, no highs or lows, he didn't sulk or celebrate. He was competitive, and very consistent."
Lee managed to steal a few matches, but not many.
"It was always a good match, and we had a great time," he says.
"I have many fond memories."
Lee, a lawyer, now teaches bioethics at East Carolina University's Brody School of Medicine. His wife, Chelley Alexander '90, a doctor, also teaches there.
When their daughter, Rachel Alexander-Lee '24, ran into Hicks on campus, the president asked her to relay a message:
"Tell your father to bring his paddle to the inauguration."
Lee brought his paddle, but as he suspected, Hicks was too busy for a match that weekend. Earlier in the week though, the president played against his visiting brother, Brian Hicks, at the recent Campus Block Party.
"You can tell how good someone is by how far they stand back from the table, and he and his brother both stood three or four feet back," Rachel Alexander-Lee says. "It was impressive to watch. They were very competitive—the way brothers are."
Her parents also brought her paddle when they came for the inauguration. She plans to challenge the president one of these days to uphold the family honor.
"I'm a decent ping-pong player but I don't know how I'd do against him," she says. "I would like to do it, just for legacy's sake.
"It's a nice circle."
---
This article was originally published in the Spring/Summer 2023 print issue of the Davidson Journal Magazine; for more, please see the Davidson Journal section of our website.