Moving Beyond the Stigma: Athletes and Mental Health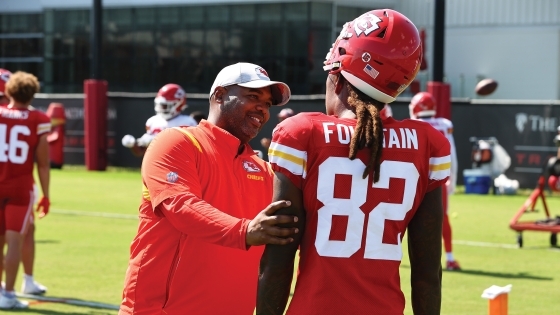 The elite athletes who draw cheers and jeers from legions of enthusiastic fans every Sunday may look like superheroes, but they bleed just like the rest of us, says Shaun Tyrance '00.
As vice president of player services and assessment and team clinician for this year's Super Bowl champions, the Kansas City Chiefs, Tyrance supports the mental health needs of the team's players, coaches and staff.
"All athletes, regardless of level, are real people who have to deal with life in addition to the demands of their sport. But there is a tremendous pressure for every [NFL] team to win right now. Every player and coach feels that urgency, and if our players don't produce on the field they are at risk of losing their jobs," Tyrance says. "Twenty-five percent of NFL players only play for one year. Our players are under so much pressure to perform that it can be hard for them to focus on anything other than football."
That's where Tyrance comes in. In 2019, Tyrance became the NFL's second full-time team clinician, starting before the NFL and NFL Players Association mandated that every NFL team have a licensed mental health clinician on site at least 8–12 hours per week. Currently, the Chiefs are one of seven teams to have a full-time clinician on staff. Now, he's a fully integrated resource for players–he travels with the team, and goes to every team meeting and practice. He works with rookies transitioning to a new level of play, helps injured players through recovery, and sees veteran players dealing with issues that can affect their performance on the field.
A high school sports standout, Tyrance entered his senior year as a highly recruited prospect for several Division I college football programs. But those schools rescinded scholarship off ers after a torn ACL sidelined him. A coach at NC State mentioned Tyrance, who was accomplished academically as well as on the football fi eld, to a Davidson coach. Tyrance enrolled at Davidson and became a four-year letter at quarterback.
"I did not play the level of football that I thought I was going to play, and I did not handle that well," Tyrance says. "I was depressed, and I struggled."
That struggle directly informed his career path.
"My senior year I read an article about the sports psychologist for the women's national soccer team, and I said 'ah, that's what I want to do,'" he says. "'If I can help athletes not go through what I went through, and help their transition into and out of sport, I'd love to be able to do that for a living."
Four degrees from four different North Carolina colleges and universities later, Tyrance has worked with a variety of college and professional athletes. And he's seen tremendous change in attitudes toward athletes and mental health over the past two decades.
"When I was a high school and college athlete, it was taboo to go see a sports psychologist or a therapist. At that time there were virtually no therapists working in college athletic departments or with professional sports teams," he says. "When I received my master's in sports psychology in 2003, very few jobs existed and I had to create every opportunity that I received.
Today, the NCAA, NFL and NBA all have mandates that their athletes have access to licensed mental health professionals, and athletes at all levels have become more vocal about their need for mental health support. Thankfully, I work for an organization that believes in supporting its players, and I have a head coach and general manager who want our players to be happy and healthy, as well as productive on the field."
---
This article was originally published in the Spring/Summer 2023 print issue of the Davidson Journal Magazine; for more, please see the Davidson Journal section of our website.
Published
Photography
Steve Sanders of the Kansas City Chiefs