Powerful Portraits and Outsider Art Inspire 'True Likeness' Exhibition
Brows carved by the passage of time, wide smiles that light up the eyes–the human face conveys a vast array of emotions, and artists turn to portraiture to capture those shifting emotions in time. Now, an exhibition born at Davidson College featuring diverse portraiture from artists known and unknown, professionally trained and untrained, is making its way around the country.
In 2018, well before the start of the COVID-19 pandemic, Director and Curator of the Van Every/Smith Galleries Lia Newman and her long-time mentor and friend Tom Stanley began assembling True Likeness, an exhibition celebrating the diversity of the human portrait. 
The exhibition opened at Davidson during the 2020 Republican National Convention (RNC) in Charlotte through the 2020 presidential election. Because of the pandemic, however, the public had little time to view the exhibition. Now, three years later, the exhibition's impact is reaching far beyond the college as it travels to six additional venues.
"On the heels of the convention, during the Trump administration,  we were seeing increased divisiveness in communities," said Newman. "Our way of responding was to present portraits that celebrated diversity instead of rejecting it." 
Importance of Outsider Art
True Likeness is on display through July 23 at the Gregg Museum of Art and Design at North Carolina State University. Museum director and Davidson alum Roger Manley '74 has spent his career seeking outsider artists—those with little to no professional art education—and finding ways to preserve and display their work. In the 1980s, he worked with Stanley on Worth Keeping, one of the first outsider art exhibitions in the South.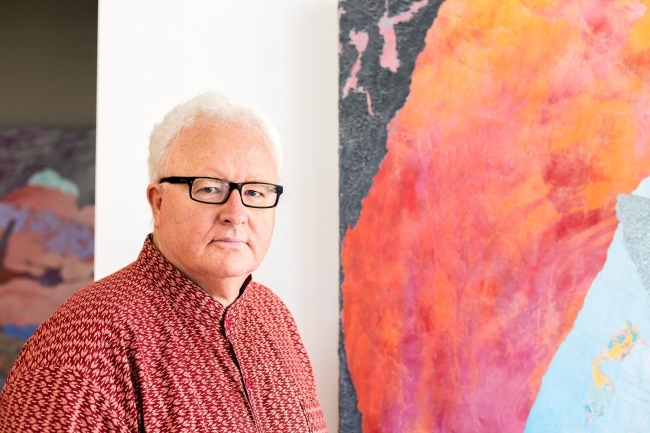 An outsider artist propelled Manley into the art world. He'd started out as a biology major at Davidson, but after failing calculus during his first semester, he realized he may not be cut out for science. That winter break, while hitchhiking through the Outer Banks, he met Annie Hooper, an elderly woman who had created thousands of concrete and driftwood sculptures and displayed them in her home. 
"It was the most amazing thing I'd ever seen," Manley said. "Over the next 10 years, I met hundreds of outsider artists like her and wound up becoming a curator. If that truck hadn't stopped to pick me up, my whole life would have been different." 
When Newman and Stanley wanted to bring True Likeness to Raleigh, Manley welcomed the idea. 
"I'm always looking for shows that are inspirational," he said. "The basic goal of our museum is to show people that there are opportunities for them to make art themselves. There are so many different ways of depicting the human face and responding to the presence of other people. The exhibition really taps into the individuality of the artists and the subjects."
The artists featured in True Likeness each have a way of capturing portraits that represent their own identities and the identities of others. In their piece Ancestors couldn't even dream of them, queer and Vietnamese American artist Antonius-Tín Bui uses hand-cut paper and acrylic paint to create portraits of their friends and found family members. North Carolina-based artist Endia Beal uses a simple video installation to demonstrate the reality of being a Black woman in the corporate world. Her video, Mock Interview, depicts eight white men responding to real questions asked of Black women by their white employers. Outsider artist Gene Merritt began creating portraits in the 1990s, often using ballpoint pen and colored pencil to draw figures from memory while he sat in a cafe. His depictions of celebrities and historical figures have since been featured in museum collections worldwide.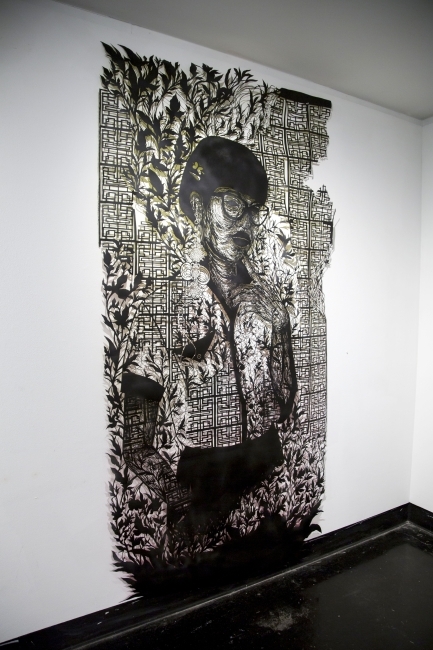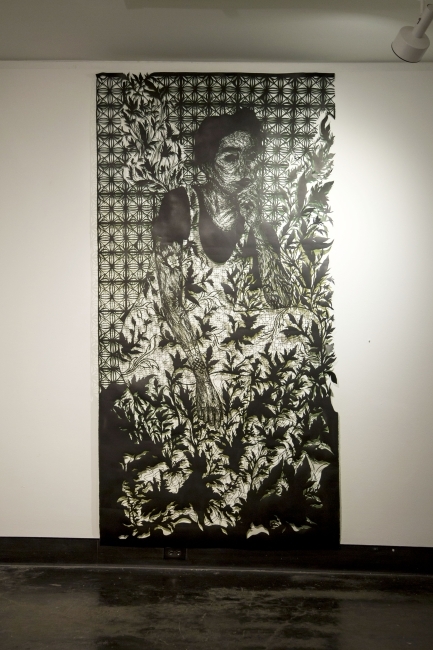 The ubiquity of cameras means anyone can take a portrait or self-portrait now. With this exhibition, we are questioning why some people have historically been left off of the wall. Who gets to be visible? How do you represent yourself or others?
Lia Newman, Director and Curator of the Van Every/Smith Galleries
A Portrait of Isolation
One of the artists asking these critical questions is Charlotte-based artist and photographer Raymond Grubb '74 who, through the pandemic, welcomed a chance to explore portraiture from a more intimate perspective. 
For the past 20 years, Grubb has worked in black and white, capturing his photos using the platinum printing process. During lockdown, he found himself in a new routine with his partner of nearly 40 years, Tom Thoune, full of daily meditations, yoga and long walks in nature. Twice a day, he walked two miles to a nearby park and back, observing the plants and wildlife along the way. 
"It occurred to us that we had created a kind of cloister—a place separate from the rest of society," Grubb said. 
His collection of photographs, Cloistered Order, uses vivid colors and incorporates native plants from his walks, often woven into his and Thoune's faces. Like many of True Likeness artists, he captures his subject within the historical context of the past few years.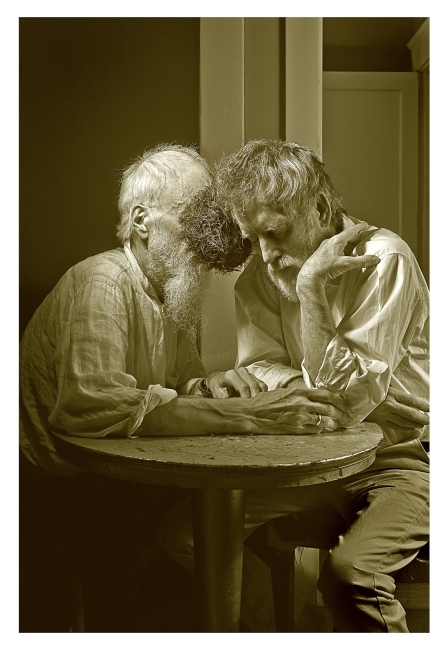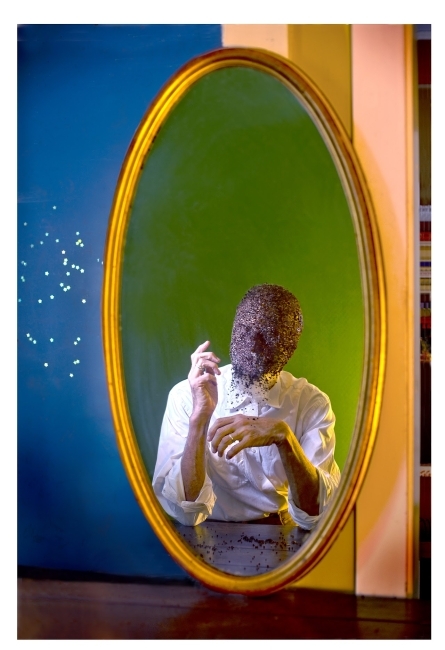 "My partner is a horticulturist with a close relationship to plants," Grubb said. "It felt like a natural step to start using the plants around us as materials. It's really a portrait of the world we were living in."
In August, True Likeness travels to the DeVos Museum at Northern Michigan University, where it will stay until November of 2023. As the exhibition expands its reach, Newman is excited for it to bring a diverse range of portraits to a larger audience than they first imagined. 
"We're still getting out into the world again," she said. "Monuments are coming down, and portraits are being rethought. We are more deeply considering who is visible and who has been left out. In some ways, this exhibition feels even more relevant than when we began planning it so many years ago."