Out of This World: First Latina Astronaut Ellen Ochoa to Deliver Reynolds Lecture Nov. 2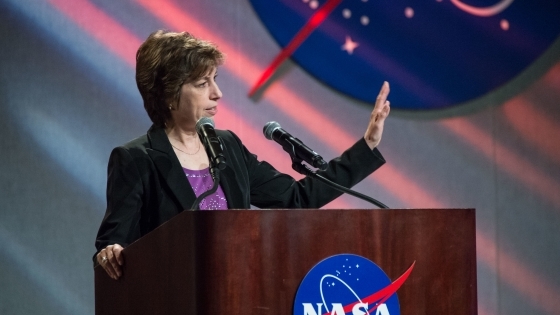 Ellen Ochoa, Ph.D., smashed through the glass ceiling while orbiting Earth as the first Latina astronaut.
She has flown in space four times, logging nearly 1,000 hours. After her time in space, she continued blazing trails, becoming the second woman and first Latina director of the Johnson Space Center. 
She continues her outreach through speaking and bilingual children's books. She is honored to have seven schools named for her and, earlier this year, was added as a character in the Minecraft Educational Suite. 
Despite her many accomplishments, Ochoa says the biggest role she's played is in mentoring and advocating for the next generation: "astronauts, scholars, who will go on to accomplish more than we can imagine."
She will deliver the 2023 Reynolds Lecture at 8 p.m. on Nov. 2 in the Duke Family Performance Hall. The event is free and open to the public, however tickets are required. 
You studied physics on your way to becoming an engineer and, eventually, an astronaut. But you also are a concert flutist; there's a great picture of you playing the flute in the Space Shuttle. Can you talk about how the arts and sciences have enriched your life and how a well-rounded education can prepare others for a life like yours?
The performing arts have always been really important to me. I played the flute all the way through college and graduate school, and I even played in a symphony after graduate school. That was a big part of my life. And as I looked at schools for both college and graduate school, I made sure that they had a good music department. The opportunity to participate in lots of different things and not just be in one track was definitely important to me.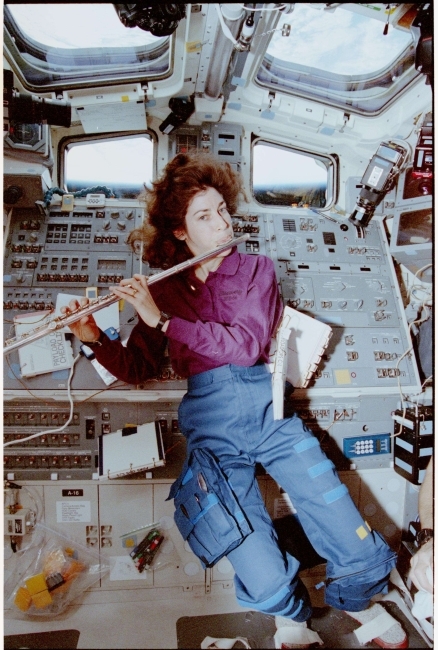 But also I would say that the longer I worked at NASA, a lot of skills beyond the very technical things became really important. 
In particular, I've grown to value the ability to communicate clearly. I've talked for hundreds and hundreds of groups, and that was something I never thought about doing when I entered college. In fact, I would have absolutely avoided any career that asked me to do that. But it turned out to be crucial. 
I ended up doing things I never expected, like negotiating with members of the Russian Space Agency on protocols about how we were going to select multinational crews, and how and where we were going to train them, and in what language. 
I remember thinking at the time that my graduate work in electrical engineering really just did not prepare me for that. Those are some of the skills you learn when you take a broad variety of classes, including humanities classes, in addition to STEM. 
We know that a large number of students start college interested in STEM majors, but many of them don't graduate with STEM degrees. How was your passion for physics and math sustained, especially in a time when those fields were not welcoming to women? 
Well, I definitely did not start out on that track. In fact, I was thinking of being a music major when I first went to college. But the math classes hooked me. I was finishing up the calculus series in college, and I thought, you know, I've never actually taken a class where I applied this math in any way, shape or form. So I went to talk to a couple different professors. And the professor in electrical engineering absolutely discouraged me. He said, "Well, we had a woman come through here once, but, you know, it's a really difficult course of study, and I just don't think you'd be interested in what we're doing here." And that was ironic because I had set up the meeting with him to say, "I'm interested in finding out what you're doing here," and he never actually said a single sentence about that. 
I think there are a lot of underrepresented students who, even to this day, get this kind of reception.
Fortunately, when I went to talk to the physics professor, I got a much different reaction. He said he was glad to hear I was interested in physics. He told me about various careers people could have if they majored in physics. That was really important — and I think it's still this way — to give people an exposure to the many ways you can go with a physics degree, not to mention all the other STEM fields. I barely even knew what physics was. Nobody had ever suggested it, even though I was the top math student at my high school.
Not surprisingly, after those two conversations, I thought, "Well, maybe I'll give physics a try." 
I hope that professors understand how powerful they can be. Students are trying to figure out what direction they want to go and what interests them and where they might be welcome as well. 
Seven schools have been named after you. What does it feel like to see your name up on a wall at a school? 
It's the greatest kind of honor. I mean, clearly, education was absolutely key for me and my career. It's what led to me being able to do everything that I've done. And it was always really important in my household.
I've gone to all of these schools, a few of them multiple times, and I'm always just so impressed with the principal, the staff, the teachers. They're so dedicated to helping and working with the students. And they feel like that connection to space in the name is something that students are going to find compelling. They've told me it makes their job just that much easier, and that's all I need to hear.