Unique Works, New Works Showcased in 'Homecoming: Art by Alumni' Exhibition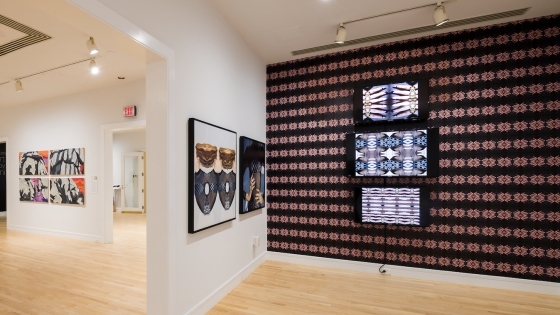 As the Katherine and Tom Belk Visual Arts Center (VAC) celebrates its 30th anniversary, the Van Every/Smith Galleries highlights nine alum artists working across diverse visual mediums, many of whom began their art careers in the VAC's studio and gallery spaces.
Homecoming: Art by Alumni explores themes of texture, materiality and physicality, recognizing the work of each individual artist as well as the common threads that tie them together. 
"This show isn't just about artists who graduated from Davidson," said director and curator of the Van Every/Smith Galleries Lia Newman. "I wanted there to be an overarching theme to connect the works on view. While each artist is creating unique works and exploring distinct concepts, the artists' hand is visible throughout, and each artist plays intentionally with texture and material."
From Sarah Elizabeth Cornejo's '16 serpent-like sculpture to Susan McAlister's '85 painted assemblages to Elijah Gowin's '90 cameraless cyanotype photography, each artist's work is as unique as their paths through the art world.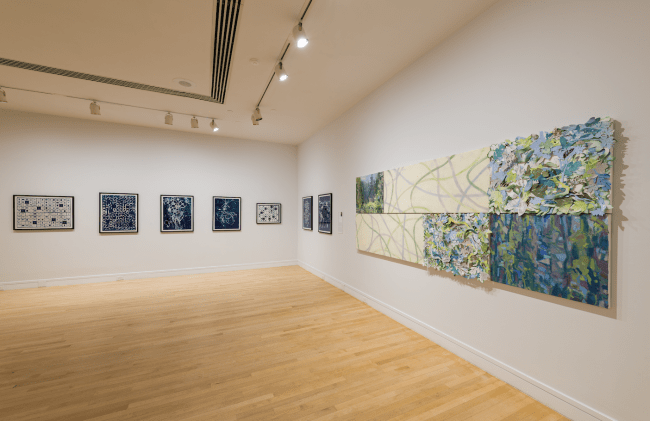 Newman sought out artists whose work already aligned with the show's themes. Malú Alvarez '02, for example, spent years creating her collection of fine art photographs, each of which explores nature and materiality.
For some others, returning to Davidson provided an opportunity to create something new. Lucy Corwin '05, whose work explores femininity and the body through the lens of social media, created a video installation combining paintings and GIFs. Stuart Robertson '15 created 10 new portraits of his loved ones using aluminum, paper and textiles. 
"Like any other exhibition, our goal was to feature works that could engage students from different disciplines," Newman said. "Bringing the artists to campus for artist talks and studio visits is so important, especially for students hoping to get a better sense of what it's like to be a working artist."
The Nov. 1 gallery talk, where the artists will discuss and answer questions about their work, is open to the public. A networking luncheon for students will follow on Nov. 2 in the Lilly Family Gallery. 
Sarah Elizabeth Cornejo '16
Cornejo's sculpture, Amaru, sits on a bed of sand on the gallery floor. Its serpentine figure is held together by earth, wood glue, foam and fencing, and covered in cochina shells. The sculpture, which took her six months to complete, is part of a recent body of work exploring the environmental issues of the present through figures from Latin American mythology. 
"The serpent figure means something very different in South American culture than it does here," Cornejo said. "Serpents like Amaru are often feminine or genderless deities who are deeply connected to the earth and the water but unconcerned with humanity."
Cornejo majored in English and studio art and said she still uses the storytelling skills she learned at Davidson to inform her art. While her permanent home is Memphis, Tennessee, she is currently in residence at the McColl Center in Charlotte. This semester, she's back at Davidson as an adjunct instructor in art, teaching a drawing seminar. 
"Lia was the first art director I worked with as a student," Cornejo said. "When she invited me to be a part of this show, she was so unafraid to help with the logistics of installing such a big piece."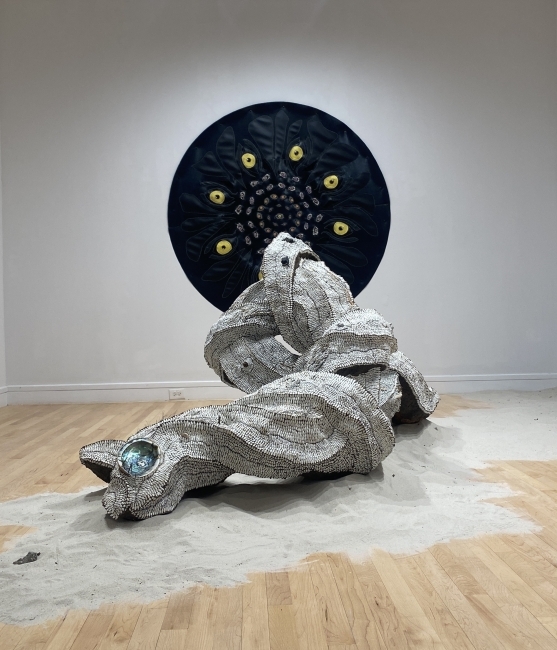 The past few months have contained many homecomings for Cornejo as she returns to the gallery where she had her first studio art exhibition as a student. She's worked alongside her artistic mentors, including Professor Cort Savage, and taken on a mentorship role with students. 
Cornejo's interest in South American mythological figures comes in part from her Peruvian father. Amaru's split tongue represents her own dual-cultural identity, and she deconstructs these binaries through her work. 
Like many artists featured in the exhibition, she infuses her work with significant materials from her own life: Nails pulled from construction sites in her slowly-gentrifying Memphis neighborhood, bullet casings found along her morning walks and pig hair from her family's farm in South Carolina. 
"I'm excited to see how people will connect with my art and with the other alum artists," she said. "It's amazing to see how everyone's work has evolved from what they began at Davidson."
Stuart Robertson '15
Years before he would create this collection of portraits, Robertson painted his family members sitting around the dinner table at his grandmother's house in St. Elizabeth, Jamaica. When it came time to paint their faces, he decided against depicting their full likenesses for audiences to gaze at and consume. 
His current works, made with aluminum, metallic paint and textiles, show only fragments of each subject's face or body.
Robertson attended high school at The Lawrenceville School in New Jersey, where he now works as an art teacher, mentor and resident artist. At Davidson, he was one of only four studio art majors in his class.
"Davidson isn't an art school, but I ended up having the best art experience I could have had," he said. "We were outnumbered by faculty and we had access to lots of resources and materials. We each had our own studios and plenty of one-on-one coaching."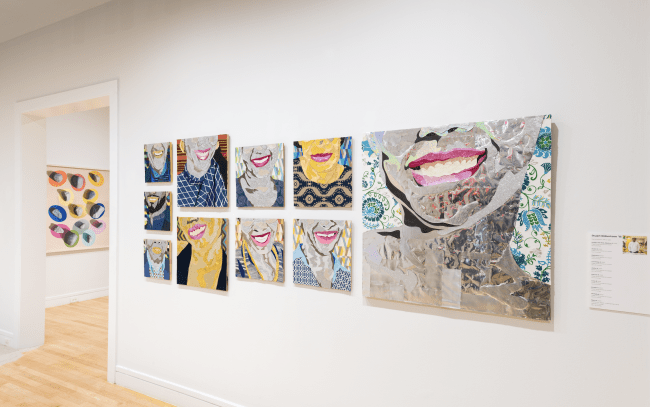 Being an artist at Davidson came with the pressure of visibility, but Robertson said receiving one-on-one guidance from his professors pushed him to challenge himself. He learned to incorporate elements of his other classes—political science, physics, art history and creative writing—into his art, spent many long nights working in his studio space in the VAC and presented his senior exhibition in the Smith Gallery. 
After graduating, Robertson earned his M.Sc.Ed from the University of Pennsylvania to begin his teaching practice and then his MFA at Stanford, where he began to experiment with new art forms, using materials like boxes, packaging, rubber and foam to create large 3D collages. During this time, he became interested in telling stories through the things we overlook and discard, but eventually returned to telling his own story through paintings. 
"I started creating images of people in my own style, using the materials I'd been experimenting with," he said. "Aluminum lends itself to so many metaphors about skin, light and reflections."
Robertson has found small ways to reconnect with Davidson by visiting campus or working with younger art students. When Newman invited him to be part of the exhibition, he decided to make something new rooted in his evolving practice. The result is a collection of portraits depicting the people closest to him, including his wife, Meira Robertson (nee McFarquhar) '14, his sisters, his parents and his grandparents. It's been a long time since Robertson sat around the dinner table with all of his loved ones, but together, the portraits symbolize his own homecoming.
Malú Alvarez '02
For more than a decade, Alvarez has photographed elements of nature and other materials from the places and people most important to her. 
In Jacaranda, she captures the fern-like leaf of the Jacaranda tree, which blooms each spring in her birthplace, Mexico City. The purple textile background draws from her own family history — both her maternal and paternal grandfathers grew up in small towns in northern Spain, where communities celebrate their patron saint together each September. The purple fabric comes from the apron and headscarf of a woman's traditional garment. 
"I learned that the colors and materials of these traditional clothes echo elements from the natural landscape," Alvarez said. "Blue may reference the ocean, green for the pastures and hills."
Alvarez shoots with a large format camera and usually dedicates an entire day or afternoon to staging an image, always outside in natural light. 
"The negative is so much bigger and only exposes one sheet at a time, which means my process has to be super intentional," she said. "I only take a photo when there's something I really want to shoot."
While living in India and studying yoga, Alvarez spent a lot of her time on the banks of the Ganges river. Ganges (Earth, Sun, Moon, Water) presents a collection of rocks she gathered from the riverbanks, each arranged on a hand-painted backdrop. 
During this time, she met an Indian miniature painter whose daily work involved painting devotional images of Krishna. Though they didn't speak the same language, they were able to communicate and trade ideas through art.  
"We came to the idea that he would paint ovals as a backdrop for my still life photograph using colors to represent the warmth of the earth, the sun, the moon and the holy rivers of India," Alvarez said. "It ended up being this abstract, devotional painting."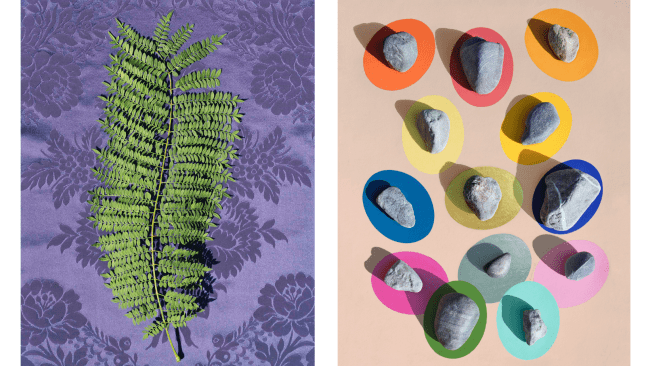 As Alvarez prepares to show five prints from her collection at Davidson for the first time, she reflects on the winding road to becoming an artist. An English major at Davidson, her photography career didn't blossom until after she graduated. She gained confidence in her skills while working as a photo editor for various magazines and eventually decided to make the leap to freelance photography. 
She went back to school at the International Center of Photography in New York, where she began to combine her love of documentary photography with fine art. 
"I've learned it's important to stay curious," she said. "Raise your hand for every opportunity, do everything you can and, no matter how small the project is, shoot for the stars."
---