Life of an Aviator Honored: Air Base Bears Davidson College Alum's Name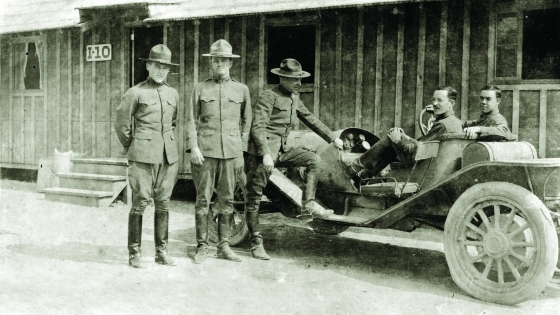 Davidson College Veterans Day Memorial Service
The Chaplains' Office, Center for Civic Engagement and the Davidson ROTC program invite all community members to Davidson College's War Memorial at 3:30 p.m. on Friday, Nov. 10, to honor the lives and sacrifices of veterans within both the College and Town of Davidson in this brief service.
In the event of inclement weather, the program will move to the R. David & Pamela Sprinkle Room in the Alvarez College Union.
The crews inside World War I military planes hurtled at 100 mph through enemy aircraft fire, protected by little more than canvas stretched over a wood frame. Wind and engine noise roared through the open cockpits, and pilots communicated with other aircraft using hand signals or wing waggles. The pilot or a second crew member, armed with noisy, rattling, malfunction-prone machine guns, fired at enemy aircraft, presuming they spotted them in time to act. 
Airplanes were only a decade old when the war started, in 1913, and the fledgling military aircraft were the furthest thing from today's supersonic jet fighters. In aerial combat, crews faced a bone-jarring, chaotic and especially risky field of battle. Second Lt. Samuel R. Keesler Jr. left Davidson College for this environment in spring of 1917. 
He put aside plans to teach, skipped his college commencement and entered the U.S. Army's Aviation Section. 
Keesler entered an extraordinarily dangerous arena of combat, said Douglas Lantry, acting chief of the research division at the National Museum of the U.S. Air Force, in Ohio.
"Engines would fail, guns would fail, the weather would fail," Lantry said. "The life of an aviator was really contingent on all kinds of things." 
More than a century later, the name on Keesler Air Force Base, in Biloxi, Mississippi, honors that Davidson alum.
Answering the Call
Keesler grew up in a well-known family in Greenwood, Mississippi. His father was a cotton broker, a general in the Mississippi National Guard and, later, mayor of Greenwood. The elder Keesler was from York County, South Carolina, and the Presbyterian Keeslers owned a summer house in Montreat, North Carolina, a couple of hours from Davidson College.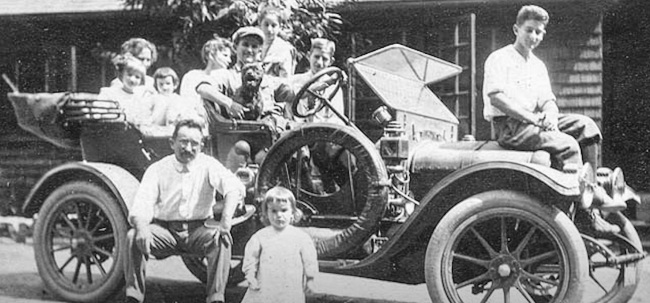 Keesler served as high school class president and salutatorian. At Davidson, he was elected student body president. 
"The lightest, nerviest, headiest player on our [football] team," the Quips and Cranks yearbook said, "Sam is at the same time one of the best quarterbacks ever seen at Davidson."
He and his brother, William, graduated from the college the same year, but so many seniors had enlisted that only around 20 attended commencement. Then-Davidson President William J. Martin Jr. traveled to Ft. Oglethorpe, Georgia, to hand diplomas to Keesler and several classmates, according to an Associated Press story.
Keesler proposed to his high school sweetheart, Fannie Walton Reeves, the class valedictorian, before he left to report for duty, and the two continued to exchange letters.
Distinguished Service
At Ft. Sill, Oklahoma, Keesler trained as an aerial observer, the crew member in the back seat of the airplane. He shipped out to France in March 1918. Pilot-observer teams flew behind enemy lines in reconnaissance aircraft to photograph or sketch out the location and strength of enemy forces. 
"An observer is assigned to spot infantry formations and how they're moving and how big they are and where they're coming from and what equipment they have," Lantry said. "He's supposed to see all these things from the air and make notes or take photographs. At the same time, he and his pilot have to keep a sharp eye out for enemy scouts, whose job is to shoot you down before you can gather information and get it back." 
Keesler's aircraft, a French plane, sustained heavy damage on his first flight, in September 1918, with the end of the war only weeks away, according to a profile in Air & Space Forces Magazine. 
"I never saw a fellow who was more anxious to do his work well," wrote 1st Lt. Stuart Gilchrist, who knew Keesler in France, in a letter from a declassified Air Force file. "A half-done or poorly done mission didn't satisfy Sam. He wanted results." 
Keesler wrote a letter to his mother on Oct. 8, 1918, saying that he would fly another mission the following morning.
"Keep on praying dearest mother," he wrote. "We never know what's going to happen." 
The next day's mission took him northeast of Verdun, France. At that time and place in the war, the Germans had introduced what likely was the best scout or fighter aircraft of the war, Lantry said. It could outmaneuver and overrun Keesler's airplane. 
Keesler's pilot, 1st Lt. H.W. Riley, wrote a letter after the mission recommending Keesler for a commendation. The Air Force provided a copy.
"Shortly after we crossed the lines and before we had covered the assigned territory," Riley wrote, "four [German planes] came from the French side of the line and attacked us. I am certain Lieut. Keesler shot down the leader, as he went down first, and I saw him go down in a steep nosedive." 
The other German aircraft shot up Keesler's and Riley's plane, which spiraled down. Riley described Keesler as firing the whole way and being hit by six bullets. The pair survived the crash landing and were captured by German soldiers. Riley wrote that Keesler received no medical attention. 
"Although he must have suffered terribly," Riley wrote, "he showed wonderful self-control and won the admiration of all the German soldiers." 
Keesler died the next day. He was 22 years old. He is buried in the Saint Mihiel American Cemetery and Memorial, in Thiaucourt, France. 
He was posthumously awarded the Distinguished Service Cross and the World War I Victory Medal with Silver Star. 
In 1941, his parents attended the christening of a new Army airfield in Keesler's honor.
"We are deeply conscious of the great honor conferred upon our family in naming this field after our boy," Keesler's father wrote to the commanding officer of Keesler Field in February of that year, 10 months before the United States would be drawn into another war. 
Today Keesler Air Force Base serves as a training base for more than 30,000 military personnel from all branches, and civilians in air traffic control, communications-electronics, information management and a variety of other fields. 
When the "Spirit of Keesler" training center was dedicated at the base, in 1978, his brother and two sisters attended. His sister, Charlotte, could not be there and dispatched a letter quoted during the ceremony: 
"He was gentle, kind, patient and wise for one so young, but a fierce competitor and a great fighter," she wrote. "He had planned to devote his life to the teaching of young men and women, so his spirit will always hover over the 'Spirit of Keesler Center' and bless it." 
---
The Davidson Airfields
Three Army Air Corps bases in World War II were named after fliers from World War I who graduated from or attended Davidson College. Two of those airfields are now Air Force bases and one became Charlotte's airport. 
Keesler Air Force Base, in Biloxi, Mississippi, is named after 2nd Lt. Samuel Keesler, from Greenwood, Mississippi, and a 1917 graduate of Davidson. He was an aerial observer and was killed in combat in October 1918. 
Shaw Air Force Base, in Sumter, South Carolina, is named after Ervin David Shaw, of Alcolu, South Carolina, who attended Davidson for two years, starting in 1911. He then studied at the University of Georgia before joining the Army and, once in Europe during the war, switching to the UK's Royal Flying Corps as a pilot. He was shot down and killed over France in July 1918. 
Charlotte Army Air Field, in Charlotte, North Carolina, was developed as a Works Progress Administration program in the 1930s. The size and scope of the field expanded with the onset of World War II, and in January 1942 it was renamed Morris Field for Maj. William C. Morris, of Harrisburg, North Carolina, and a 1911 Graduate of Davidson College. Morris served in France during World War I and at bases in the Philippines and the U.S. after the war. He was on the staff of the Chief of the Air Corps when he died in 1939, in Dayton, Ohio, from complications following surgery. The Army vacated Morris Field after the war, and the city purchased rights to the airstrip, which served as the precursor to what is now Charlotte Douglas International Airport.