William Howard Boyd Jr. '72 Athletic Scholarship Supports Class of '27 Distance Runners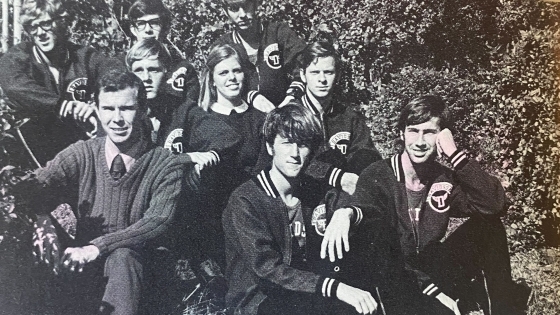 The William Howard Boyd Jr. '72 Athletic Scholarship, created by his family after Boyd's passing in June of 2021, celebrates his life and legacy by supporting a new generation of Davidson scholar-athletes. 
Boyd ran long-distance on the track and cross country teams and discovered a passion for athletics in general during his time at Davidson. He attended so many football games as a student, his family said, that he had his senior yearbook photo taken in the stadium. 
"He was always grateful to Davidson," said his wife of 45 years, Susan. "He was drawn to the academic rigor and the small size. He was happy there and always said it was the best four years of his life."
After graduating, Boyd served two years in the U.S. Army before attending the University of South Carolina School of Law. He went on to have a successful, 40-year career practicing law at his firm, Gallivan White Boyd, where he handled more than 200 jury trials and led the firm's business and commercial litigation team.  
As a student, Boyd worked part time to support himself while constantly pushing himself to become a better athlete and runner. 
"We wanted to create this scholarship to support and honor his athletic interests, but also to make it easier for someone like him to get through Davidson," said his son, William. 
Boyd remained an avid fan and supporter of Davidson athletics throughout his life, often returning to campus for football and basketball games. The inaugural recipients of his scholarship, Katie Deacon '27 and John Cooper '27, have both hit the ground running — ready to grow as athletes and expand their horizons during their first semester at Davidson.
Katie Deacon '27: Finding Her Running Family
Katie Deacon '27 didn't know many people at her new high school, so she joined the cross country team as a freshman hoping to build connections. A tennis and soccer player throughout her childhood, Deacon didn't always love running, but her feelings began to shift after her first season.
"Right away, I was having a lot of fun," she said, "but I wasn't taking it super seriously yet."
Then, the pandemic hit, and she found herself stuck at home for most of her sophomore year. 
"I had nothing to do, and I needed a goal to work towards," she said. "I started running every day by myself and getting better and better."
That spring, her boyfriend convinced her to join the track team, and Deacon began to hone her skills as a mid-distance and long-distance runner. With a coach taking their team to competitive out-of-state meets, she started to consider the possibility of running at the collegiate level. 
A native of Morganton, North Carolina, Deacon was introduced to Davidson through a tennis camp she attended in the seventh grade. She recalls the positive interactions she had with students on the tennis team, the welcoming culture and the beautiful campus. 
When the time came to apply to colleges, she reached out to Davidson directly, and the college invited her to campus for a three-day visit.
"I loved the people here," she said. "I had been to other colleges, but Davidson always stood out."
Deacon has kicked off her first cross country season with one goal in mind — to become a better runner while supporting her team. Her main events for the upcoming track season include the mile, two-mile and 800-meter, and she'd like to see the team place high in conference.
The Class of 2027 includes 12 women distance runners, far more than in past years, and Deacon enjoys navigating her first semester of college with a built-in support system.
"Having such a solid group of girls who do everything together has changed my life," she said. "The team is always encouraging one another and holding each other accountable. They're such an incredible and supportive group of friends."
Deacon comes from a family of lifelong learners. Her parents have always encouraged her and her twin sister, who plays tennis at UNC-Chapel Hill, to remain open to new possibilities and passions.
Her favorite course this semester has been her writing 101 class, "Scrapbooks to Statues," which has allowed her to explore the college archives. She and other members of the women's cross country team also work with young girls at nearby schools through Strong Girls United, an organization that empowers girls to be strong, confident and resilient through physical activity and mentorship.
"I came to Davidson with a completely blank slate," Deacon said. "I knew that by coming here, I was giving myself endless opportunities and paths I could take." 
John Cooper '27: Unique Team Culture
Originally a volleyball player, John Cooper '27 used to view running, at best, as conditioning his other sport — at worst, as a punishment. When he joined the cross country team as a freshman in high school, he wound up loving it so much that he decided to switch sports entirely.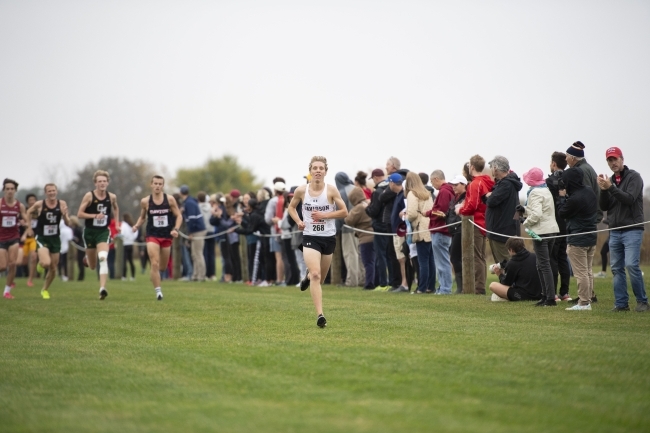 Like Deacon, Cooper started going on long runs by himself during the pandemic. Also like Deacon, Cooper is a twin. His brother, now a runner at Washington and Lee University, started to accompany him on these runs, and the two challenged each other to get faster.
Cooper had a late start to the recruitment process and didn't consider running in college until early his senior year. Growing up in California, he'd heard of Davidson because of Golden State Warrior Stephen Curry '10. 
"Davidson was my first college visit," he said. "I thought it would just end up being a trial visit, but everyone I met was so nice, the team culture felt right and I wound up loving it right away. When I got an offer at the end of my trip, I couldn't think of anywhere I'd rather be."
Cooper always wanted to attend a smaller school. After seeing several track and field alums return to campus to support the team, he knew he'd be able to find a close network of teammates and friends at Davidson.
"The team culture here is unique," he said. "At a bigger school, I'd only be hanging out with other male distance runners, but here, the entire team is so connected. I spend a lot of time studying and eating meals with my teammates outside of our sport."
Cooper, who runs the mile, two-mile and above, plans to use his first semester at Davidson to adjust to running at the college level. While it's been challenging, he's pleasantly surprised by the level of support the team receives from their coaches to help manage the transition. 
"My goal for my first season isn't to hit a specific time or number, but to improve myself in general and be as fast as I can be," he said. "I love being on a team and pushing each other to be better, but I also love that running is an individual sport where every individual success makes the team better as a whole."
Cooper plans to major in economics and has joined Davidson's Investment and Finance Association (DIFA) this year, where he gets hands-on experience managing the college's endowment. He's keeping his options open and wants to learn more about math and data science during his time at Davidson, too. 
---