Alumni Voices: Fed First Responders Take Historic Action to Stabilize Economy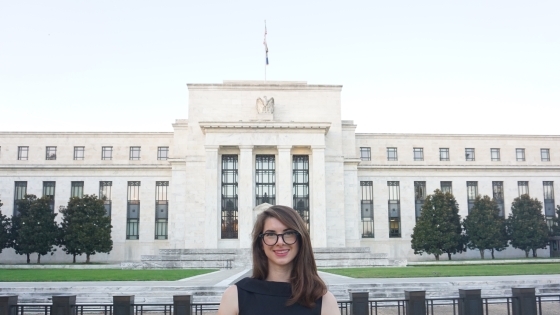 In the pandemic, Lorie Logan and Mary La Montagne Watkins are first responders of the economic sort.
Logan holds what the Wall Street Journal called "the most high-profile staff job" in the Federal Reserve System. She is executive vice president in the Markets Group at the New York Fed and System Open Market Account Manager for the Federal Open Market Committee (FOMC). Her role is to oversee the central bank's securities portfolio of over $6 trillion (yes, a 't'), and when the Fed decides to adjust interest rates or implement other policies to support the economy, it's Logan's job to make it happen. She is a central player in decisions aimed at helping lower unemployment, stabilize prices or sustain the flow of credit to households and businesses.  
In mid-March the pandemic set in, and Logan and her colleagues quickly found themselves taking historic actions to provide stability as market participants were running toward liquidity and cash. As Logan noted in a speech this spring, "Stresses in one market can easily lead to stresses in others, raising the risk that the financial system as a whole becomes significantly impaired…The Global Financial Crisis of 2007-2008 showed how rapidly problems can spread across financial markets and ultimately damage the economy."
With the benefit of this historical experience, the Fed's response to the crisis was swift as the New York Fed's Open Market Trading Desk, which Logan leads, executed the FOMC's policies by making security purchases of unprecedented size (over $2.5 trillion) and frequency (including adding purchases of new asset classes), conducting large scale repo operations (short-term secured loans), and expanding the ability of foreign central banks to deliver dollars to banks in their jurisdictions.
Logan and employees across the Federal Reserve System were involved in launching emergency actions this spring to ensure that small businesses, corporations, and state and local governments have access to credit. And staff were doing all of this from their bedrooms, attics and basements. The Fed, like most places, had sent everyone home.
Logan graduated from Davidson in 1995, taught in Japan, earned a master's degree in public administration at Columbia University, and then joined the Fed in 1999. She could count experiences with national crises like hashmarks on the side of a fighter jet: September 11, Superstorm Sandy and the Great Financial Crisis.
The pandemic "has the hallmark of all of them at once," she said. "The personal challenges and emotions of 9/11, the physical challenges of Superstorm Sandy—managing staff in different locations—and the scale of disruption like the Great Financial Crisis."
Lending, Not Spending
Two hundred miles south, Watkins, a 2009 Davidson alum, serves as senior attorney at the Fed's Board of Governors, in Washington, D.C. She and her colleagues, normally immersed in bank regulation, turned to tools that they rarely use, emergency lending—the financial equivalent of reaching for the fire extinguisher and defibrillator at the same time.
"This is a moment where everyone responds quickly to the challenge," Watkins said.
In a single week in March, the Fed announced eight emergency actions to support the economy as the pandemic's effects took hold. While Logan was conferring with policymakers from her apartment in New York, Watkins was working until 2 a.m. in D.C., collaborating with people from other agencies with whom she rarely connected. Economic stress had investors scrambling for cash, which put enormous pressure on money market funds. Those funds typically offer risk-free spots for investors to put cash, an investment tool for families and businesses alike. A collapse in those funds would have stirred panic, and Watkins and her colleagues had to build a backstop—fast.
At 11:30 p.m. on a Wednesday night, the Federal Reserve announced a program to make loans to money market mutual funds that faced a cash crunch.
The Fed can help the economy in different ways. Logan's work in New York included implementing the FOMC's actions that were novel, such as purchases of commercial mortgage-backed securities. In limited, urgent circumstances, the Fed can take steps like those that Logan and Watkins helped put in place—developing facilities that act as a backstop to help restore market functioning. 
The Fed is buying different types of debt instruments, such as corporate bonds, commercial paper and pools of loans. The Fed's purchases help to support the markets for those debt instruments, which in turn supports the flow of credit to the economy.
"The goal is to ensure that credit continues to flow throughout the economy, including to households, states and local governments, and businesses of all sizes," Watkins said. "This way, we hope to avoid the failure of businesses that were otherwise healthy, help state and local governments fund basic services, and ultimately help people either return to their jobs or find new jobs quickly."
Fed Chair Jerome Powell reminds his team that the Fed's power is lending, not spending—making loans with the expectation of getting paid back.
"We were able to ease the strain on households and businesses by deploying an extraordinary set of tools, creatively, expansively," Watkins said. "Our tight focus is on trying to save as many jobs as we can.  It's rare, I think, to be able to see such a close connection on what you do during the day and how it might be affecting other people." 
Watkins credited Davidson with cultivating curiosity, encouraging thinking in lots of different modes and subjects, and helping make connections between topics—all of which paid off in recent months.
"That kind of flexible, energetic, resourceful thinking has, at least so far for me, been more powerful than any particular expertise," she said. "It allows me, not only to translate an idea into something operative, but to ask the right questions to shape and improve the outcome."
Logan, granddaughter and niece of alums, headed to Davidson to play volleyball and found mentors on and off the court who taught her to prioritize the team and the overall mission—focus on the whole person, not just athletics. She thrived in the culture of curiosity and humility, the excitement of what she learned and what she learned she didn't know, and the courage to live in the cloudy gap in between. The lessons never left and poured back in as the pandemic's hold tightened.
"There are so many unknowns," she said. "You're constantly curious about what is changing and continually understanding. You're making decisions with the best information you have at the moment. You remain humble, curious and flexible to adjust with what you learn tomorrow."