Anna Murray '23: Dance, Art History and the 1960s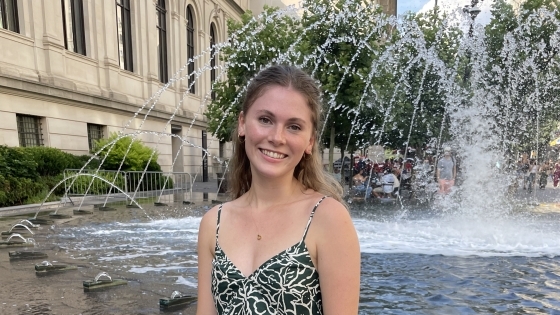 Anna Murray '23 chose Davidson College because she knew it was the perfect place to pursue her interests in both art history and dance.
Studying both areas was important, but she also had curiosity about finding ways to bring them together in her learning.
Her senior thesis has done exactly that.
"My case study is on Simone Forti's Huddle, which was one of five dance constructions performed in Yoko Ono's loft in 1961," Murray explained. "That was a specific time in dance history and art history when the separate disciplines were starting to combine, and I wanted to study this. The '60s were a period of radical change in the New York art scene as a collective mode of making developed, resulting in the Huddle being framed as a sculpture-dance."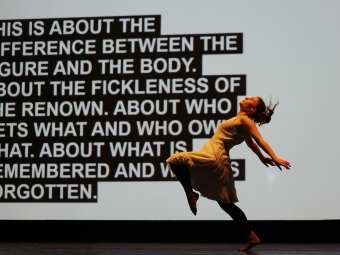 Huddle is displayed as one might expect. Like a football huddle, the performance piece involves dancers climbing over each other while staying connected. Murray is recreating this piece with 7-10 dancers—including herself—with an interest in seeing how she can create a space where participants can support and trust each other. The experience will include three workshops with the same dancers in each.
"I want the experience of the workshop to be the documentation; we are not recording it," she said. "It's about this sense of temporal community with people willing to engage in this disorientation of the body; a curiosity in how we might be able to communicate through the sense of touch and physical contact." 
In addition to the academic requirements of her major and minor, Murray is a member of Gamut Dance Company, a staff member with the Van Every/Smith Galleries and a Davidson Arts and Creative Engagement (DACE) fellow and manager of Creative 'Cats Collective, which aims to build a network of artists together on campus.
Performance studies, highlighted in her thesis, is a relatively new interest she now hopes to pursue after graduating this May.
"Last year, I began to feel like I needed to spend more time with performance studies before I left Davidson," she said. "I've been able to do this in time with [dance professor] Dr. Bory and in all her classes. And then I took a post-modern art class with Dr. John Corso-Esquivel, and all the pieces came together. " 
Although dance has been a part of her life from an early age, Murray didn't always have such a deep love for the arts. Her family often visited museums and the symphony, and she admits she dreaded those experiences until her teen years. Once she developed an appreciation for it, though, the arts became a deeply meaningful part of her life and will now become her career. 
With graduation just around the corner, Murray plans to move closer to home with her sights set on New York City or Boston. After gaining a few years of work experience in the art world, she plans to explore graduate programs in performance studies. 
"I've had such great exposure during my time at Davidson," she said. "From co-curating an exhibition and learning about collection processes in the Galleries, to my professors and mentors and being able to build community on campus with fellow artists … I have been very lucky."