Better Off Co-Ed: These Guys Worked to Open Davidson's Doors to Women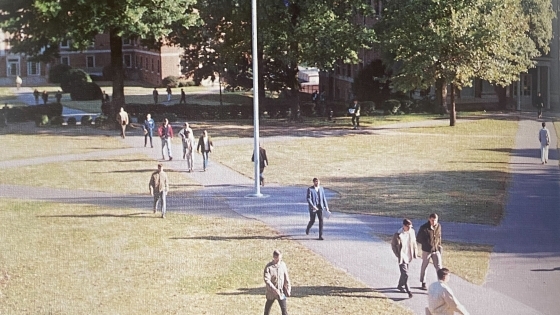 Davidson in the late 1960s stood on the brink of change.
One of the few all-male institutions left among its peer schools, the pressure to become co-ed was palpable on campus. While some clung to tradition, much of the student body understood the college faced a pivotal choice: embrace the future or fall behind. 
In the fall of 1968, President Sam Spencer '40 selected three students, three faculty members and three Trustees to form the Commission on Coeducation, a group charged with taking coeducation "out of the realm of vague speculation" and into the realm of concrete possibility. Among them were students Mac Davis '70, Pat Bray '70 and Student Body President Joe Murphy '69, all of whom felt it was imperative to bring women to campus. 
"By not admitting women, we knew we were keeping talent out of our school," Murphy said. "Some people feared that it would change the culture, that men would have to act differently or that they would be distracted from their studies. To us, it was obvious that we stood to gain a lot by going co-ed."
In the spring of 1969, the nine commission members gathered around a table in Eumenean Hall to present their research. Bray said the commission chair, English Professor Frank Bliss, carried the day, giving all of them a chance to speak. In the end, the group reached a single conclusion. As Bray, a physician, puts it, "It was either do it then, or slowly atrophy."
Not everyone agreed. At the time, Davidson's student body was almost entirely white, Presbyterian and Southern. Campus social life revolved primarily around fraternities, and the Board of Trustees had only recently eliminated mandatory ROTC and Sunday night Vespers. 
The late '60s brought a heightened awareness of social and political issues to campus. Murphy and a group of other students had recently traveled to Washington, D.C., to protest the war in Vietnam. That same year, students participated in racial justice protests in the community. 
President Spencer wasn't exclusively interested in coeducation, either. The same year, he created four other commissions to examine social patterns, church relations, extra campus responsibilities and intercollegiate athletics. While parts of the community held on to the past, no amount of reluctance could stop change from coming to Davidson. 
Opposition to coeducation was often cast as concern for academic excellence, according to the student commission members. Some worried aloud that women were "not serious students," while others said the presence of women might distract men from their studies or force them to act differently. Others worried that by taking on women applicants, Davidson would hurt their partnerships with nearby women's colleges like Queens, Mary Baldwin and Winthrop. Even those who supported coeducation disagreed about the timeline, with some advocating for a gradual transition over the course of several years rather than an immediate change. 
Although no one would openly admit it, Bray said, some students feared they would fall behind, that going co-ed would set a more competitive academic standard. 
As part of their research prior to the commission, Davis, Bray and Murphy visited Sewanee: The University of the South, which had recently opened its doors to women. At that time, many formerly all-male institutions had already become co-ed, and Davis remembers that competition from nearby schools fueled the sense of urgency to admit women. The numbers bore out the concern — applications to Davidson decreased significantly that year.
"We could see that other schools had successfully made the change," Davis said. "The writing was on the wall. Our applications were dropping, and the desire for an all-male college was dwindling."
As the group gathered in Eu Hall, the commission drew up specific parameters around coeducation that they would present to the Board of Trustees ahead of the final vote. They advocated expanding enrollment from around 1,000 students to 1,500, with a minimally accepted ratio of 3:2, male to female. 
"At the end of the day, it was an economic imperative," Bray said. "All of my classmates will say they chose Davidson because they were attracted to the academic rigor, because they wanted to get a good education. There was no way to keep attracting incredible students without attracting women."
Like most big changes, coeducation didn't happen overnight. It was the spring of 1972 when the Board of Trustees finally voted unanimously to admit women as full degree-seeking candidates. The small number of women who already attended Davidson as transfers and day students could now enroll and graduate. Since the board voted so late in the year, Davidson didn't receive as many applications from women in 1972 as they had hoped, but the number climbed significantly in the following years. 
In 1973, Marianna "Missy" Boaz Woodward '73 became the first woman to graduate.
By the time women made up a significant portion of Davidson's student body, Davis, Bray and Murphy had long since graduated and started their respective careers. They'd been integral to pushing coeducation forward but weren't around to see Davidson change in real time. 
All three finally witnessed the impact of the decision when they returned to campus for their class reunions. 
Davis recalls sitting in what is now the C. Shaw Smith 900 Room, looking up as a women's a capella group performed from the balcony and thinking "this is why we did this."
Murphy was overwhelmed by the growing town and campus but proud of Davidson's ability to adapt and continue its tradition of excellence. Bray felt both surprised and proud of how far Davidson had come. 
"I felt like Rip Van Winkle waking up 15 years later," he said. "Enrollment had increased, and there was so much more variety in what you could do. I remember thinking 'things have changed for the better.'"
---
50+ Years of Coeducation
Davidson College will celebrate 50+ Years of Coeducation on campus November 3-5, 2023. The planning team will also host regional events and virtual opportunities in the weeks prior.
Please visit the website for additional information and to share your story ideas.
---