'Immersive Van Gogh' Has Upsides and Downsides, Explains Art Prof
During a trip to Paris a few years ago, Art Professor C. Shaw Smith visited L'Atelier des Lumiéres, a cavernous space that pioneered projecting the works of legendary artists in massive, high-resolution formats.
Smith's timing was perfect; he used the experience to close the final chapter of the textbook he was working on—Palimpsests of Patrimony: A Concise History of Art and Architecture in France—and now, the installations he viewed in France are touring North America.
"Immersive Van Gogh" is coming to Charlotte, and 13 other American cities, in June. The Charlotte installation will be set up in Camp North End, a one-time Ford plant, from June 17 through Sept. 12.
But how does such a modern presentation square with Van Gogh's actual work? "The Starry Night," one of Van Gogh's most recognizable masterpieces measures only 30 inches by 36 inches when seen in person at the Museum of Modern Art in New York City. The Immersive Van Gogh installation will reproduce Van Gogh's paintings across 300,000 cubic feet—with added animation.
Smith, the Joel O. Conarroe Professor of Art, shares his thoughts.
What was your reaction to the exhibit you saw in France?
It is spectacular. It's kind of like Mercedes Stadium in Atlanta. It's almost dizzying. You're overwhelmed by the technology.
As a purist of these things, it does upset me a little bit.
The images are 20 feet high and, of course, the real paintings are not that big. The danger is that society focuses on the simulated experience. It is spectacular, but it can take the place of the original. It can manipulate that reality.
Does this immersive presentation distort the experience?
It goes both ways. You lose scale in the simulation. I can't tell you how many students I've had who would say, "I didn't realize you could see the brushstrokes" after seeing one of Van Gogh's paintings in person. And that's really what's essential.
In the original works, what you're really talking about is the hand. In this case, you're talking about the eye. The immersive presentation is a way to create accessibility and the spectacle. It has very little to do with the art itself.
The simulation animates his paintings, too; you can see his famous sunflowers grow, so it plays with things that are well beyond the scope of the painting. A purist would say that's bad. One side of me agrees. On the other side, I see it as popularizing.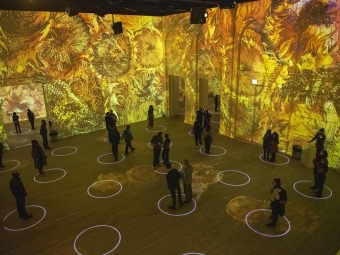 Technology, however, has always shaped how art is viewed. There was a time when photographs were novel as well, right?
Art history as we know it today would not exist if we didn't have simulacra like the Immersive Van Gogh exhibit. Until about the early 20th century, art history was limited to rich, white, aristocratic people because there weren't replicas. You had to travel to see the art. Who collects art and who gets to see it is constantly changing.
This is especially true in America. The discipline of art history was built on having access to reproductions. There was little art in America—that's changed, obviously—and you had to travel to museums.
When I first started grad school in the mid-1970s, there were still teachers who would not show you colored reproductions of paintings. They would show you a black and white one because they didn't want to show you an imperfect impression. Now, color reproduction has improved so much, you can get much closer. But it's never the same [as the original].
How do you separate Van Gogh's work with its ubiquity? We've seen his painting so many times, in so many contexts.
Whenever I teach DaVinci and the "Mona Lisa," one of the things I always say is that you can't see the "Mona Lisa" anymore. And that's because you've seen it so many times—on t-shirts, mouse pads and commercials. You're looking through all that stuff that filters in and changes your expectations for when you see the painting. If you go see it at the Louvre, it can be a downer because it's not slick. It's a painting of a Florentine woman.
It's almost as if there's a halo around the original—you're looking through all these versions of it, and you're supposed to be in awe of its originality.
What's one thing that is present in the original that even a spectacular reproduction of a Van Gogh will not show you?
Even really good photographs don't show the brush strokes. There's a ridge that's created by the paint itself; he would use this very heavy impasto technique. You can see the brush strokes in relief. If you put a light on either side of the painting, you would see shadows created by the relief of the paint texture.
You don't see that in the exhibit's images, as I recall. The sense of the human being who created the painting is diminished.