Music for the Masses: CMA Honors Talent Agent John Huie '78 for Lifetime Achievements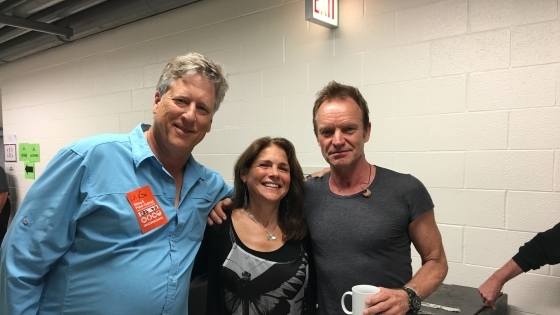 John Huie says that he majored in the College Union.
There's no such major at Davidson College, but Huie '78 spent a lot of time listening to music, identifying future stars and helping bring some big names to a small Southern liberal arts college.
He spun that love for music into a legendary career representing some of music's top artists. Tonight, the Country Music Association (CMA) will honor him for bringing their music to the world.
CMA Touring will present Huie with its 2022 Lifetime Achievement award. It recognizes someone "proven to have an unprecedented historical impact on country music fans and the industry alike, and whose presence will have a long-term positive impact on country music and CMA for generations to come."
He is co-founder of Creative Artists Agency (CAA) Nashville. It's an industry powerhouse, representing artists such as Amy Grant, Faith Hill, Tim McGraw, Sugarland, Dwight Yoakam and Zac Brown Band.
Country superstar Keith Urban (another client) will host tonight's ceremony at Nashville's Marathon Music Works. The ceremony recognizes the achievements of people who work behind the scenes of touring musicians. 
"Somebody asked me if my head is going to get so big that it won't fit through the door," Huie said. "It's quite the opposite. It's very humbling—and I'm feeling more circumspect than anything. It's affirmation and it's greatly appreciated."
The Guy Behind the Band
Huie was just nine when his mom, Vee, brought him to his first concert—the Beatles. (She wasn't a fan, he was.) The screaming, swooning teenage girls at the concert freaked him out a bit, including one who asked to borrow his binoculars and screamed in his ear, "Ringo made eye contact with me!." He came away with a realization:
"I didn't want to be a Beatle," he said. "I wanted to be one of the guys helping them out."
In the late 1970s, he served on and as chair of the College Union's Concert Committee, an era that had Davidson hosting artists such as The Police, R.E.M. and Muddy Waters. Students worked with the College Union's C. Shaw Smith '39 and later, William Brown '70. Huie and several others went on to establish careers in the music industry. 
"I graduated with a sociology degree, but the College Union really was my major and C. Shaw Smith was my academic advisor," Huie said. "He was like a second dad to me. He knew where my passion was, and he let me run with it."
Huie got to know band members and managers when he booked their shows, helped them with setups and made sure they had everything they needed. 
"You could be a student usher, spend an hour showing people to their seats and get to watch the concert for free," he said. "I was in charge of the backstage. I'd spend the whole day with the bands and loved every minute of it."
After graduating from Davidson, Huie worked at The Paragon Agency, booking tours for the Allman Brothers, The Charlie Daniels Band and others. A year later, he opened Frontier Booking International (F.B.I.) with Ian Copeland, brother of The Police drummer Stewart Copeland. Their artists included The Police, Joan Jett and The Go-Go's.
He later formed his own agency, H-1, and turned his focus to contemporary Christian music, helping early clients like Amy Grant and Michael W. Smith broaden their musical audiences.
"John's this loveable, outgoing guy and was a music fanatic from the first day I ever met him. He's always had a great ear for music," said Terry Hummel '77, who's also spent his career in the music industry, including as publisher of Rolling Stone magazine. "He's really the Godfather of the Christian contemporary music movement. He was aware of its possibilities and promoted its emergence before anyone else. He has a gift for identifying talent."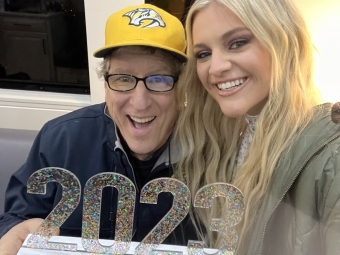 In 1992, Huie and Ron Baird started CAA's first satellite office in Nashville with two employees. It now has more than 100 employees and is one of the industry's biggest and most influential talent representatives.
Younger brother Scott Huie '85, who chaired the college's concert committee during his Davidson days, worked for his brother after graduating. Scott Huie now runs his own booking agency and is pastor at a Presbyterian church in Nashville. (Their father, Wade, was also a Presbyterian minister.)
"John's always been a businessman and an entrepreneur, as well as a visionary coming up with new, innovative ways to share music with the world," Scott Huie said. "With Amy Grant, for example, John saw her great potential to reach beyond churches and have a greater impact on the world by playing in arenas and large theaters. John has always gotten beyond the expected, cookie-cutter vision for touring artists.
"As an agent, he's part grizzly bear, but even more so golden retriever."
Honors and Service
It's the second major honor Huie has received recently. The Gospel Music Association (GMA) presented him with its 2022 Leadership Award in October. Others include a 1999 Grammy as a producer on The Apostle soundtrack, a 2015 induction into the Georgia Music Hall of Fame, and being named Pollstar's Third Coast Agent of the Year multiple times.
Service plays a big role in his life, and he's been active with several non-profits. He's served as a member of the CMA Foundation Board, which works to ensure that all kids have equitable access to music education.
Another board role, for the Onsite Foundation, followed family tragedy. The foundation offers healing retreats and therapy for parents who've lost a child. John and his wife, Dawn Huie, found help there after their son Ryan, 27, died by suicide in 2014. John Huie also serves as an advisory Board Member of Porter's Call, which provides mental health counseling services for artists.
The lifetime achievement honor doesn't mean he's retiring. He does feel an added responsibility to the next generations trying to break into the business.
"At 66, I've seen my mountaintop and I'm satisfied," he said. "Now it's a question of how I can help other people succeed. I'm okay with being the wise sage, I see my future as helping others."