Sunny Skies Sweeten Class of '27's Race for Cakes and Pies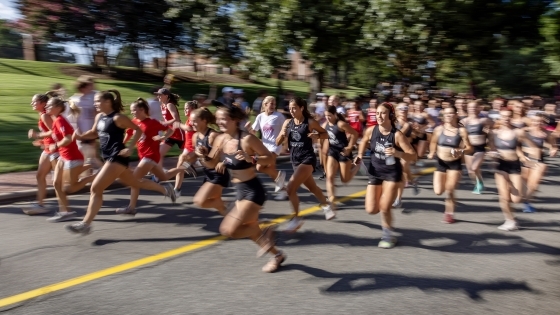 Tropical Storm Idalia soaked the Southeast on Wednesday and postponed Davidson College's annual Cake Race until Thursday. That extra day made quite a difference, with clear, dry, sunny weather replacing steamy downpours and providing perfect running conditions.
First-year students showed up in their finest racing gear to run the 1.7-mile course that is one of the sweetest traditions of the Davidson experience. Faculty, staff, local businesses and schools also came through, donating more than 250 confections for the runners.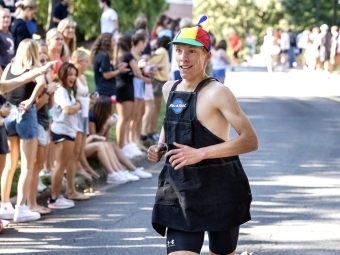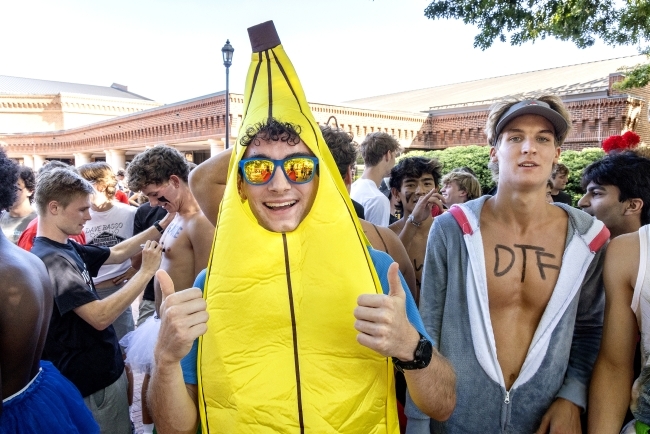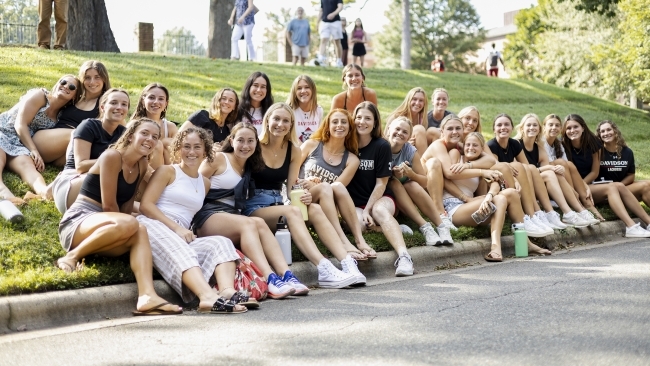 There was a Barbie cake; a cake that looked like ice cream cones, and a tray of cupcakes lined up to replicate the college's new logo. Plenty of pies, tarts and candy-studded brownies also popped up on the loaded tables at the Baker Sports Complex.
Notable standouts included offerings from the Dining Services pastry team. Their gorgeous concoctions included a pumpkin doughnut cake, a white chocolate lemon cake with white chocolate ganache and a strawberry shortcake. Cognizant of some students' dietary restrictions, they included a gluten-free marble cake covered with gluten-free chocolate-chip cookies. The college's new logo, drawn in icing, topped the cake.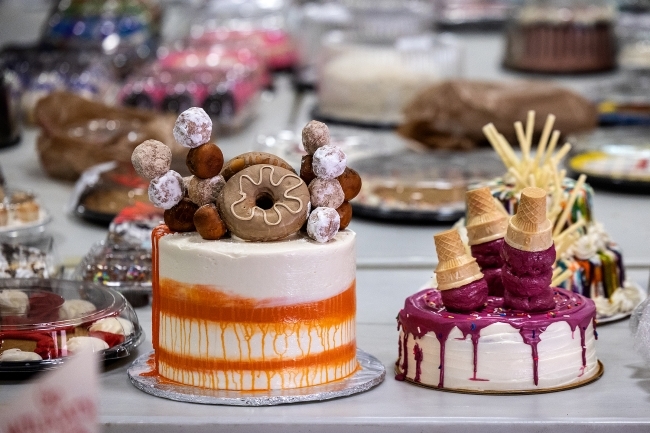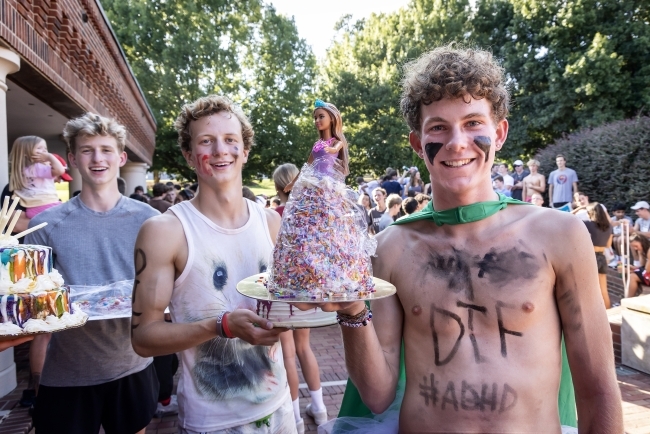 Men's tennis coach Drew Barrett, a fierce court and cake-baking competitor, had help from his 15-year-old daughter Kennedy and his wife Mandy. They produced an impressive throwback creation inspired by My Neighbor Totoro, an animated 1988 Japanese film.
The race tradition started in 1930 when a Davidson track coach scouted potential first-year students' running abilities by dangling cake as the reward. Every student had to run, and faculty members' wives baked cakes.
These days, the college community's cake offerings range from highly edible cookies to elaborate concoctions that seem more art than food. (Though still quite delicious.) Students don't have to participate, but many do, and spend the night sharing their bounty with hallmates and teammates.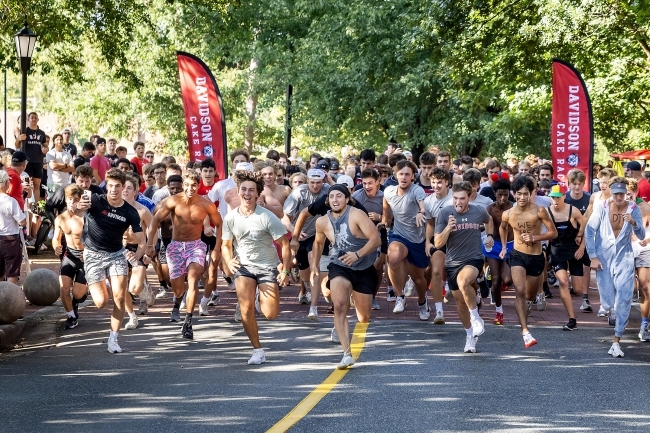 Davidson's track and field team runners usually take the (first) cakes and this year was no different. Cross Country runner John Cooper '27 won first place in the men's race. Six Class of 2027 teammates, Katie Deacon, Bella Godoy, Jocelyn Millican, Amelia Monohan, Hannah Morgan, Elise Boyce and Justine Meta led the women, crossing the finish line clasping arms.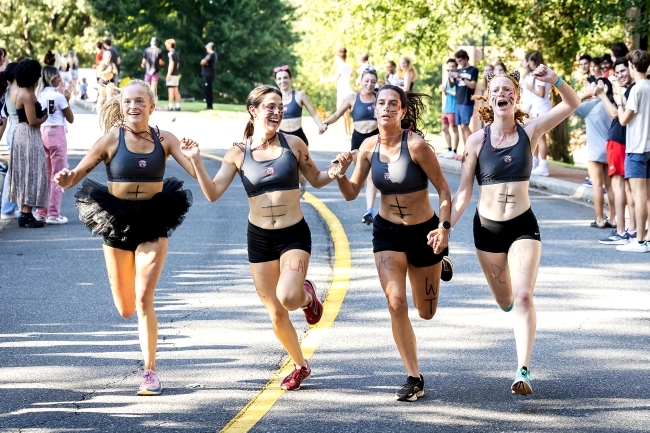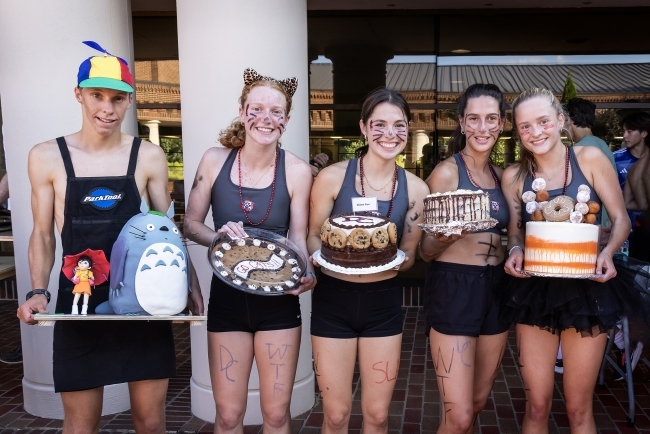 You never know who your movers are going to be.
As first-year students and their families converged on campus Wednesday morning, they found Davidson College President Doug Hicks '90 carting boxes, pillows and a lacrosse stick up the stairs of Belk Residence Hall. Head men's basketball Coach Matt McKillop '06 and his team hauled suitcases, microwaves and Ikea shelves.
New College Chaplain Julia Watkins '14 chatted with new students as she carried a multitude of tote bags, posters and Squishmallows stuffed animals.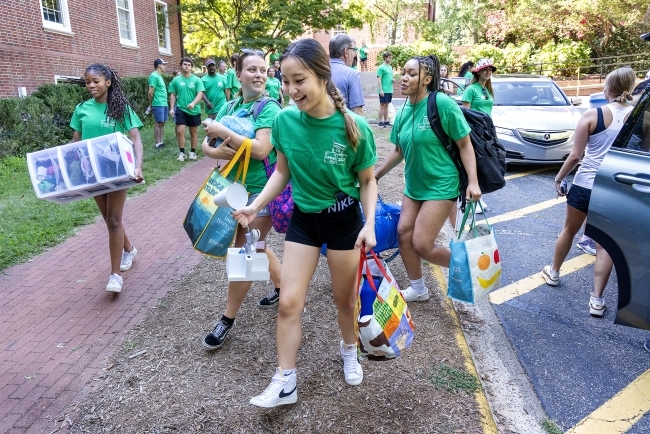 And across campus, dozens of second, third- and fourth-year students, remembering their first move-in, turned out on a hot summer day to help get the newest Wildcats into their new digs.
Grateful parents marveled at the flurry of helpers. They carried desk fans, rugs and first aid kits. Sheets, towels and toiletries. Drawers, cellos and guitars. Snacks—so many snacks. And a street STOP sign replica.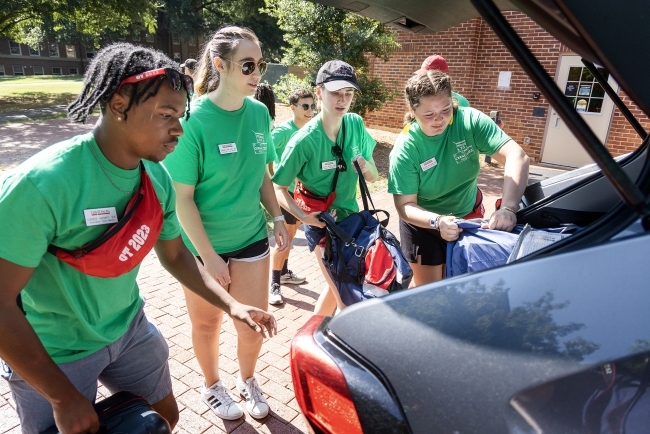 Orientation team member and cheerleader Jordyn Scott '26 laughs about her entrance to Davidson last year. She came from southern New Jersey with a caravan that included her parents, grandparents and three cars loaded with her things.
"People still tease me about how much stuff I had," Scott said. "I loved moving in—everyone made me feel so welcome. That's why I'm here, I wanted to make sure everyone coming feels as welcome as I did."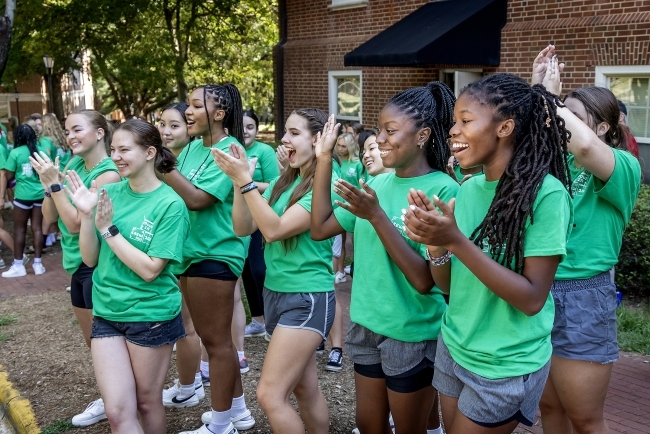 Ed Henderson '85 and his wife Paula had a shorter drive from Decatur, Georgia with their daughter Beatrice '27. She's their second to attend Davidson, her brother Edward '18 is now in a doctoral program at Emory University.
The move-in brought Henderson back to his own time on campus, and the strong sense of community that has spanned the decades.
"There have been a lot of fantastic improvements since I was here," he said. "But it's amazing how many things feel the same—how you get here and so many people are out helping and taking care of us."
It's been 13 years since a nervous Watkins and her parents moved her into her first-year dorm room, which she shared with a stranger from San Francisco who remains her best friend today. She remembers going out to dinner at the Brickhouse Tavern with her parents and seeing a dining room filled with other nervous-looking students and parents.
"The energy is pretty similar," she said. "This is a pretty overwhelming time for the students and their families. I hope they're also overwhelmed by the support and love and hospitality of everyone here."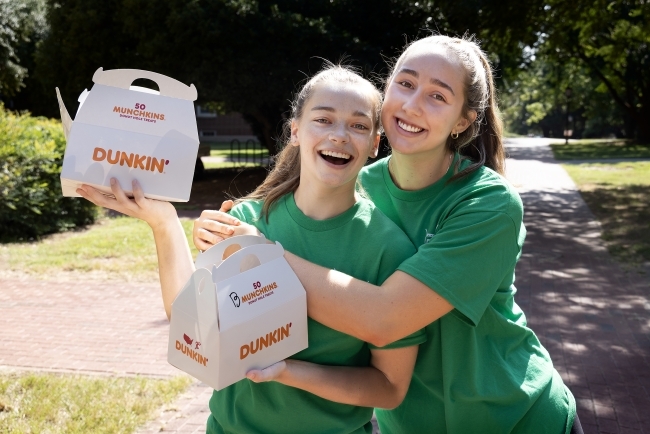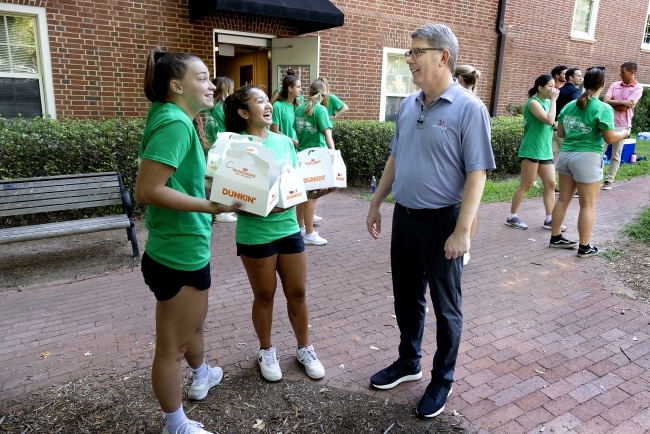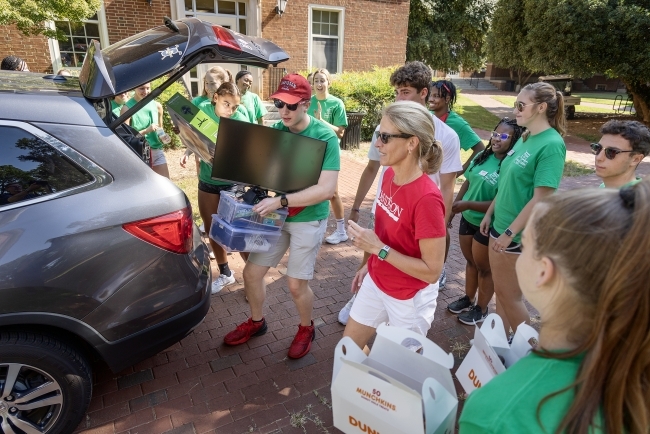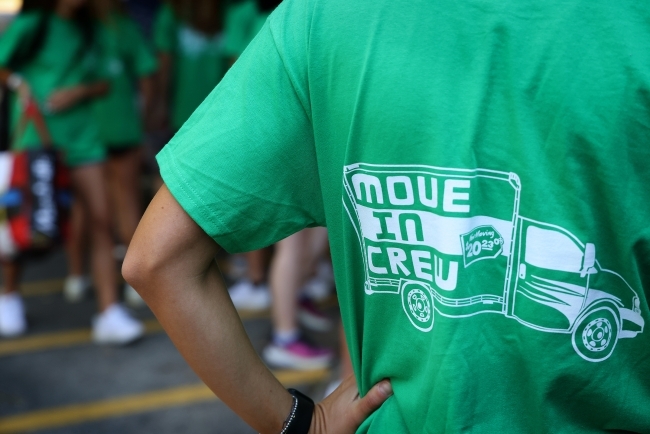 ---
Meet the Class of 2027
They come from all over the world and across the United States, and their talents run the gamut. Find out more about the newest Wildcats of Davidson College.
---
First Generation Students Gather
New students who are the first generation of their families to go to college got an extra show of support at a Thursday luncheon hosted by the college's Office of Alumni and Family Engagement.
President Doug Hicks and other college leaders reminded them that they've joined a community that cares deeply about them. Faculty and staff members who were themselves first-generation students reinforced that message.
Fifty-eight of the 525 students in the Class of 2027 identify as first-generation college students. While they excelled in their studies before Davidson, navigating college presents new challenges—especially when families aren't familiar with the process.
"Be proud of where you came from," Jamie Stamey, executive director of the Matthews Center for Career Development, urged them. "You chose Davidson for a variety of reasons. "Don't forget that Davidson chose you."
Stamey, herself a first-generation college student, is among the many faculty and staff at the college providing guidance to students in similar circumstances.
"Take advantage of the opportunities the next four years affords you," she said. "You are now surrounded by a support system that wants you to thrive. Wherever you go, you'll find people who want to help."
Tunnel of Loud
Introverts can seem a little stunned when they file into the Baker Sports Complex for the annual rite of orientation leaders forming a tunnel to greet them. There's loud music, dancing and cheering as newcomers and their families head into the arena for an official welcome. 
Extroverts (of the student and parental variety) jump right in, singing, dancing, cheering and high fiving their way right back through this loud, raucous and totally Davidson tradition.
Some potential influencers filmed themselves dancing through—and at least one didn't like the first take and went back through to do a second.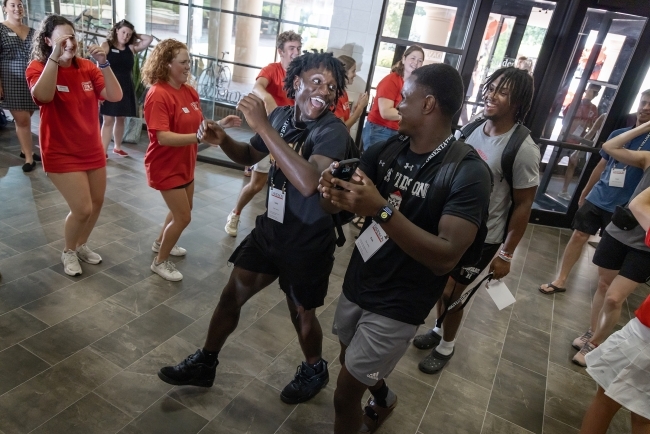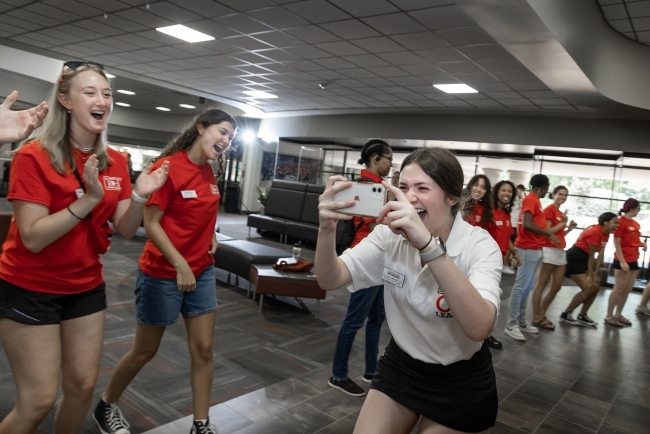 College leaders took the stage to address the newcomers. The new students learned a bit about each other from Chris Gruber, the college's vice president and dean of admission and financial aid.
They've come from 41 American states, Washington, D.C., and Puerto Rico, and 35 countries.
One was a backup singer for Grammy-winning artist Heather Headley. Another is working to become a luthier (violin maker). And one received the Diana award, named after the late Princess Diana of Wales, for the positive changes she made in her community.
"Each of you have arrived at Davidson with your own story. And now is the time to share it," Gruber said. "If you ever question yourself or have doubts, remember we believe in you."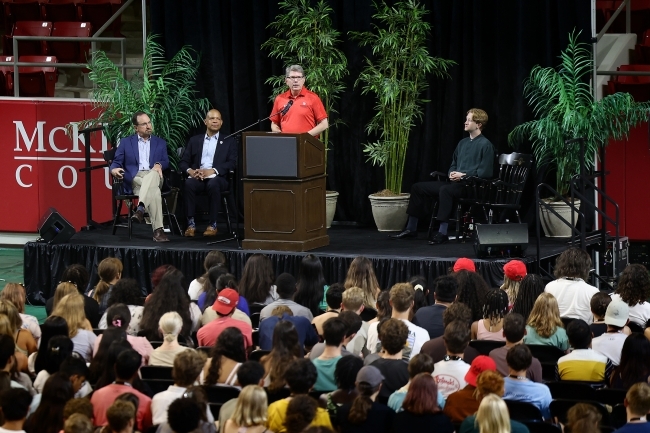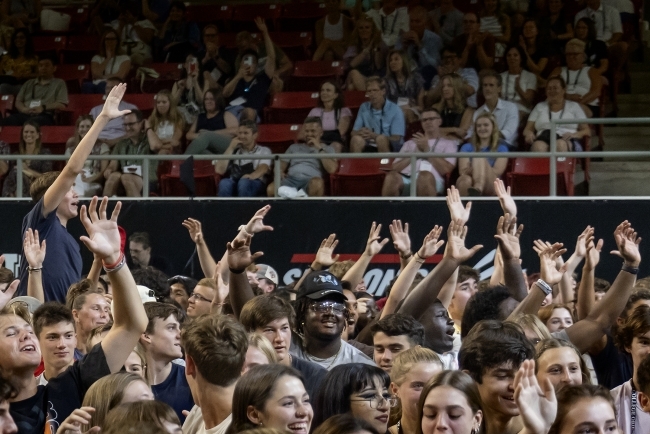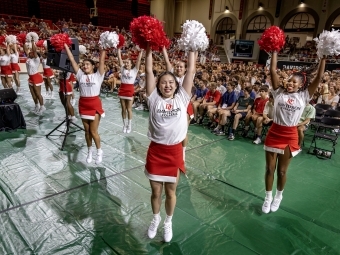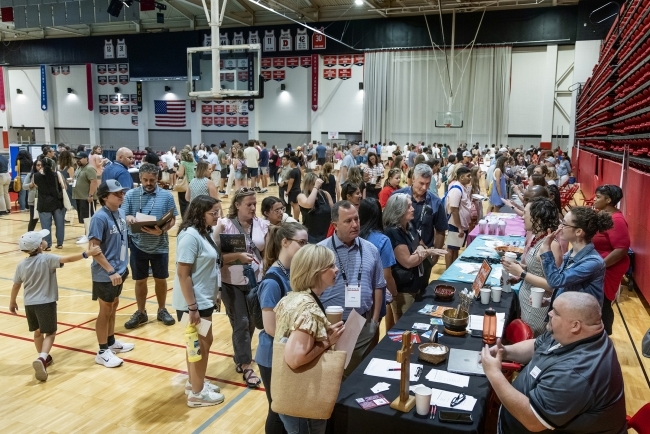 Farewell for Now
Friday was a hot, bright day, so it could have been the glare of the sun making eyes water as parents hugged their kids before leaving campus.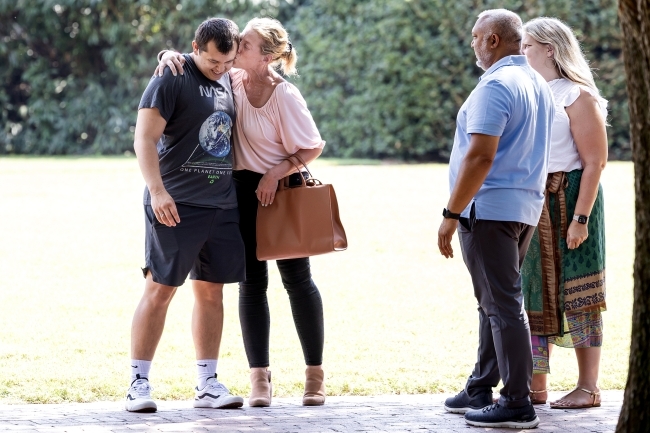 Or something far more common, as parents who've experienced that moment can attest to.
Despite the excitement about starting this new adventure at a place where they want to be, it's an emotional time for many. That's why Davidson hosts its newest students and their loved ones at a farewell luncheon on the Chambers Lawn.
It's another long-standing tradition and a chance for students and their families to look around and realize they've joined a community that understands.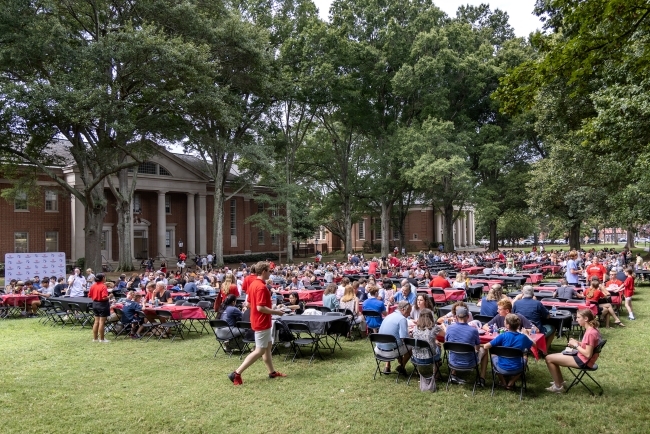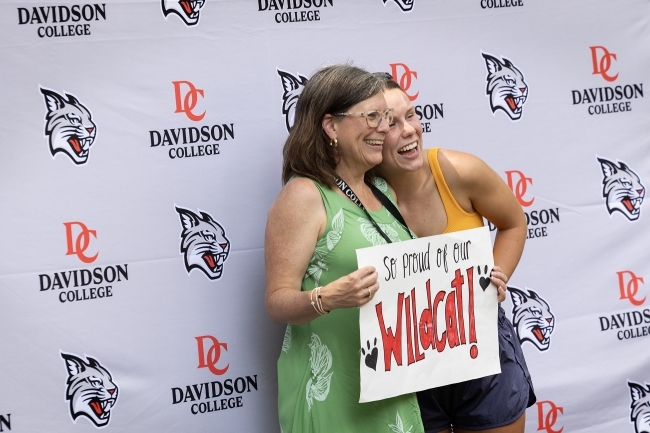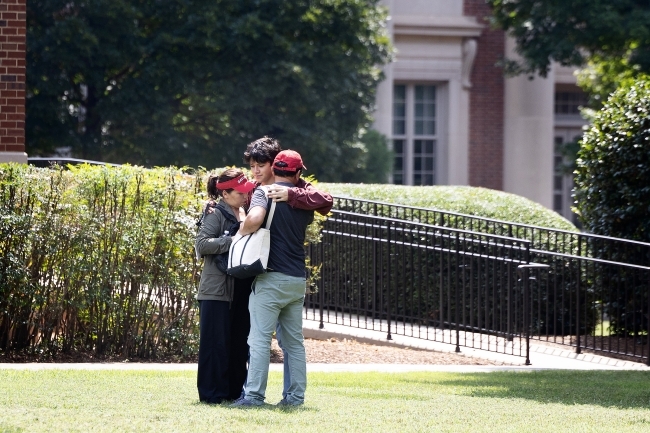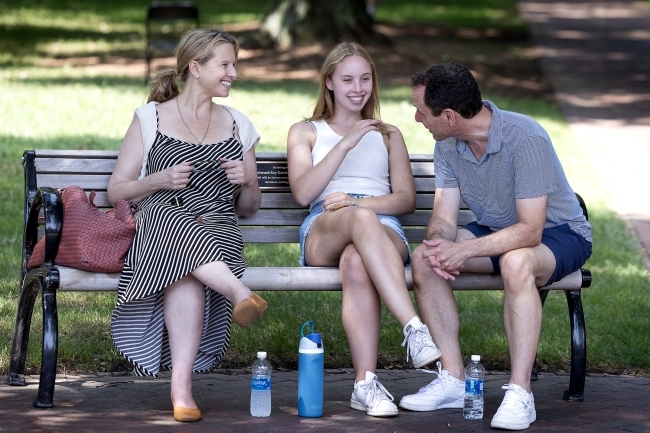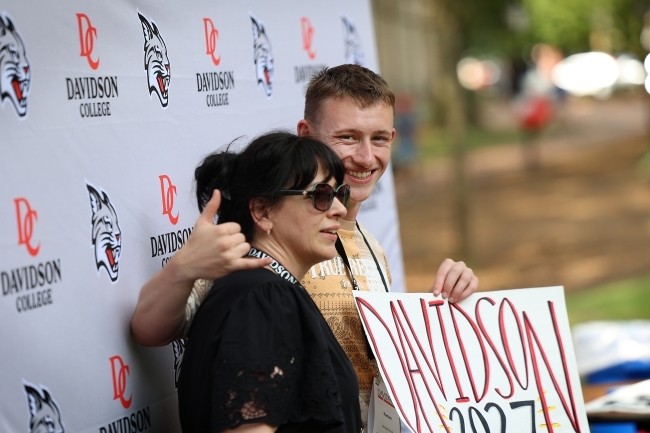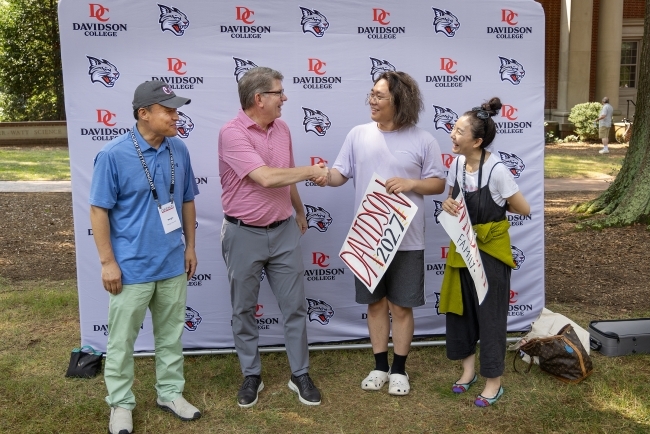 Signing the Honor Code
On Sunday night first-year and transfer students gathered to sign the college's Honor Code, a pledge of personal and academic integrity. It's another long-standing tradition and a college cornerstone.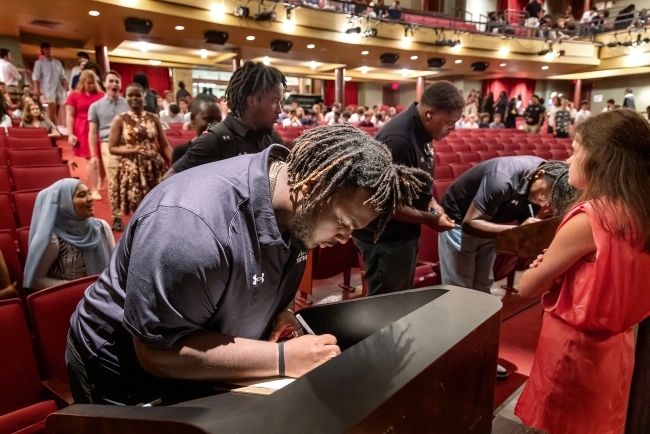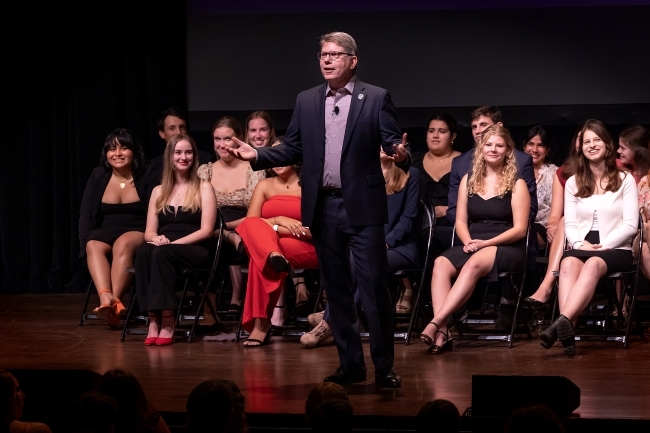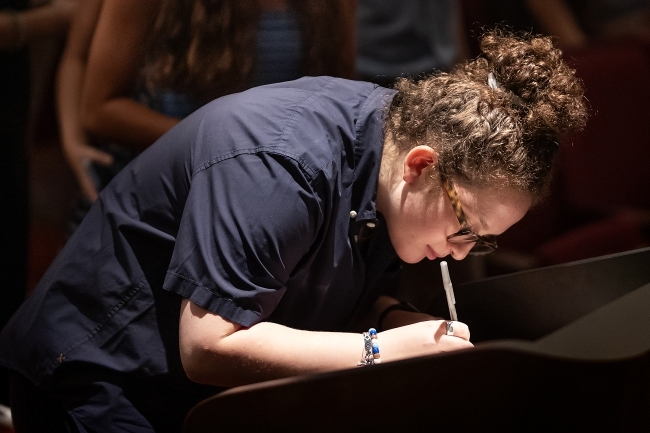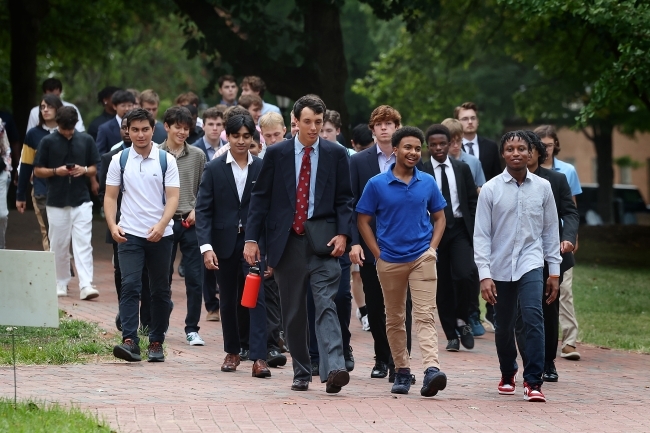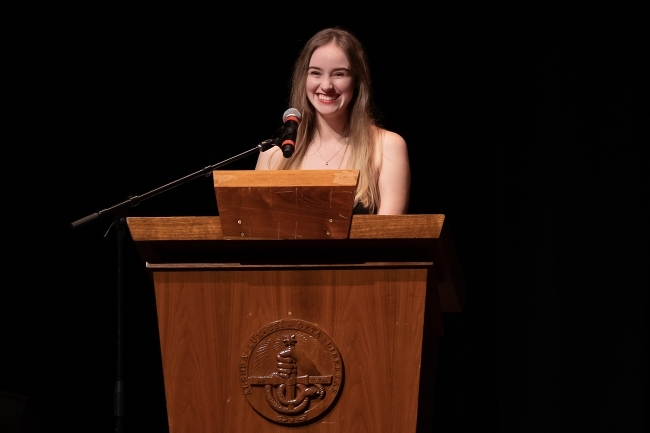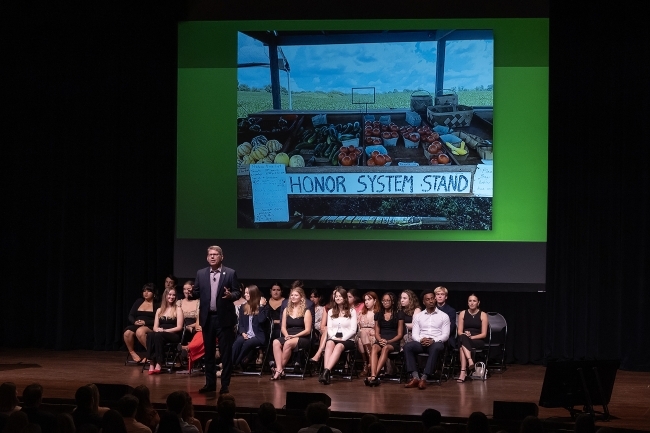 The First Day
Classes began Monday and campus bustled with a full roster of students and faculty.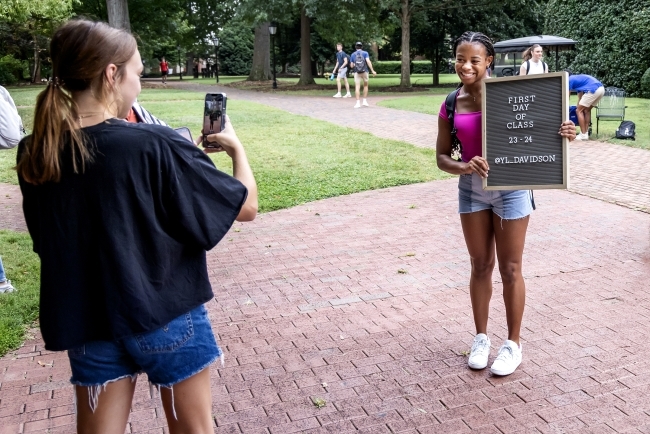 There were lots of hugs among friends who haven't seen each other since spring. Professors outlined expectations for classes, and students jammed the book store for class materials and new Davidson gear.
President Doug Hicks started the new semester with a sweet treat, inviting everyone to drop by in the afternoon for a King of Pops frozen confection.