Team Spirit: Cheer Program Reaches New Heights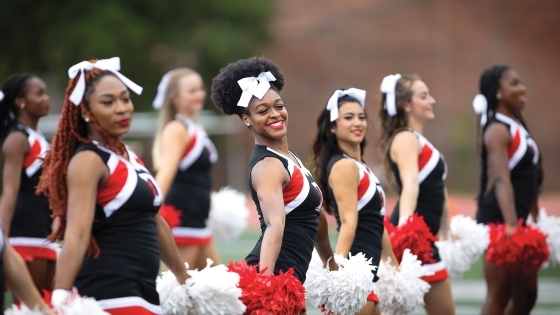 The Davidson College cheer team attended nationals in Florida, eager to do their best but fully expecting to leave empty handed. The team represented the smallest school with the least experience and most rigorous academics in their division. They walked away with a fifth place finish out of 19 teams in their category.
One reason: They are an incredibly hard-working team of athletes. Another reason: Head Coach Kaylee Smith.
"Kaylee's leadership is a huge part of our success," says co-captain Lauren Meyers '23. "She cheered at North Carolina State and has really inspired us. We have a great team dynamic, and we all trust each other."
Smith, who works alongside two assistant coaches, came to Davidson from UNC Charlotte in early 2021. She arrived in the middle of a global pandemic, so initial practices were held on Zoom. Slowly they moved back to in-person meetings. When her father became gravely ill from complications due to COVID, she drove four hours each day between campus and the hospital in Greenville, North Carolina.
Through this extremely tough beginning and the eventual loss of her father, she remained committed to Davidson, buoyed by the team's great potential and her love for the students.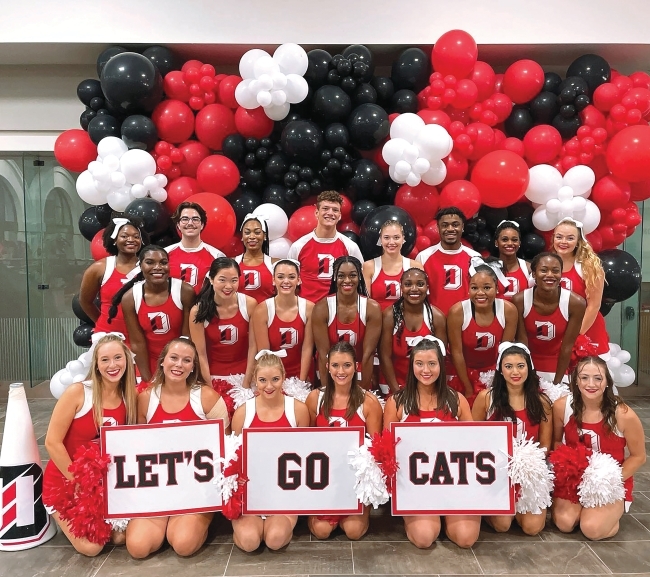 Today, Davidson's cheer team, a key component of the football and basketball game-day experience, is stronger, bigger and more diverse than ever. In fact, there is so much interest in joining, Smith cut 19 prospective athletes during tryouts through the spring and fall.
"We have 26 students on the current team, and only four have previous dance or cheer experience," Smith says. "We are proud to have built a welcoming, inclusive space. It's easy to assume certain kinds of students wouldn't want to cheer, but that's exactly who we have—rugby players, swimmers, cross country runners, basketball players, football players."
Felix Sammons '24, a co-captain, did bring some dance experience to the team, but his love for the program goes way beyond stunts, choreography and pom poms.
"I went to two high schools in Virginia, and one was only 10 percent white and the other had 48 languages represented in the student body, so Davidson was a huge shock for me," he says. "Cheer is such a safe space, a comfortable environment. I feel seen."
Sammons also appreciates the focus on athleticism and strength and not body type and aesthetics. It's about trust, collaboration and hard work. His teammate and co-captain, Kylee Taylor '23, agrees.
"There can be a stigma with cheerleading," Taylor says. "People assume there is a lot of drama. But not with our team. We know what we're there to do, and we get our jobs done. There is good energy all around."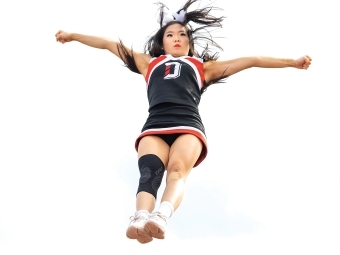 The students say their coach is the backbone of the program, and they're excited to see where it leads.
"She's a mentor in addition to being a coach," Taylor says. "She really cares so much about us and wants us to succeed."
Smith is familiar with success through cheer and the work it takes to achieve it. She fell in love with the sport at five years old and cheered competitively until her senior year of high school before joining the varsity co-ed program at NC State.
"We earned two national championships within four months for our all-girl stunt group and team," she says. "I had a career-ending injury before senior year but went to rehab and wrapped up my senior year competing again."
Smith balances her head coaching position with a full-time job using her engineering degree for a textile company based in Germany. She also co-owns a boutique with her mother and aunt.
"I was an assistant coach at UNC Charlotte when Davidson called me for the head coach position," she says. "I knew the program had room to grow, and I saw what it could be. Students come to Davidson for Davidson, not for cheerleading, but they can find part of themselves through cheer, and I want them to learn lessons along the way. I could coach somewhere where the athletes do choose the school for cheerleading, but I'm not sure I'd have the satisfaction I have at Davidson."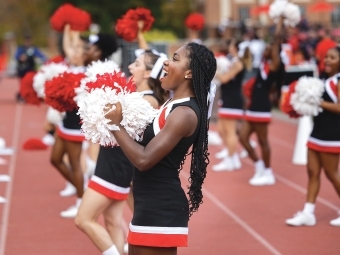 Smith is quick to share credit for Davidson's cheer success, and she respects the work of previous head coaches.
Jeanette Scire ran the program from 1990 to 2015, coaching more than 300 athletes. When she first came on board, the cheerleaders were buying their socks from the College Store, and cheer was something students happened upon when they arrived on campus, not something they sought out. She moved the program forward by leaps and bounds.
Scire—called "Mama Cat" by the cheerleaders and football players during her tenure—is proud of the way Smith has taken the program she put her heart and soul into for 25 years to the next level.
"Kaylee is fulfilling the dream I had for this program back in 1990," she says. "She's a fabulous coach who understands the demands of being a collegiate athlete. I watch this team now, and I get tears in my eyes. I couldn't be prouder."
The team is excited for what lies ahead, which they hope includes an even more successful placement at nationals this spring.
"Last year, we thought we'd be lucky to get into the finals, and we accomplished so much more than that," Meyers says. "Our progression in numbers and skill since my freshman year has been super cool. Kaylee is such a good leader, and she sees our drive to succeed."
---
This article was originally published in the Fall/Winter 2022 print issue of the Davidson Journal Magazine; for more, please see the Davidson Journal section of our website.