CertifiedSaver Brings Competitive Spirit to Sustainability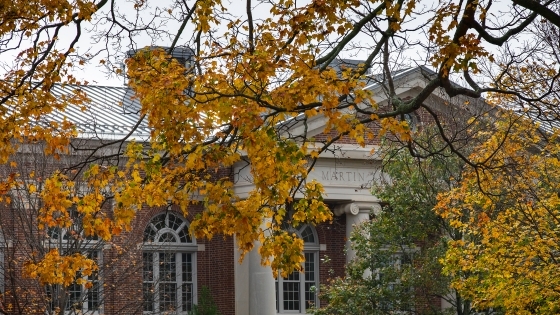 More than money, behavior experts say achievement and identity motivate people to save energy. Add to that some healthy competition with friends and neighbors, and suddenly saving energy becomes more like a game than a chore–at least that's what the big utility companies hope.
Becky Johnson '16 decided to explore that notion by first finding out what motivates consumers and then creating a program that taps into those motives. She surveyed more than 900 participants, asking questions such as: Would you make an effort to save more energy if you were able to see how you compared to others in your state? Would you be more likely to purchase the products or services of a company whose employees participate in energy-saving programs?
The answers informed the creation of CertifiedSaver, which features a dashboard that allows users to view their electric and gas bills, compare their usage to others and gain energy-saving certifications.
Just a few years ago, a number of utility companies began experimenting with energy savings programs that harness the power of social competition. The utilities stand to benefit from these programs in the face of government conservation mandates and rising costs associated with construction of power plants and distribution systems.
Johnson noted that her program seeks to more actively engage consumers than some of the programs already in place.
"There are mobile apps where you can self-report data, but these lack credibility," said Johnson. "CertifiedSaver requires you to pay attention and engage with your energy usage once a month because you have to upload your actual bills."
Spreading Sustainable Practices
CertifiedSaver began as Johnson's capstone project, but quickly expanded. Her original study aimed to determine whether the program would be useful to businesses.
"I thought it could be a great tool to help companies with their public relations and marketing strategy," she said. 
The consumer survey was essential to the project.  The results revealed the specific motivations that would potentially lead individuals to participate in the program.
"The program is now separate from my academic work, but for my capstone I'm using the consumer survey," she explained.
With funding from an Abernethy Grant during the summer of 2015, she launched a beta version of the site that Ingersoll Rand rolled out to their employees. The goal was to determine whether sustainability at home would translate to sustainable practices at work.
Sixty-five employees signed up, and half of those who signed up entered data at least once over the summer.
"We realized that we needed to make sustainability something people regularly think about," said Johnson. "The end-of-summer survey showed that people wanted more information, so I began sending weekly emails with news about energy consumption in the participants' communities and tips for reducing energy usage."
The beta version was designed using a WordPress site, but it has since been replaced by a completely new dashboard. Assistant Professor of Mathematics and Computer Science Tabitha Peck put Johnson in touch with Arun Karottu, a 2015 Duke University graduate and proprietor of a start-up focused on recycling electronics, and the two worked together to build the new site.
Long term, Johnson would like the dashboard to include water and transportation use information, in addition to energy usage.
"It would focus on the markers of sustainability, and how we can encourage both individuals and businesses to take bigger steps," she explained.
Entrepreneurial Spirit
Johnson learned about the power of certifications while working with Assistant Professor of Political Science and Environmental Studies Graham Bullock in the sustainability lab at Davidson during her junior year. She added the certification component to her program, differentiating it from some energy saving programs already in existence.
"I analyzed countless certifications for food and electronics and realized that certifications could be a powerful marketing tool," she said.  "Prof. Bullock has been helping and mentoring me throughout this process and has been essential to its success."
In addition, Johnson's experience in a course on the politics of information helped to shape the focus of the program.
Johnson spent the summer of 2014 as a sustainability scholar and energy intern in Charlotte, N.C. The position not only provided her with connections to professionals in the field, but also improved her presentation skills and ability to comfortably converse with executives at large companies.
"In April I went to Duke Energy alone to pitch CertifiedSaver. It was intimidating but exhilarating," she said. "It's fun to be able to reach out to different companies with a product that you're excited about and pitch it to them with confidence."