Performance of 'Facing Our Truth' to Open Dialogue on Tough Topics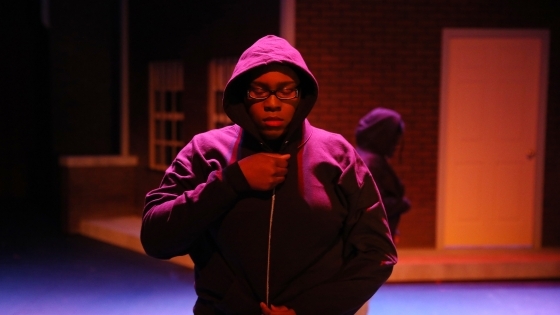 It's tough to talk about race. Words escalate into conflict, or people shut each other down, or they never engage in the first place. Civil discourse gets lost.
The power of storytelling will provide a way back toward honest, respectful, civil discourse on difficult topics with the Nov. 8 opening of "Facing Our Truth: Ten-Minute Plays on Trayvon, Race, and Privilege."
The plays and conversations are for everyone, on campus and in the community, regardless of their opinions on any particular event portrayed, said Chair and Professor of Theatre Sharon Green, who is directing the production.
"These stories will surprise you, and they will move you," she said. "Because the stories of each play are told from different perspectives, everyone will emotionally connect with the content."
Written in response to the shooting of Trayvon Martin and subsequent George Zimmerman verdict, the plays were first performed in 2013 under the supervision of New York City's The New Black Fest.
As part of their research in preparation for the performances, students visited the Levine Museum of the New South's "K(NO)W Justice K(NO)W Peace" exhibit for a guided tour with Braxton Winston '07, a central figure in the protests following the September 2016 police shooting of Keith Lamont Scott in Charlotte.
"The students have done exceptional work to understand these stories, and how these characters' experiences are all connected to the history of racial injustice in America," said Green.
"But the stories aren't didactic," she said. "They demand reflection and conversation, and it is my deepest hope that we can have a meaningful community dialogue about the experiences depicted."
Each performance of the five 10-minute plays together will last about an hour. After the plays, the audience will have the option to stay for a community discussion. Each discussion will have a different focus, from photographic journalism, to national racial history and civil rights activism, to local racial and generational relations in Davidson and the racial climate on the Davidson College campus. (See full details below).
Tickets are free (but required), thanks to an Andrew W. Mellon Foundation grant supporting Justice, Equality, and Community. The Mellon-funded initiatives include new courses and collaborations with the community to help build broader public discussion, active citizenship and global problem-solving. Reserve tickets online or by phone, 704-894-2135.
The following community discussions will take place after performances. All are invited to the discussions, regardless of whether they attended that night's performance.
Three Steps Back: A Call to Action
Wednesday, Nov. 8
Join photographer Alvin Jacobs at the Cunningham Theatre Center as he leads a gallery talk on the lobby exhibit featuring his work, "Three Steps Back: A Call to Action." Jacobs has traveled to Ferguson, Charlottesville and Baltimore, among other cities, to document social unrest. His images from Charlotte are on display at the Levine Museum of the New South in the "K(NO)W Justice K(NO)W Peace" exhibit.
Place Based Community Change Work: Building Transformational Partnerships
Thursday, Nov. 9
A dialogue with Brenda Tindal, staff historian at the Levine Museum of the New South and Joseph Ewoodzie, Malcolm O. Partin Assistant Professor of Sociology. They will discuss their experiences with place-based change in the Charlotte area in a session facilitated by the Center for Civic Engagement. 
Seeking Peace in Charlotte: One Native Charlottean's Experiences
Friday, Nov. 10
Braxton Winston '07 shares his experiences as a black Davidson student, local activist and political figure in a public interview. This event will be held in the Barber Theatre in the Cunningham Theatre Center.
Intergenerational Dialogues: Race and Racism in the Davidson Community
Saturday, Nov. 11
Gather with members of Davidson Learns to engage in an intimate, intergenerational conversation between Town of Davidson residents and students, faculty and staff from Davidson College to uncover the roles of race in the formation of the Davidson community and help bridge the generational and racial gaps. This event will be facilitated by Kanise Thompson '17 and Jenny Jones '18, and will be held in the Barber Theatre in the Cunningham Theatre Center.
Facing Our Davidson Truth: Creating the Community We Want to See
Sunday, Nov. 12
Join the members of the group Leadership, Equity and Justice and Chidsey Leadership Fellows as they discuss the current racial climate on campus and ways to create the community we wish to see. This event will be led by Dave Newell, director of the Chidsey Center for Leadership Development and Walter Snipes, associate director of residential life in Room 100, Cunningham Theatre Center.
John Syme
josyme@davidson.edu
704-894-2523