Venture Philanthropy: $5 Million Commitment Propels Innovation and Entrepreneurship Hub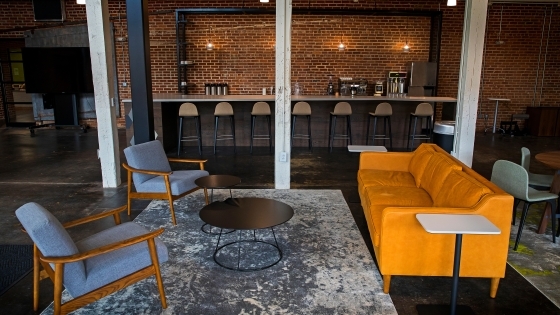 Jay Hurt wanted a salad, and it helped transform an entire industry.
He was in the grocery store pushing a cart full of salad components when he saw a salad in a bag.
"It was much less volume," said Hurt, an '88 Davidson grad, "and it was selling for three times what my items would cost."
Grabbing several for his next staff meeting, the salad in a bag became a symbol for a transformation of his small family-based business selling refined petroleum products and the creation of a billion dollar company that redefined an industry.
The experience drove home the incalculable value of innovation, the power of entrepreneurial ideas and creative thinking, "the importance of always looking five or 10 years down the road," he said.
That's what Hurt hopes to fuel through a $5 million commitment to create The Hurt Hub@Davidson, a 23,000-square-foot renovated cotton mill that houses as many local entrepreneurs and innovative companies as it does students and faculty. The project, unique among small liberal arts colleges, makes a perfect match for Hurt, a self-described venture philanthropist who is inspired by helping to make things bigger than they were before he got involved.
"At first blush, this project seemed out of place for a liberal arts college of Davidson's size," Hurt said. "But I quickly realized there is a need for students to have this opportunity, and companies can benefit from the engagement of talented students in their work. It also fits with Davidson's drive to reimagine the liberal arts experience. There is unlimited potential."
Employers in a rapidly changing economy are demanding more diverse and blended skills. The Hurt Hub pairs the hallmarks of a liberal arts education, such as developing critical thinking skills, communicating across audiences and analyzing information from multiple perspectives, with hands-on experience gained through collaborative projects with industry partners, internships with startups or starting an entrepreneurial venture. This combination of skills helps Davidson students have disproportionate impact in the workplace and world.
The contribution will formally name the Jay Hurt Hub for Innovation and Entrepreneurship, fund complete construction of the space and support programming, operations and the start of an endowment.
"Jay's generosity and participation help make a revolutionary idea a daily reality for students, faculty, companies and partners," said Davidson College President Carol E. Quillen. "It is a privilege to have the tremendous support of Jay, a successful businessman and passionate alumnus, as we navigate the future of innovation and entrepreneurship at Davidson. We hope his vision and leadership inspire others to get involved as well."
Innovation in a Bag
Hurt is the third generation in a family business in the lubrication industry–"allowing machinery to run smoothly and reliably," he said. After 40 years of local success, Hurt transformed the company's purpose and scope, resulting in expansion that significantly increased market share and profitability in a very competitive industry.
He translated the salad-in-a-bag idea to packaging services, consulting and technical training with the lubricants his company sold.
"We sold a product, but our product was part of a larger solution," he said. "Ultimately, what we needed to sell was a solution."
Inspiration for innovation is around every corner, and The Hurt Hub@Davidson will provide applied learning opportunities and conversations, partnerships and experimentation that will benefit the college and community alike.
Looking Ahead
The LEED Gold-certified build-out will include:
The Van Deman Innovation Lab, made possible by 1969 alumnus Ed Van Deman's $1 million gift. The nearly 7,000-square-foot lab includes start-up alley where students will work on long-term projects or business ventures, a multipurpose classroom, a data analytics factory and virtual reality lab.
Nearly 7,500 square feet of co-working and meeting spaces for entrepreneurs and local professionals, including 15 private offices and 30 open seats.
A 2,000-square-foot social commons with a self-service coffee bar, café tables, couches and chairs–designed to be a shared space for the Hurt Hub community.
Two anchor companies leasing larger office suites and partnering with Davidson students and faculty on collaborative projects, research and internships. The first companies to occupy these suites moved into The Hurt Hub in fall 2017, Rocus Networks (a local cybersecurity firm) and Quoin, Inc. (a software engineering firm with offices in Boston, Washington, D.C., and Davidson).
"I like that it's about innovation and entrepreneurship," said Hurt. "Not everyone was cut out to be an entrepreneur, and a much larger number of people have the ability and potential to go into an organization and, from simple to complex levels, be an innovator. This ultimately becomes the key to professional success and career advancement."
Getting Involved
Hurt made his commitment to support the work of innovation and industry collaboration at Davidson, and he hopes to inspire alumni to get involved, financially and otherwise.
"The Hurt Hub's potential benefits reach in every direction," said Raechelle Clemmons, Davidson's chief information officer, who oversees the project. "Students gain invaluable experience that employers look for. Established companies, startups and other ventures benefit from the resourcefulness of Davidson's talented students. And the region is strengthened by the entrepreneurial ecosystem that we hope to convene and catalyze in this space."
The Hurt Hub, located a couple blocks off campus, operates out of a former textile mill that the college purchased and refitted.
"There is tremendous potential to tap into the naturally existing resources offered in the Davidson community, extending beyond the campus to include alumni, community members and local companies," said Hurt. "The notion that 5-10 years from now there will be companies that have begun, solutions reached and meaningful careers and opportunities created for individuals and their families–that's pretty cool."
To learn more about opportunities to support the Jay Hurt Hub for Innovation and Entrepreneurship, contact Julie Goff '05 at jugoff@davidson.edu or 704-894-2003.