New Data Confirms Record Number of Fulbrights—Davidson Among Top in Nation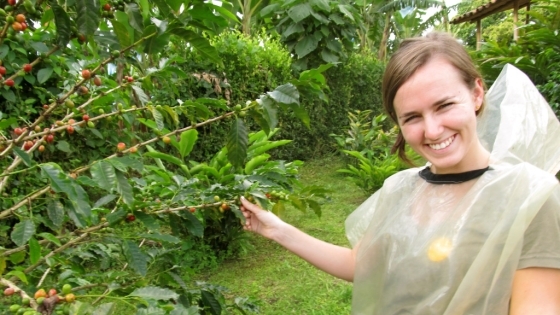 Original: May 18, 2018
Updated: July 5, 2018 and Feb. 21, 2019
This year's crop of 10 Fulbright U.S. student grant recipients places Davidson College among the top producers of Fulbright students nationally.
Newly released figures confirm that Davidson College ranked sixth among all bachelor's degree-granting institutions for the number of Fulbright scholars for 2018-19, a new record that solidifies the school's status as a top producer of trailblazing scholars and teachers.
Davidson students have long been recognized as top candidates by the prestigious Fulbright U.S. Student Program of the United States Department of State's Bureau of Educational and Cultural Affairs.
The U.S. award program was developed in 1946 by U.S. Sen. J. William Fulbright of Arkansas, who called for the use of surplus World War II property to fund the "promotion of international good will through the exchange of students in the fields of education, culture and science." It is the flagship international educational exchange program sponsored by the U.S. government. Fulbright alumni have become heads of state, judges, ambassadors, cabinet ministers, CEOs, and university presidents, as well as leading journalists, artists, scientists and teachers. They include 59 Nobel Laureates, 82 Pulitzer Prize winners, 71 MacArthur Fellows, 16 Presidential Medal of Freedom recipients, and thousands of leaders across the private, public and non-profit sectors.
The 2018-19 Davidson Fulbright students are currently studying and working in Botswana, Colombia, Cyprus, Finland, France, Malaysia, Nepal, South Korea and Spain.
This year's Davidson Fulbright recipients will:
Conduct pediatric oncology research at the Necker Children's Hospital in Paris, France
Research HIV and hepatitis B transmission at the Botswana-Harvard HIV Reference Laboratory
Teach English and foster American goodwill around the globe
The 2018-19 Fulbright Recipients
Katie Ferro '18 received a Fulbright English Teaching Assistant award and will teach in Madrid, Spain.
The political science and Hispanic studies double major who came to Davidson from Chatham Hall in southern Virginia, studied abroad in Madrid during her sophomore year, where she volunteered at a local bilingual school and helped to lead a weekly language intercambio. Ferro also studied multilateral diplomacy and conducted independent research on cyber warfare in Geneva during the fall of her junior year.
With Dean Rusk International Studies Program grant support, she spent a summer in India with Agastya International Foundation, and went to Spain to teach and conduct research on the politics of the country's bilingual education system.
On campus, Ferro was an interpreter at Ada Jenkins Community Center's free clinic, volunteered at Davidson Elementary, was a research assistant to the English Department, served as a student ambassador with SEED20, and participated in an intercultural dialogue dinner with members of the local Latinx immigrant community.
Ali Galdi '18 received a Fulbright English Teaching Assistant award to teach English in South Korea.
Galdi, a political science major and educational studies minor from Staten Island, New York, studied international humanitarian law in Copenhagen, Denmark, while at Davidson. She participated in the Davidson in Washington program while interning with a non-profit organization teaching inner-city high school students international relations and youth activism. She rowed crew and coached the Novice Women's Club Crew team.
Kirsten Huffer '15 received a Fulbright English Teaching Assistant award and will teach English in Cyprus through archaeology and history, based on her past experiences excavating, researching and exhibiting Cypriot cultural heritage as a National Science Foundation Research Experience for Undergraduates grant recipient with Davidson's Athienou Archaeological Project.
A native of Tallahassee, Florida, Huffer was a Dobson-Neely Latin Scholar and double-majored in classics and art history. She interned in the college's Van Every/Smith Galleries, excavated in Italy with Davidson's Salapia Exploration Project, served as an apprentice Latin teacher, and was involved with Davidson Outdoors. She curated a traveling exhibit of 3D-printed Cypriot artifacts excavated by the Athienou Archaeological Project and coordinated its travel to institutions across the United States.
Since graduating in 2015, Huffer has served as a Davidson College Advising Corps adviser in rural western North Carolina, where she recently shared her 3D-printed exhibit with college access program participants in order to raise awareness about study abroad opportunities.
Natalie Philips '18 will use her Fulbright Study/Research grant to conduct pediatric oncology research at the Necker Children's Hospital in Paris, France. She will be continuing the research she began last summer at the Colorado Children's Hospital, which focuses on a rare and deadly form of pediatric brain cancer commonly referred to as DIPG.
The biology major and health and human values minor from Asheville, North Carolina, worked on campus as a research assistant for the biology department, volunteered for the Community Free Clinic and was on the E-board for Rape Awareness committee. She spent a summer studying abroad in Switzerland conducting public health research for the United Nations, and a semester in South Africa studying wildlife conservation and management.
In her Fulbright year, Philips will be part of a French-speaking research team. "After being present when a family's three-year-old daughter was given the devastating diagnosis of DIPG, I am motivated to continue this research for the rest of my medical career," she said. "In my lifetime, I hope to be a part of curing DIPG so that other children will have a different fate."
Cole Riggan '18 received a Fulbright English Teaching Assistantship, which he will use to teach in Malaysia.
A native of Lexington, North Carolina, Riggan majored in political science and minored in philosophy. He was also a member of the men's swimming team, Sigma Phi Epsilon fraternity and the Pre-Law Society. He served as a research assistant for the political science department and wrote an honors thesis titled "Evaluating Gideon's Promise: An Assessment of Indigent Defense Systems in North Carolina."
As a former research intern for Georgetown University's McDonough School of Business and the United States Chamber of Commerce, Riggan is eager to study the role of democratizing markets and entrepreneurship in Southeast Asia while he teaches in Malaysia. "I am honored and excited to have received such an incredible opportunity," Riggan said, "and I cannot wait to explore the beautiful country, try new foods, and make many new friends along the way!"
Haley Sanner '15 will use her Fulbright Study/Research grant to conduct a market analysis of intergenerational homesharing to address the aging and caregiving crisis in the Kathmandu Valley of Nepal. She envisions her research will lead to a social-entrepreneurial business focus.
During her time at Davidson, the math major from Arlington, Virginia, was supported by the Dean Rusk International Studies Program, Civic Engagement, President's Office and the Kemp/Bank of America scholarship to pursue research relating to social isolation among older adults and people with multiple sclerosis, nationally and internationally. She pursued a two-year postgraduate experience as a 2015-16 Davidson Impact Fellow working on aging issues in the non-profit sector and the following year as an academic coordinator with the School for International Training (SIT). She currently serves on the AARP Foundation's Social Connectedness Team to mitigate isolation among low-income older adults.
Charlotte Scott '18 will work in Bogotá, Colombia, at la Universidad Nacional de Colombia, as a Fulbright English Teaching Assistant.
From Indianapolis, Indiana, she has lived overseas her whole life in India, Bangladesh, Indonesia and Belgium. Scott is majoring in public health and Hispanic studies through the Center for Interdisciplinary Studies with a minor in Latin American studies.
She worked at the Ada Jenkins Community Center, served as co-president of the Pre-Nursing Society, danced with the Bhangra team, sang with the Davidson Delilahs a cappella group, and served on the Union Board as student performers chair. She conducted research in Arica, Chile, and traveled to Cuba with a Dean Rusk International Studies Program grant to study the sexual health education of older adults (65+). She was recognized for service to the community with the Leadership in Service Award from the Center for Civic Engagement.
Zach Shaver '18 received a Fulbright U.S. Student Program award for Study/Research. Shaver will work at the Botswana-Harvard HIV Reference Laboratory in Gaborone, Botswana.
His project is to analyze the vertical transmission of hepatitis B in mothers who are co-infected with hepatitis B and HIV. The results will help discover the prevalence of hepatitis B in infants born to these co-infected mothers and evaluate the efficacy of the current hepatitis B vaccination program.
The Charlottean majored in chemistry with an emphasis in biological chemistry and completed a summer and two semesters of research in synthetic biology with Professor of Biology Malcolm Campbell. Shaver went on the Davidson in Mwandi, Zambia, study abroad program, where he interned at a small hospital. He plans to become a doctor and work closely with patients who are infected with the diseases he has studied at Davidson and in his Fulbright year.
Natalie Skowlund '18 received an English Teaching Assistant award to teach English in Medellín, Colombia. She also plans work on a community engagement project focused on indigenous and Afro-Colombian communities.
The Lake Oswego, Oregon, resident majored in political science with a Hispanic studies minor. She tutored with the Learnworks after-school program at the Ada Jenkins Center, led trips with Davidson Outdoors and served as an assistant teacher with the Hispanic Studies Department. She studied abroad in Cochabamba, Bolivia, where she studied indigenous cultures and gained an interest in learning more about minority resilience efforts in Latin America. She also conducted research on the Spanish Gitano (Roma) populations in Madrid and Barcelona with an Abernethy Research Grant.
"In my Fulbright year," she said, "I will improve my Spanish fluency and also gain a greater understanding of how I, as a U.S. citizen, might help foster greater intercultural communication with communities in Colombia."
Steffaney Wood '18 was awarded a Fulbright U.S. Student Program grant to conduct research at the Finnish Environment Institute (SYKE) Marine Science Centre under Drs. Anke Kremp and Sanna Suikkanen.
"In many ways, it is a continuation of my NOAA Hollings Scholar project and environmental studies capstone project studies," she said.
Wood will study the frequency and toxicity of harmful algae in the northern Baltic Sea's shifting natural environment, with a focus on the life cycle of the microscopic dinoflagellate species Alexandrium. Wood is an environmental studies major (natural science track), with a chemistry minor and pre-medicine track, who calls both the Washington, D.C., area and Southern California home. At Davidson, she served as news co-editor of the Davidsonian, president of the Environmental Action Coalition (EAC), Warner Hall House Sustainability Chair, and YouthMAP mentor.