Duke Endowment Gives $24M to Davidson for Scholarships for Talented Students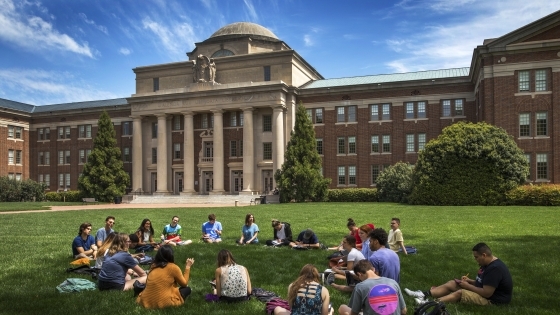 The Duke Endowment today announced a $24 million grant to Davidson College, the fourth largest donation in the college's history.
The award will fund full-tuition scholarships, following what James B. Duke set out to do nearly a century ago in his pledge to educate those whose future contributions would benefit society.
The funding expands Davidson's James B. Duke Scholars Program that already has produced a film score composer, a Princeton University dean, a Global Product Strategy Lead at Google and an adviser to the World Trade Organization. The program now will provide full-tuition support to five students in each class, beginning with the class of 2025. The gift places the James B. Duke Scholarship among Davidson's premier academic scholarships and further equips the college to recruit students of the highest intellectual caliber from across the country and around the globe.
The gift also pushes the college's current fundraising campaign, Game Changers: Inspiring Leaders to Transform the World, over the half-billion-dollar threshold. The campaign, which will continue through the end of June, supports the college's highest aspirations, including its commitment to making a Davidson education accessible for all qualified students.
"The James B. Duke Scholars Program enables us to equip graduates to utilize their exceptional abilities in the context of what the world needs from them," said Davidson College President Carol E. Quillen. "We can build a cohort of top students from all backgrounds who learn with, and from, each other. The Duke Endowment and Davidson long have partnered in leveraging scholarships to recruit academically talented students and expand educational opportunities, knowing the return will exceed their investment."
The James B. Duke Scholars Program is aimed at recruiting students who bring extraordinary talents to Davidson that will enrich the campus and community. The scholars will participate in programming that strengthens their skills and develops their scholarly potential to the benefit of all.
James B. Duke, recognized as a philanthropist as much as an industrialist, established The Duke Endowment in 1924, the year before his death. He targeted its support toward higher education, health care, children's welfare and spiritual life. In higher education, he chose Davidson as one of four institutions to support, along with Johnson C. Smith University, Furman University and Duke University. The Duke Endowment funds James B. Duke scholarships at both Furman and Johnson C. Smith, which also focus scholarships toward recruitment that strengthens campus culture and makes higher education exceptional and accessible.
"The Duke Endowment is proud of its strong commitment to Davidson and its extraordinary students," said Minor Shaw, chair of The Duke Endowment's Board of Trustees. "This scholarship program will help the college provide further opportunities for top scholars to learn, innovate and realize their full potential, and we are pleased to be part of that mission."
Based in Charlotte, The Duke Endowment is a private foundation that strengthens communities in North Carolina and South Carolina. Since its founding, it has distributed more than $3.7 billion in grants. The Endowment shares a name with Duke University and Duke Energy, but all are separate organizations.