Sixth Annual #AllinforDavidson Raises $1.5 Million in 18 Hours, 37 Minutes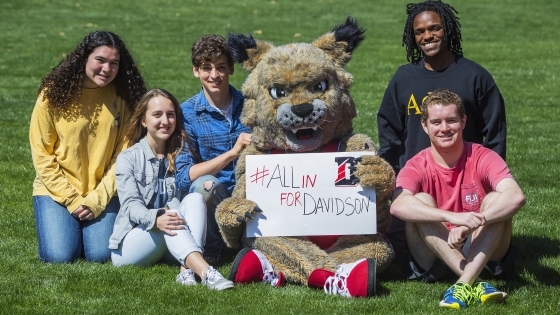 The energy was contagious -- online and on campus -- for the college's annual day of giving, All in for Davidson. This year marked the sixth #AllinforDavidson challenge, which raised $1,528,395 from 3,401 donors. The April 11 event ran 18 hours and 37 minutes in recognition of the college's founding year of 1837.
"On this day, we encourage all Wildcats to support what they care about most and to share that passion far and wide," said Caitlin James '14, director of annual giving. "Our annual giving program is a leader nationally, and that is because of the many people who choose to make Davidson a philanthropic priority. Celebrating our joint impact is the icing on the cake."
This year, for the first time, all 50 states were represented, and gifts came to Davidson from as far away as Russia, Taiwan and Australia.
With $500,000 in challenge money on the line and an initial goal of 2,000 donors, social media lit up with stories, photos and calls to action. The #AllinforDavidson hashtag trended nationally, another first-time success, thanks to the high volume of activity.
On campus, live segments invited outside audiences in with updates from student hosts, footage from the bustling call center and a balcony performance from the Nuances, a student a cappella group.
The campaign hit the 2,000 donor goal by 5:30 p.m., and the numbers continued to climb.
The Fund for Davidson funds scholarships, athletic programs, the arts, student research and internships.
For the third year, #AllinforDavidson coincided with Davidson Volunteer Week, during which students, alumni and parents participate in community-based and service-related projects. In total, 39 chapters hosted 53 projects during the week -- one more way they show they are all in for Davidson's mission.
Additionally, an on-campus service project provided flashcards, art kits and pencil pouches to Classroom Central, which serves more than 127,000 students and their teachers across six school districts in 199 high-poverty schools in North and South Carolina.
"Every person who contributes during #AllinforDavidson helps make a Davidson education distinctive," said President Carol Quillen. "Your support ensures that this special place continues to offer amazing young people experiences that prepare them to lead and serve the world. It is a gift to be part of a community so dedicated to our crucial mission."
The #AllinforDavidson challenge first launched in June 2014. Including yesterday's total, more than $6.5 million has been raised in new gifts and challenge dollars through this annual, one-day event.
Every gift counts toward the ongoing Game Changers: Inspiring Leaders to Transform the World campaign.