The Long Run: Physics Prof Overcomes Injury to Finish Boston Marathon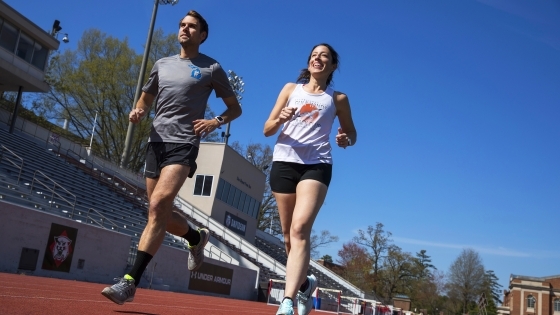 Days before the Boston Marathon, the forecast warned of extremely cold, rainy, windy weather. Anthony Kuchera was facing his own gloom: a nagging hip injury he worried would keep him from running the race of his dreams.
But the sun came out in Boston and Kuchera worked through his pain to complete the marathon. It wasn't his fastest time, but the Davidson College physics professor says it was worth every ache and pain.
"It was the toughest marathon I've run, but it was also my favorite," he said. "I just wanted to finish, and I'm so happy and excited and proud that I did. I'm pretty sore, but I'm feeling great."
Kuchera once considered himself a casual runner.
He ran for his high school track team, gave it up in college and started dabbling again in graduate school.
When the fellow graduate student he was dating decided she'd like to try it, he surprised her on her birthday with her first pair of running shoes. She ran a mile her first time out, then cried when she finished.
"Because it was so hard, and I realized I still had to make it back home," she said. "I was not a runner."
Within a year, they completed their first half marathon together.
Nine years and many miles later, Anthony and Michelle Kuchera are now married, and like him, she's a physics professor at Davidson. She's run five marathons and is training for a sixth.
Boston was Anthony Kuchera's fifth marathon.
He was one of 30,000 people running in the world's oldest -- and by most accounts best -- annual marathon. It begins in Hopkinton, Massachusetts, and ends in Boston's Copley Square. He and many other runners and their supporters later headed to Fenway Park for a post-race celebration.
"I used to not have any interest in running marathons, but I did them so I could run the Boston Marathon," he said. "I love the history of the city, and I love going to Fenway Park -- I'm a big baseball fan."
Boston hosts the marathon each year on Patriots' Day, a state holiday that celebrates the Revolutionary War battles of Concord and Lexington.
It's no holiday in North Carolina, so Michelle Kuchera supported him from Davidson. In this case, it helps to marry a colleague: She taught one of his classes and had students track his progress.
Road to Boston
To run this year's Boston Marathon in the men's 18-35 division required completing another qualifying marathon in three hours and five minutes. Anthony Kuchera finished Orlando's 2018 Walt Disney Marathon in two hours and 55 minutes, placing 30th out of more than 20,000 runners. He placed 842nd out of nearly 53,000 runners in the 2018 New York City Marathon, which qualifies him for Boston in 2020.
Davidson College Professor Anthony Kuchera (right) and a friend, Jamie Rytlewski, after completing the Boston Marathon April 15, 2019.
He's previously averaged 6:41 minutes per mile but is quicker in shorter races, winning one four-mile Charlotte competition in 23:07 minutes.
Boston was his slowest marathon -- he clocked in at three hours and 27 minutes -- but he was grateful to finish.
He's used to pain, but three weeks earlier, his hip started to hurt. He tried to run through it, but it became so painful that it hurt to walk.
"I was really discouraged," he said. "But I flew in Friday and knew I would try. And that was my goal, to cross the finish line."
Michelle Kuchera cheered for him from afar, hoping he'd finish the race.
She wants to run the Boston Marathon some day, but needs to shave time to finish in the three hours and 30 minutes required to qualify for the women's 18-35 category. She's now training for the 2019 Pittsburgh Marathon in May.
Both say running has come up in physics courses.
Michelle Kuchera once taught a student who created a project that investigated how fast someone functioning perfectly could run a mile based on height, weight, body mass and VO2max.
"I think about physics a lot when I'm running," she said. "Mostly I think about running economy and expenditure -- which involves physics."
The Kucheras met at Florida State University's graduate school and joined a close-knit runner's club in Tallahassee. They joined the Davidson Area Running Team after moving to North Carolina in 2016 and made a new set of friends. 
Because of different paces, the two rarely run together. He's usually out of the house before 5 a.m. to run with friends. She runs at lunch time or after work with students, colleagues, or friends.
Both run anywhere from 20 to 60 miles a week, depending on their stage of marathon training.
Anthony Kuchera says he enjoys the social aspect of running with friends and the clarity it brings to the rest of his life.
"It's my hobby, it gives me a little separation from work," he said.
Michelle Kuchera says running offers daily challenges with tangible achievements.
"It makes me happy and gives me confidence," she said. "It gives me a sense of accomplishment and makes me feel healthy."
On their different styles?
"He's fast and he's really competitive," she said. "I just run for fun. He's hard core."