Barings Announces Partnership with Davidson College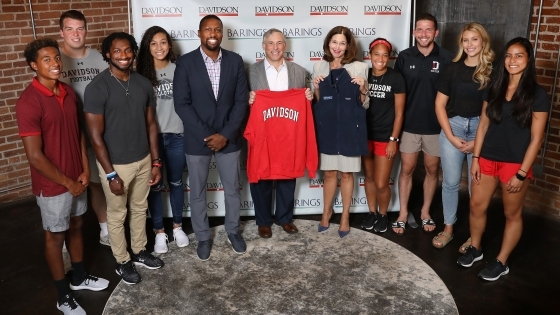 CHARLOTTE, N.C. (August 28, 2019) – Barings, one of the world's leading financial services firms, today announced a three-year partnership with Davidson College that will provide students with research, training, mentorship, and community service opportunities.
The partnership is among the first of its kind at Davidson and unique in that it crosses academics, service, talent development and athletics.
"With a mission centered on leadership and service, Davidson is producing graduates who are global thinkers, intellectually curious and full of integrity," said Barings Chairman and CEO Tom Finke. "At Barings, we recognize these are vital skills for the future of the work force. We are looking forward to working with Davidson on projects that will foster the next generation of employees, enhance innovation and help the greater Charlotte area."
Students will receive an array of learning, training and career opportunities throughout the three-year partnership, while Barings will connect with talented students for research and internships. In addition, starting this fall, all first-year Davidson students will join in Barings-enabled community service projects.
Some of the ways Davidson and Barings will partner together include:
Davidson students and faculty working together on Barings-identified research projects.

Mentoring, internships and seminars for Davidson students.

Career recruiting and training programs on campus.

A Barings-enabled community impact initiative, which includes community service projects for all first-year students, the Davidson Impact Fellows program and the "Cats Care" community service program for scholar-athletes.
The Barings name is also now featured prominently in the Jay Hurt Hub for Innovation & Entrepreneurship at Davidson College and will soon appear at Davidson's sports venues, including John M. Belk Arena and Richardson Stadium.
"We are grateful to Barings for this multifaceted partnership that spans academics, service and athletics," said Davidson College President Carol E. Quillen. "With the firm's resources, employees and ideas, we can collaborate across areas of innovation, career development and service to better serve our students and community at large."
About Barings
Barings is a $325+ billion* global financial services firm dedicated to meeting the evolving investment and capital needs of our clients and customers. Through active asset management and direct origination, we provide innovative solutions and access to differentiated opportunities across public and private capital markets. A subsidiary of MassMutual, Barings maintains a strong global presence with business and investment professionals located across North America, Europe and Asia Pacific. Learn more at barings.com.
*As of June 30, 2019
About Davidson College
Students at Davidson College develop the qualities needed in the world today: leadership, integrity, curiosity, empathy and courage – qualities informed by experiential learning and shaped by relationships with people who challenge but always care, who embrace difference while building community. Davidson is a highly ranked liberal arts college in Davidson, N.C., that inspires lives of consequence. Learn more at davidson.edu.
Published
Barings Contacts
980-417-5648

980-417-5886