Scenes From a Davidson Welcome: Campus Comes Together for a Solid Start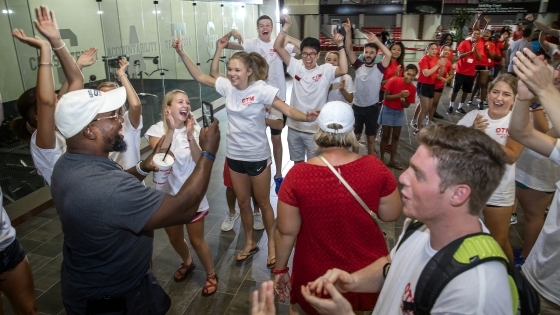 From a raucous orientation to first homework assignments to the annual Cake Race, Davidson College started the 2019-20 school year with returning friends reuniting and 537 first-year and transfer students beginning a new journey.
The campus is alive with activity as students settle in to new routines and pick up where they left off last year. Get a taste of a Davidson welcome with these sights and sounds, captured during orientation activities and the first week of classes. 
The Commons, cafes and campus bookstore buzzed with customers, roommates coordinated dorm decorations and mostly sunny skies drew students outside to study, eat and socialize.
The new students represent 18 countries, 41 states, and the District of Columbia. Collectively, their stories include authoring a feminist fairy tale, working with elephants as a certified mahout and getting bitten by a shark.
They attended a first-year orientation program, signed the Honor Code, and settled into life on campus. They and their families got a blast-out welcome from dozens of student volunteers on the orientation committee.
With loud music blaring, the committee formed a chain of sorts in the Baker Sports Complex, cheering, singing and clapping as newcomers and their parents arrived to hear welcome speeches from President Carol Quillen and others.
Some looked startled and embarrassed, others offered the equivalent of a royal wave and some ran through high-fiving their greeters. Many proud parents held phones high for pictures and videos.
"The welcome has been amazing, from a drop-off that took about six seconds to this," said Tracey Pesikoff, whose son Jonah, is a class of 2023 member. "We're from Texas and you've heard all about Texas welcomes. This is a North Carolina welcome and it's great!"
Team Effort
Before classes started, first-year students on the Wildcat women's soccer team debuted a mashup video to an audience of their elder teammates.
They choreographed a dance video to three High School Musical songs; "Get Your Head in the Game," "Work this Out" and "We're all in This Together," popping up in settings like the laundry room, basketball court and front lawn of Chambers Building.
Making the video is an annual rite for soccer team newcomers.
"We attempted to learn the choreography," said Rachel Schleicher, of Charlotte. "The energy was there, the effort was there—it didn't quite work out exactly as planned, but we had a lot of fun with it."
Right Fit
After a farewell luncheon for new students and their parents, Genesis Bernadin and her family took their last pictures together before she settled into school and they began their 12-hour drive back home to Miami.
Bernadin is a POSSE scholar who enjoyed several days of pre-orientation as part of the college's STRIDE program (Students Together Reaching for Individual Development and Education). It's a peer mentoring program to help multi-cultural students adjust to and become involved members of the college community.
"I picked Davidson because of its small class sizes, the advanced research opportunities and the close-knit family vibe I felt," Bernadin said. "I'm excited to start and to meet new people. Everyone I've talked to in STRIDE is doing great."
That includes STRIDE mentor Makayla Binter from the class of 2020, who painted the college's latest public art work this summer. Binter's mural panels are displayed on the lawn outside of Chambers Building.
It's an interactive piece intended to start conversations among the college's diverse communities and has become a campus focal point.
Jasmine Bernadin, Genesis's mom, said she was impressed by what she saw and heard, and thought Davidson was the right fit: "The people here are very kind."
She knew she'd shed a few tears, but said she wasn't worried.
"I'm sad right now but I feel like you're going to be okay here," she told Genesis. "You'll be fine."  
Sweet Tradition
The college's annual Cake Race brought out students, faculty, staff and community friends to cheer on first-year students running the 1.7-mile course around campus.
As usual, cross country runners took the cake—with four members of the men's team, Miles Kominsky, Jack McMahon, Owen Drometer and Ben Gordon Sniffen crossing the finish line together with a time of 7:10 to win first place in the men's race. Natalie Abernathy clinched the women's first place win with a time of 8:08.
And former cross country star and retired coach Sterling Martin ran the Cake Race in honor of the 60th anniversary of his 1959 win.
Of course, cakes are always winners, and this year volunteer bakers donated 272 cakes, "Which I believe is a record," said Sandy Helfgott, director of physical education, recreation and wellness. "The energy this year was off the charts."
The men's race winners selected baking star and Davidson men's tennis coach Drew Barrett's elaborate Harry Potter-inspired sorting hat cake, which was surrounded by replicas of four residence halls.
And Abernathy, the women's winner, selected a giant "D" cake smothered in Kit-Kats, Oreos, chocolate chips and for the health conscious, strawberries, crafted by Dining Services baking supervisor Becca Sporney and her team.
Sharing cake—with teammates, roommates and hallmates—is part of the tradition. Apparently so is cake hopping, and on the night of the race, some students visited different residence halls to see what confections were up for tasting.