'Education Transforms': Alison Hall Mauze '84 Elected Board Chair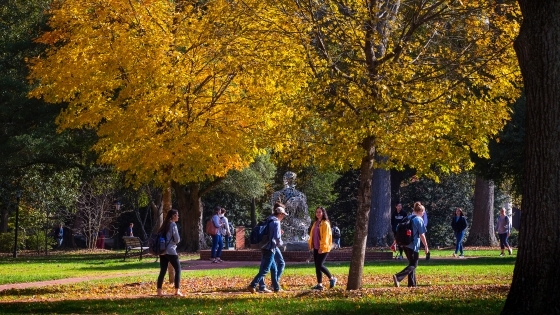 Alison Hall Mauzé, a former JP Morgan vice president who never lost sight of her educator parents' mission, was elected chair of the Davidson College Board of Trustees Friday.
Mauzé, a 1984 graduate of Davidson, works as a consultant to nonprofits and community volunteer in the Bay Area, where the San Francisco Examiner declared that she "engages the hearts and minds of those who meet her, eliciting the best in people." She is the first woman to chair Davidson's board and has played a volunteer leadership role at the college for a decade. She co-chaired the recent "Game Changers" campaign that months ago exceeded its $425 million goal by more than $100 million.
Mauzé succeeds former Burger King Chairman and CEO John W. Chidsey III '83, whose term ended. Chidsey served as board chair since 2014.
"Alison exemplifies Davidson's values, and her commitment to our mission has already significantly strengthened the college," said Davidson College President Carol E. Quillen. "With her leadership, we can ensure that our students will graduate with the humane instincts, creativity and courage to lead lives of service and consequence."
Mauzé's father, a U.S. Marine, earned a doctoral degree and, later, moved his family from upstate New York to eastern Kentucky when he became president of what was then Pikeville College. Her mother, with multiple advanced degrees in science disciplines, taught gifted middle and high school students.
"They were devoted to the concept and belief that education transforms," Mauzé said.
Her parents paid for college for their children and, then, for foster children. The family code was to give of what you can, resources or time. She started volunteer work in high school.
"I grew up with the expectation that it's not about me," she said. "It's what, in my limited capacity, I can do to make things a little better."
She attended boarding school in Winston-Salem, visited Davidson for an admission interview and was struck by the kindness extended at every turn. She met her husband, Michael Mauzé, a 1985 graduate, at Davidson and said his support has helped her give back to the college. Two of the couple's four children graduated from Davidson.
Mauzé's career took her from working with children with severe behavioral problems to Davidson's admission office and ultimately to Wall Street and the top ranks of JP Morgan, where she focused on corporate finance.
Now she takes on what she calls an "extraordinary role," but one with no paycheck and that requires routinely criss-crossing the nation. Mauzé said Davidson gave her countless opportunities to live out the school's mission statement of leadership and service, and she wants the same for current and future students. She also emphasized the nation's—and world's—need for the graduates who leave Davidson with deep skills and capacities, such as the ability to see the connections between disparate problems or to communicate across diverse audiences.
"We are more essential now than we have ever been," she said, describing an era when truth is devalued and science is doubted. "We need thoughtful, analytical minds that can walk into a room and be diplomatic."
Mauzé said she wants to help further Davidson's trajectory of leading in the role a liberal arts college can play in a rapidly changing, technology-fueled global society. Davidson, she said, is a place where students from all backgrounds discover where their skills meet the world's needs.
"I hope we can make Davidson's presence felt," she said, "in an even bigger and more meaningful way."