Cynthia Lawing of Davidson, N.C. is Nominated by Steinway Piano Gallery Charlotte for Steinway Teacher Hall of Fame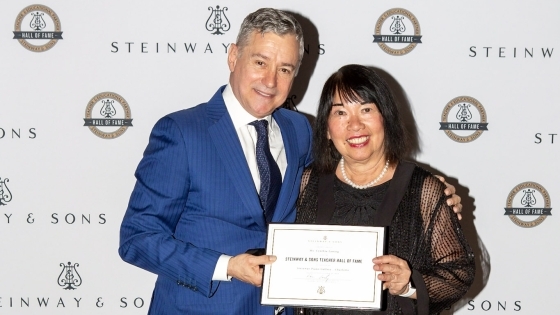 ASTORIA, N.Y. – Local piano teacher Cynthia Lawing has been inducted into the Steinway & Sons Teacher Hall of Fame — a prestigious designation recognizing the work of North America's most committed and passionate piano educators. 
This fall, 43 teachers from the United States and Canada were inducted into the Steinway Teachers Hall of Fame with special events hosted at the historic Steinway factory in New York City. Each teacher inducted into the Hall of Fame was nominated by a Steinway & Sons showroom in the teacher's home region. The teachers' names are now displayed on a commemorative display wall inside the iconic factory.
 "Since the very early days of company history, Steinway & Sons has been committed to music education and has been proud to work with some of the finest piano teachers in the world," said Ron Losby, President and CEO of Steinway & Sons. "These talented educators foster a love of learning and practice in young people that ultimately creates the fabric of tomorrow's music and culture. We are very happy to create the new Hall of Fame and to celebrate the special men and women who populate it."
About Cynthia Lawing
Beginning her piano study in Hong Kong at the age of four, Cynthia Lawing was recognized as an outstanding concert pianist at an early age. Her performance career has taken her throughout the United States, South America, Europe, and Asia. In addition to her solo work, she performs with her sister, Gloria Cook, as duo pianists as well as with William Lawing, trumpet. Moreover, she is in great demand as a pianist for chamber groups.
She has been a dedicated teacher nearly as long as she has been a performer. She is in her fourth decade as an Artist Associate in Piano at Davidson College, NC. Cynthia takes great pride in the career successes of her Davidson students, where music continues to be their greatest passion while they are pursuing meaningful lives in medicine, law, business, and other non-musical professional vocations. She maintains a private studio and is recognized as a master teacher. Her students have won local, state, regional, and national awards. She has given lectures, lecture- recitals, and master classes, at many colleges and universities, and serves frequently as judge for piano competitions. She is especially in demand as a clinician for the NCMTA's annual workshops on competition repertoire. Additionally, she serves as a consultant, clinician and lecturer in the discipline of Dalcroze Eurythmics, in which she holds a separate degree.
Cynthia Lawing views teaching as a mission to pass on the great insight she has received from generations of great pianists/teachers. Through passing this torch, she strives to help young minds discover their own hidden treasure of music in themselves.
About Steinway & Sons
Since 1853, Steinway pianos have set an uncompromising standard for sound, touch, beauty, and investment value. Because of a dedication to continuous improvement, today's Steinway remains the choice of 9 out of 10 concert artists, and it is the preferred piano of countless musicians, professional and amateur, throughout the world.