Scholar Who Gives Voice to Untold Stories of Slavery, Reconstruction Appointed Vann Professor of Ethics in Society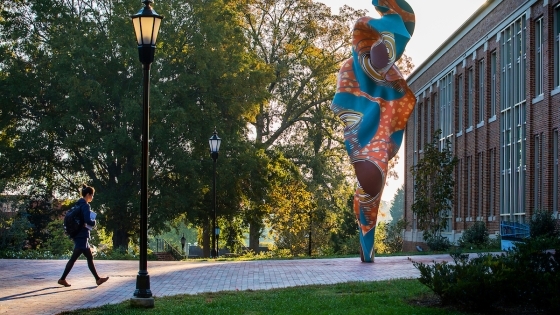 Hilary Green, a U.S. Civil War and Reconstruction scholar, will join Davidson College as the second Vann Professor of Ethics in Society for the 2020-21 academic year.
An associate professor of Gender and Race Studies and American Studies at the University of Alabama, Green has focused her recent scholarship on how African Americans remembered and commemorated the Civil War and on the often-unacknowledged history and legacy of slavery on university campuses. Her work gives voice to untold stories at a time when questions of national memory and commemoration are increasingly urgent.
She will share her expertise with the Davidson community, working closely with faculty and members of the college's Commission on Race and Slavery, as the college seeks a better understanding of Davidson's past and its implications for our mission today.
"Dr. Green arrives at Davidson at a time when the work of historians is more vital than ever," Davidson College President Carol E. Quillen said. "Her expertise and guidance will help the Davidson community and, we hope, the broader public to face, honestly and without defensiveness, the lives and labor of enslaved persons and persistent structural racism as we all strive to live the values we profess, as an institution and a nation."
Hallowed Ground
At the University of Alabama, Green's "Hallowed Ground" project highlights the impact of slavery and enslaved persons on the campus through tours and a website that makes primary documents, interviews and photographs widely and vividly available. She is looking forward to building on her work during her time at Davidson.
"This position allows me to explore how to address complex racial institutional pasts, creatively, sustainably, and inclusively at Davidson and inform my own research on the University of Alabama," Green said. "I am excited for the opportunity to work with the Davidson College community in developing a model for other institutions."
Green has visited Davidson before, presenting at the "Slavery, Violence and the Archive" symposium organized by the Africana Studies department in the spring of 2019.
"I was truly impressed by the students, faculty, staff and administrators who were interested in having open and honest conversations about their complex history with slavery and its legacy at Davidson," Green said.
Mikayla Smalls '20, a double major in Africana Studies and Sociology, helped to organize the conference and was struck by Green's scholarship.
"Dr. Green was very passionate and detailed in her approach to race and violence," Smalls said. "She will add to Davidson's atmosphere as she thinks critically and will push students to do the same and think outside the box."
Green earned her bachelor's degree in History, with minors in Africana Studies and Pre-Healing Arts, from Franklin and Marshall College; a master's degree in History from Tufts University; and her doctoral degree in History from the University of North Carolina at Chapel Hill.
"Her innovative scholarship, commitment to public history, and student-centered teaching style will be a great addition to the Africana Studies department," said Devyn Benson, associate professor of Africana & Latin American Studies and chair of Africana Studies. "Dr. Green will allow Davidson to continue the work of the Commission on Race and Slavery through her expertise in uncovering and recognizing the histories of enslaved peoples and their descendants at University of Alabama."
The Vann Professorship is made possible by the generosity of Jim Vann '50 and Lee Stanton Vann, whose decades of support for Davidson already include the Vann Fellowships for Biomedical Ethics Research at the Mayo Clinic and the Vann Family Scholarship for scholar-athletes.
Follow @HilaryGreen77 on Twitter.