Crossing Borders: Professor Returns to the Classroom to Expand Digital Engagement at Davidson and Beyond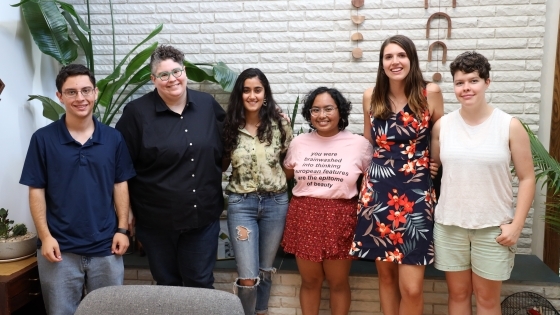 Imagine you're conducting research online on a topic you're eager to learn more about, and every time you click a link, you find the information is blocked behind a pay wall. Or it is written in a different language. Or maybe there is no link at all because the content was never widely circulated. Immediately, you hit a dead end and are left with unanswered questions.
As a New Directions Fellow, Professor Melissa M. González is studying how to eliminate barriers to digital access and collaboration. The year-long opportunity is made possible by The Andrew W. Mellon Foundation.
González is earning a master's degree in computational media from Duke University—a degree that will provide her with the ability to analyze, understand and make available digital texts, specifically in the area of queer activism.
She will draw on these new skills to facilitate additional collaboration among Latin American and North American scholars and activists. The end goal? An accessible and inclusive digital resource where activists and scholars can share work, ideas and translations that advance understanding of some of today's most pressing issues.
Increasing Awareness
González teaches courses that are cross-listed with the departments of gender and sexuality studies, global literary theory, Hispanic studies and Latin American studies. After earning this new master's degree from Duke, she will be positioned to teach courses in digital studies, as well.
"There is a fundamental hierarchy of knowledge that privileges work produced in the United States," she said. "We are not producing better knowledge in the United States, but we have automatic legitimacy and better distribution networks than scholars and activists in Latin America. Publishing in Latin America is complicated and expensive, and so, given that complexity, how can we have access to the works of activists, artists, writers and thinkers who are producing beyond the mainstream? There are many, many convergences between here and there, and yet there are very few people who can cross enough borders to get that bird's eye view."
González wants the people who are producing important work to be aware of each other. Whether they are writing about women's issues, the body or diet culture, she believes we need to understand how others are thinking about these topics so we can continue to learn and grow.
"Students want to know that the work they are doing matters," she said. "It's meaningful when our work is connected to a broader purpose, and crossing borders helps us gain that perspective."
This broader purpose is one that will benefit Davidson students in the classroom and communities of scholars who aim to share knowledge and make it available to all.
"In addition to transforming Dr. González's teaching and scholarship through a new 'language' of study, her work will increase public engagement with often marginalized voices—which is a critical need in our country's current climate of binary polarization," said Davidson College President Carol E. Quillen.
From Teacher to Student
From González's point of view, Davidson is an eminently traditional place that embraces change and new ideas. She says the college has been able to draw on its Presbyterian foundation and adapt to new ways of asking some of the questions that are most urgent in the 21st century: What is gender? What is race? What is sexuality? González says the new skills she is acquiring will help her to respond to some of these questions, as both a researcher and a teacher.
"President Quillen has encouraged professors to think like a student, have a student-centered perspective and consider students' hurdles," said González. "Now I'm experiencing life as a student, and that is invaluable. Before enrolling in this master's program, I could somewhat remember what it was like to be a student, navigating how many credits one needs, planning a schedule, interfacing with financial aid. I have a good imagination, but it does not match actually being in a student's position. Now, I am an enrolled student and living out the student experience again in a really vital way."
As a tenured professor at a liberal arts college, González is navigating a larger, more complex institution in her new role.
"All of these things I bring back to Davidson," she said. "It deepens my empathy and passion. Sure, I can learn new things and teach new things, but this experience is also about the process of learning how to learn in an institutionalized setting. And I think it will make me a better teacher."
This experience is also a first for González in another way—she's taking classes unlike any she took as a doctoral student, classes that require making digital things. She is learning to code websites and use data visualization software that illuminates new connections between disciplines.
"Even though I am a tenured professor, this whole experience adds fascinating new levels to imposter syndrome, to the feelings of inadequacy that plague faculty, especially underrepresented faculty. It's uncomfortable to be a student thinking 'Am I really a tenured professor?' But, I think when you become comfortable in your position, you can easily slip into becoming an uncritical, unthinking part of the structure within a system," she said. "You have to remain uncomfortable to effect change."
González has always considered herself to be an academic border-crosser. Thanks to The Mellon Foundation and her own vision for what's possible, her students will be encouraged to think globally as they understand more about access to knowledge and the perspectives of scholars the world over. Just as this experience will enhance the way González teaches and understands digital resources, it also will change the way people learn.