Life Aquatic: Ocean Conservation and Climate Change Inspire NOAA Hollings Scholar Virginia Gilliland '22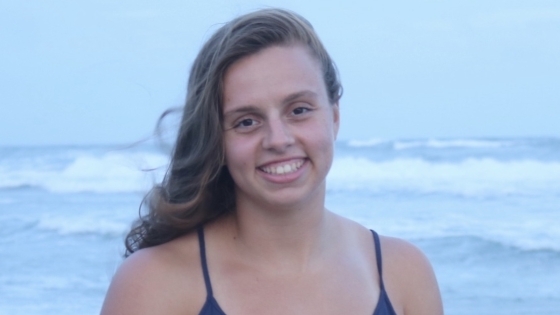 Virginia Gilliland has spent the past few months feeling like a fish out of the ocean. That's how life seems when you swam nearly every day since childhood, and a pandemic shuts down pools.
The Davidson College biology major and women's swim team member has adapted; taking a few open swims in lakes, hiking, and using resistance bands to simulate swim workouts. And if all goes according to plan, she'll spend her future studying and finding ways to protect the intricate ecosystems that make up the world's coasts.
Gilliland '22 is off to a swimming start. She's received a Hollings Scholarship from The National Oceanic and Atmospheric Administration (NOAA). She's the third Davidson student to receive the award since its creation in 2005.
The Hollings is a two-year academic award with a $9,500 scholarship each year and a 10-week, full-time paid internship during the summer of 2021. Gilliland will receive funding to show her research at two national conferences. She'll also present research at the NOAA's Science and Education Symposium.
Named after former U.S. Senator Ernest "Fritz" Hollings, the award goes to students majoring in areas that include oceanic, biological and environmental sciences, as well as engineering and teaching.
After college, Gilliland plans to pursue a doctoral degree in marine science and conservation. Among other things, she wants to research how marine organisms and ecosystems respond to threats from climate change.
"I was able to explain how acts as simple as forgetting to pick up trash on the beach can lead to decreases in populations of species like turtles," she said.
She's interested in how sea level rise impacts coastal ecosystems and how changes like ocean acidification affect marine biodiversity—and how humans contribute to and are affected by such changes. She wants to help protect coastal environments and educate people about how to responsibly enjoy the beauty and recreation they offer.
"I was super excited to get this," she said. "I want to pursue a career at NOAA someday, which is why this is so cool. I'm also interested in education initiatives, which is a large part of NOAA's mission. Education is one of the best ways to bring awareness to environmental problems and create solutions."
A Life in the Water
Gilliland has loved the beach and ocean since spending childhood vacations picking up sea shells and starfish at Emerald Island on the North Carolina coast. She's pretty sure that her early childhood shell collection "is still in our cupboards somewhere."
She started getting excited about science in elementary school. Her second-grade teacher would hold science days and lead the students in basic experiments. They'd watch "The Magic School Bus" television show, and read books from the series. In one instance her class monitored a batch of caterpillars as they morphed into butterflies, and then set them free.
In fifth grade, her class went on a weekend "Sound to Sea" environmental educational program at the Trinity Center in the N.C. Outer Banks. She returned in seventh grade. Those trips left a deep impression.
"We put waders on to go into the sound, and looked at different organisms," she said. "We dissected a squid and wrote our names in squid ink. Another time we went on the beach at night and learned about turtles hatching, and how bad light pollution is for them."
She's rarely far from water.
Gilliland started swimming in first grade for her neighborhood pool's summer team. By fifth grade, she'd turned to year-round daily swimming for an ultra-competitive YMCA program. In 2017, she won the (North Carolina) NCHSAA-3A state championship for the 100-yard breaststroke and was named the Mid-Piedmont's Swimmer of the Year. At the same time, she excelled academically, earning the honor as Western Guilford High School's 2018 valedictorian.
Gilliland has also coached young swim teams in her neighborhood and at the YMCA. She swims the breaststroke for Davidson's team.
 "Virginia is one of the most hardworking people out there," said Assistant Women's Swim Coach Sarah Holman. "She's very thoughtful about her training, her technique, and her role as a teammate.
"She's also completely laid back. She has this awesome, positive vibe, she really is one of the coolest people I've ever coached. She's been an amazing part of the team."
Research & Education
As a high school senior, Gilliland set out to learn how much young people knew about global warming and climate change. For her AP Capstone research project, she surveyed 110 high school students about their behavior, beliefs and risk perception toward climate change.
Some 78 percent believed global warming is real, yet 71 percent said they rarely or never discussed it with family or friends.
"These findings revealed a need for increased climate change education and awareness initiatives outside of classroom settings," she wrote in her NOAA essay.
She's dedicated to making that happen.
Gilliland spent high school summers as a Greensboro Science Center volunteer; leading tours and teaching people about the fish and water life in the aquarium there. She managed an education area that let visitors touch things like whale teeth and a skate egg-case.
"I was able to explain how acts as simple as forgetting to pick up trash on the beach can lead to decreases in populations of species like turtles," she said. "Engaging people, and teaching them about their impact on the environment, and educating them on critical issues fuels me."
In college, she joined the EcoTeam club and co-taught sustainability lessons to third-graders at Davidson Day School. She's also volunteered as a kindergarten classroom assistant at Davidson Elementary School.
Last summer, she participated in the college's Research in Science Experience (RISE) program. Working with Biology Professor Mark Barsoum, the research team tested herbal supplements through DNA barcoding. They discovered contaminants in the supplements from rice and other ingredients that weren't listed on the package.
"Virginia was such an enthusiastic and determined researcher in RISE," Barsoum said. "She loves the process of scientific discovery and is so curious and analytical about the world around her. Negative results don't discourage her; they only sharpen her resolve. 
"She's also a genuinely grounded and generous person that makes a wonderful colleague in the lab and beyond," he added. "I'm so glad that she will gain more opportunities to engage with coastal and marine ecology through this terrific NOAA scholarship, and through her hard work and dedication."
Gilliland, a Kemp Scholar, will spend this summer working remotely as a research intern with East Carolina University's Gittman Coastal Ecology Lab in Morehead City. She'll focus primarily on analyzing data.
She hopes to get back in the pool when pandemic restrictions lift, and head to the coast over the summer. At some future point, she plans to do research on a different coast: she became certified as a scuba diver last year, and dreams of exploring in an ocean amid whale sharks.
The North Carolina coast remains her first love. Last summer, she and some friends went camping at the Hammocks Beach State Park in Swansboro. They rented kayaks and rowed to Bear Island, an undeveloped barrier island only accessible by boat.
Fiddler crabs scurried through the soft sand of the empty beaches. Seeing that part of the coast, she said, unspoiled by development, overcrowding, or litter, put her immediately at peace:
"The ocean has always been my happy place."