Polarized Electorate, Energized Student Body Gear Up for Election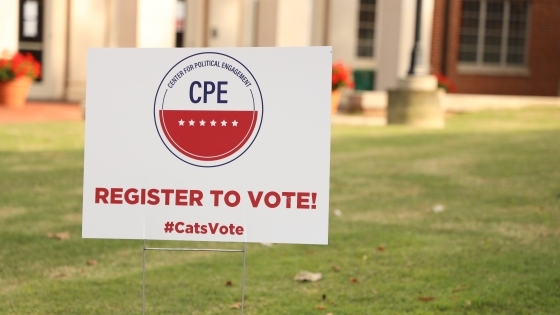 A pandemic that's left more than 215,000 Americans dead. 
Widespread social unrest. Uncontrolled wildfires. Lost jobs. The death of Supreme Court Justice Ruth Bader Ginsberg; and the battle over her successor. Intelligence reports of foreign hackers trying to interfere with who we choose for the Oval Office, and the President questioning the validity of the election before it happened…and before he contracted COVID-19.
A nation polarized.
Early voting has begun in what could be the most consequential test of American democracy in recent history. 
At Davidson College, students are paying attention—and mobilizing.
Early-voting turnout in the town of Davidson for the spring primary increased by 186 percent from 2016—the second-largest increase in North Carolina. The voting spike followed the Davidson Votes drive organized by the student-led Center for Political Engagement (CPE) and aimed at registering every eligible voter. CPE leaders encouraged students to vote before their spring break, which fell during the N.C. primaries, and likely contributed to the bump in turnout.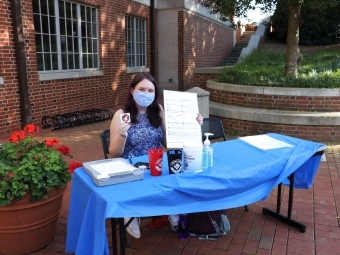 CPE is expecting a similar trend and is urging people to use mail-in ballots, or vote early—and safely—in person for the general election. North Carolina's early voting begins on Thursday and ends Oct. 31.
Davidson's athletic teams have also stepped up registration efforts. All eligible voter athletes on most of the college's sports teams, including football, basketball, soccer and swim, are registered and ready.
"To say my students are keenly interested in Election 2020 is an understatement," said Political Science Professor Susan Roberts. "Zoom chats can't replace the 'just talking politics' coffees we'd have in other times, but the energy is still there."
Students in her "Presidency" class work in groups to track five battleground states: North Carolina, Florida, Pennsylvania, Wisconsin and Arizona. They've gathered demographic data, electoral histories and election laws in their assigned states. They've followed polling numbers, endorsements, advertising and candidate visits. They're talking to journalists, college professors and campaign managers in those states.
And they've closely watched the presidential and vice-presidential debates. When Roberts assigned the group project in 2016, her students correctly predicted that Trump would win Pennsylvania and Michigan.
"They were more prescient than the pundits," she said.
On campus and online, students are campaigning, organizing and energizing—on all sides and behind the scenes.
Joe DeMartin '22
If Joe DeMartin sees you, he's probably going to talk about voting.
DeMartin, president of the CPE and past-president of a conservative student group, wants to make sure all eligible Davidson voters are registered, educated about their choices and fill out their ballots correctly.
DeMartin and CPE colleagues founded the Davidson Votes initiative. They're urging students to treat voting as a fundamental right and responsibility. They hosted voter registration events, setting set up tables around campus and are looking for "100 percent participation," he said.
CPE also helped athletic teams with their registration drives and provided postage stamps for mail-in ballots. By last week's end, they'd helped more than 300 people register.
"We're trying to educate them about the issues, and to put out every perspective about the candidates," DeMartin said. "We're hosting talks from professors and urge students to watch debates and know where the candidates stand.
"There's an exciting energy on campus," DeMartin said. "People want to have their voices heard."
The CPE has encouraged students to register in Davidson, so they can show an investment in the community and have a say in North Carolina's national and local races. North Carolina is a battleground state, so there's more likelihood for students from heavily Republican or Democratic states to have an impact, DeMartin said.
"If you're in a California or an Alabama, you pretty much know how things are going to go unless there's a big upset," DeMartin said. "There are a lot of competitive elections here. But we respect that you may want to vote absentee in your home races. We're going to help make sure you get to vote wherever you want to vote."
DeMartin, an English and political science double major from Maryland, said he has grown more passionate about voting rights during his years at Davidson.
"Too often, we're not hearing marginalized voices," DeMartin said. "It's a real problem, and to ignore it is malfeasance. It has to trickle down so that people with the least amount of resources get the same voice as those with the most."
Cora Martin '21
Cora Martin works to ensure the next president will be sworn in with a list of political appointees who've been vetted and approved for service before inauguration day.
Martin took the semester off to work at the Center for Presidential Transition, a non-partisan Washington, D.C., non-profit that helps whoever gets elected have a team in place. As the communications intern, she researches and writes newsletters, and helps with podcasts and social media.
"It's all about creating institutions that are fair and impactful and efficient," Martin said. "This is a really behind-the-scenes process and it requires planning far before the election."
In the days between the election and inauguration, the newly elected administration has to make some 4,000 presidential appointments. The Center provides published resources, including the Transition Guide, and hosts events for transition teams to meet with experts.
Martin, a history major with a minor in economics, works remotely from her home in Kansas City, Missouri, where she grew up on politics and government service. She has relatives who've served in diplomacy, foreign aid and economic advisory roles. Her father, Richard Martin, ran former U.S. Senator Claire McCaskill's winning campaign in 2006 in an upset race against a Republican incumbent.
Before starting her current position, Martin spent the summer as a campaign fellow for Democratic U.S. Senate Candidate Barbara Bollier in Kansas. She's researched and listened to various experts describing scenarios for the upcoming elections.
"There are a number of threats facing our democratic election, with foreign interference in hacking attempts and trying to remove people from the voting rolls," Martin said. "Voting is one of the only ways that people feel empowered, it's important that they have their say."
For now, she's hoping her non-partisan role will help assure a smooth start to the next presidential term.
"We are dealing with a lot of crisis right now," Martin said. "Whoever our next president is needs to focus on that the minute he's elected."
Maddie Buitendorp '22
Maddie Buitendorp is a life-long Democrat from the battleground state of Michigan.
She grew up in Grand Rapids and most of the people she knew were Republican, which led to a wide diversity of political opinion, and spirited—not mean-spirited—conversations. She's worked on political campaigns, and is a paid intern for the non-partisan Rock the Vote, which was founded by the music industry to increase voting among young people.  
Buitendorp works in development for Rock the Vote, keeping donors informed through emails and social media updates, and answering voters' questions. She helps on a variety of projects, including Tik Tok videos.
She's president of the Davidson Democrats and as vice-president of CPE, and helped to launch Davidson Votes.
When it comes to her vote, the political science major and Terry Scholar says she looks at the individual before the party. She values candidates who balance fiscal responsibility with compassion.
"I'm very religious. I look at their character, and how they treat people, through their words, and through their actions," Buitendorp said. "I want someone who's going to look out for the little guy, who believes that 'a rising tide lifts all boats.'
"I want someone I can be proud of, someone whose values I agree with."
Buitendorp said she's dismayed by today's extreme partisanship, and that many Republicans continue to support Trump, despite what she views as his dishonesty, self-interest and seeming indifference to others' suffering. Biden has her vote.
"We're a community that values caring for each other," she said.
She says that working for Rock the Vote has given her a better understanding of voting hurdles, and an even deeper commitment to voting rights.
"Voting is the basis for democracy," Buitendorp said.  "Taking that on to Davidson's campus is the most direct way that I can make sure my community is able to vote, is educated on what is on their ballot and is energized to show up on election day."
Maya Pillai '21
Maya Pillai is concentrating on the down ballot.
With most attention focused on the presidential and U.S. Senate races, she's encouraging people to also get out for state, local and judicial contests.
Pillai, president of the Davidson College Republicans, is dropping campaign literature off on front doors in Mecklenburg and Cabarrus Counties and talking to residents about GOP candidates in North Carolina—that includes Republican challenger Dan Forest's campaign against North Carolina's Democratic Governor Roy Cooper. In May, Pillai led a "ReopenMeck" rally in Charlotte to protest Cooper's decision to keep schools and businesses closed during the pandemic.
She's also delivering campaign signs and attending candidate "meet-and-greet" events.
Pillai, administrative vice chair of the North Carolina Federation of College Republicans, is considered a rising star in the party. She's the product of a politically mixed marriage: Her Republican father listens to conservative talk radio and watches Fox News; her Democratic mother watches CNN.
"I've been exposed to both sides of issues all of my life," she said. "As a female, and as a minority, I see more opportunity in the Republican party."
A history and Hispanic Studies double major, Pillai hopes to someday go into politics. Former United Nations Ambassador Nikki Haley is her political role model.
Like Haley, Pillai is the daughter of Indian immigrants. Pillai hopes to see Haley become president someday. For now, she'll support Trump, her party's nominee.
"Each candidate has flaws. Vice-President Biden is a career politician," Pillai said. "President Trump is a businessman. I'm not saying that every policy of his is right. And some of the things he's said are cringeworthy. But overall, he has implemented certain policies that have helped people in this country, such as reducing taxes to make sure hardworking individuals have more money in their pockets."
Kieran Clark
Kieran Clark '21 knows he's voting for a candidate who won't win.
He wishes more people would vote for people outside of America's two dominant political parties.
The Arab Studies major sees many flaws in Trump, including hasty foreign policy decisions. He's also skeptical of Biden, and worries that "he's gone more and more left in this election."
Clark is unaffiliated but identifies as Libertarian. He plans to vote for Libertarian presidential candidate Jo Jorgensen, who he views as highly qualified, but he's unimpressed by the party's vice-presidential nominee, Spike Cohen, "a complete joke."
Clark wants people to take Libertarianism concepts, such as a smaller government and reforming the criminal justice system, seriously.
"We're trying to keep young people informed," Clark said. "One big issue is free speech. There are people who don't want to hear a conservative or Libertarian point of view and it's getting worse."
Clark believes most Davidson students and faculty disagree with many of his political views, but thinks they could find common ground if the country wasn't so polarized.
"I think of Libertarianism as trusting human dignity," Clark said. "Neither party trusts people to be good or strive to do good things on their own. I'd like to see us move to a multi-party country.
"I wish it could be more like going to the market—if you don't like this brand, here are a few others to choose from," Clark said. "Right now, I feel like we have two very bad options, and there's no getting around them."
Brandon Harris '22
As the election nears, Student Government Association President Brandon Harris keeps urging people to vote, and wants to help in any way he can.
The SGA teamed up with CPE to distribute an online survey to all students to see what they need to vote, such as safe transportation to the polls if they're voting in person. When students return the survey, the SGA will help where needed, Harris says.
For Harris, this election is crucial.
He believes Trump condones racism and discrimination, pointing to his anti-immigrant rhetoric and refusal to denounce white supremacists. Harris is critical of Trump's handling of the novel coronavirus, which has disproportionately harmed Black, Latino and Indigenous people.
"As a young Black person, this directly affects me in many ways," Harris said. "I have family members who struggle with health disorders and he's trying to get rid of the Affordable Care Act during a pandemic. I have close friends who live in fear of being deported, and that threat will only grow if he's reelected. With COVID, if we had a leader who had followed the science, maybe so many people wouldn't have died."
Harris says it's frightening that Trump continues to allege mail-in ballot fraud, and that he's refused to commit to a peaceful transfer of power if he doesn't win.
Biden will get Harris's vote.
A philosophy major from Annapolis, Maryland, Harris says he may someday go into politics. In the meantime, he sees his mission as making sure all students realize how important voting is.
"I'm telling everyone I can, 'make sure you're registered, and make sure you vote.' Everyone should be exercising their right to vote," Harris said.
"The survival of our democracy depends on it."
Isabel Padalecki '22
Isabel Padalecki doesn't have great hopes that this election will bring on the revolutionary changes she believes America needs to solve its racial, social and economic inequities.
She voted for Bernie Sanders in the Democratic primary. She's no fan of Biden and what she sees as his long tenure of maintaining a political status quo. But she likes Trump far less, so Biden will get her vote.
"I think Donald Trump has stretched the boundaries of a Democratic foundation," Padalecki said. "But that's not to imply that America before Donald Trump was progressive—it wasn't."
Padalecki, president of Davidson's chapter of the Young Democratic Socialists of America, doesn't see reform coming at the ballot box. She said it will only happen when America adopts policies and a tax system that redistributes wealth to dismantle the gaps between the richest and poorest.
She said she and her friends are working toward that goal, by raising money and redistributing wealth to people who've been downtrodden by systemic racism in the criminal justice system, housing and healthcare. That includes donating to local bail funds for incarcerated people and protestors who've been arrested.
Padalecki, from Wake Forest, North Carolina, has a double major in history and gender and sexuality studies. She says America has to reckon with its history of violence against Indigenous and enslaved Black people that set the foundation for its capitalist society. She believes Republican and Democratic administrations have been complicit in ongoing oppression.
"I hope Donald Trump doesn't win and I'll use my vote against him," she said. "But I don't think Biden will solve any foundational issues."