Here and Now: Current SGA President Brandon Harris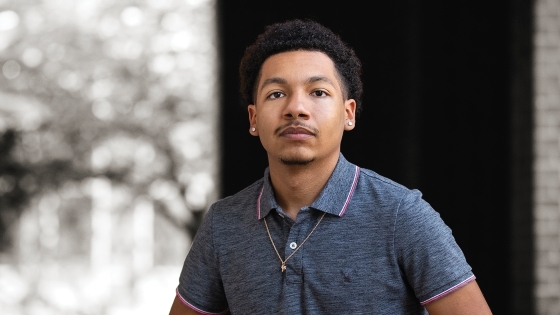 During the first week of his first year at Davidson, Brandon Harris '22 and a few new college friends went bowling off campus. He was the only Black student in his group. As they bowled, he noticed that the white couple in the next lane kept looking at him. The more the couple drank, the more menacing their stares seemed.
When Harris went to take a turn, the woman started yelling at him. She called him stupid, said he was bowling out of order and interfering with her game.
Too startled to say anything, he and his group kept bowling. He tried to ignore the couple, but felt uncomfortable for the rest of the night. When the students left, the couple remained. On the way out, he mentioned the woman's outburst to bowling alley workers, but they didn't want to get involved.  
"I felt like there were definitely racist undertones to her anger," Harris says. "As a Black person, it's not unexpected for something like that to happen. Before coming to Davidson, people close to me warned me to be ready for these types of things.
I was shocked to see it in my first week in a totally new place.
"It's just so disappointing, and I couldn't even talk to her to figure out why she was so angry."
Harris, now president of the Student Government Association, says the incident and others where he's felt judged because he's Black have caused him unease. But he's circumspect: "If someone feels like that, I view it as their problem, not mine."
The Belk Scholar and Terry Fellow says he initially felt like an outsider at Davidson, and attributes some of that to being Black on the predominately white campus. He grew more comfortable as he made friends in classes, his residence hall, student government and with other Belk Scholars.
"I have been able to build strong relationships here," Harris says. "My friends make me feel like I have a support system.''  
Yet despite his high profile on campus, the feeling of being an outsider sometimes resurfaces. 
"There's a reality here that's so different from the one I grew up with," he says. "Some people at Davidson have a unique sense of privilege. It comes from going to a top school, and there's a lot of wealth here. I think the racial and class components still exist. I feel like some students don't really see or show respect to the workers who are doing maintenance or cleaning buildings or serving meals. It's not the majority, but there are definitely some."
Commitment Required
Harris says he hopes all students, present and future, read the Commission on Race and Slavery's report to learn about the college's history. He says the college's acknowledgement and apology for its complicity in slavery and racism offer a first step.
"It's clear that certain groups of people feel under-represented," he says. "The entire college  community needs to commit to becoming a more equitable, inclusive campus." 
And eventually, a more equitable world, he hopes. 
Harris takes the pain felt in many Black communities, including in his Annapolis, Maryland, hometown, to heart. He's seen too many of his peers end up in jail, with addictions, or as victims of gun violence.
He's grateful for the opportunities that offered him a distinct path. That includes a mentor who became a father figure as his single mom struggled to raise him and his severely disabled twin brother. A scholarship enabled Harris to excel at a top private high school. And another mentor—a doctor and Davidson graduate—pointed him to the college.
As a high school student, Harris founded a non-profit called Brandon's Coalition for Success. He and other mentors provide tutoring, activities and a safe space for teenagers living in public housing. With help from Terry Fellowship project funds, his non-profit is now raising money to take the teens to Puerto Rico when pandemic conditions allow. Harris says the trip will include a service project, a visit to the rain forest and a vacation. 
"I went to England through Davidson's 'Meet My World' program. I stayed with one of my closest friends from Davidson and her family. It was the first time in my life I'd ever been out of the country," Harris says. "It made me realize how impactful traveling can be. So many of these kids have never even been out of their own city. So many of them have never had a vacation." 
Harris, a philosophy major, is not pinning himself down to one future. He's interested in education, medical, and political careers—all fields that could help him make a difference in disadvantaged communities, he says.
"I've always been passionate about using my opportunities and experiences to help people who haven't had that," Harris says. "It's my duty to do my best to inspire people facing difficult situations to reach their full potential."
---
This article was originally published in the Fall/Winter 2020 print issue of the Davidson Journal Magazine; for more, please see the Davidson Journal section of our website.
Published
Category
Davidson Journal Fall/Winter 2020